Florence Kasumba Says Using The Equipment On Set Of Black Panther: Wakanda Forever Is A Dream Come True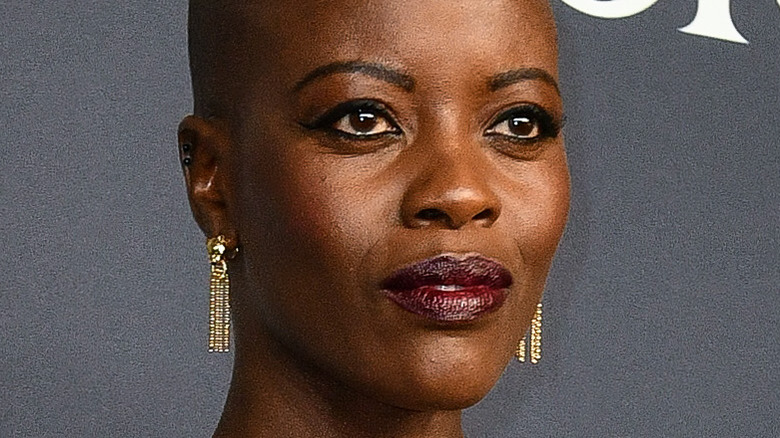 Gerald Matzka/Getty Images
It's the opening weekend of "Black Panther: Wakanda Forever," and the movie has already made over $10 million (according to Box Office Mojo) in its first 24 hours of theatrical release. Critics on Rotten Tomatoes are giving it a solid 85% rating, but audiences are raving at 95%. It's sitting a little lower at 7.4/10 on IMDb, but the strange abundance of 1-star reviews might be a sign of some review-bomb shenanigans. Regardless of what the haters might have to say, the film is performing very well in theaters and getting lots of positive feedback from critics and audiences — and that can largely be attributed to the overall environment on set.
When everyone who's involved in an entertainment project really, truly cares — from the biggest stars and directors down to the key grips and stunt doubles and everyone in between — it bleeds through into the finished product. You can easily tell the difference between a reluctant flop and a labor of love without even having to look at behind-the-scenes footage or interviews with the cast and crew. But one cast member, Florence Kasumba (who plays Ayo, an elite warrior of the Dora Milaje), recently discussed in an interview what a joy it was to work on set. And it sounds like it's even better than one could imagine.
For Kasumba, the world of Wakanda is like Disneyland
Outside of the fight scenes — which Florence Kasumba admits take up all of her focus — she says that being on set and experiencing the world of Wakanda made her feel "as excited as someone who would visit ... a theme park Wakanda because once you touch all the items that we get to work with, the weapons that we get from Shuri, they are better than a couple of years ago and ... the costumes which protect us even more than the costumes we had before, everything has improved. And to be able to use the equipment that we get, that's like a dream come true. It's fun."
And it wasn't just the props and the costumes that impressed her, helped her get into character, and have fun with her performance. According to what she said in her interview with Movie Weather, walking around on set made her feel like she was in the world of Wakanda, just like what anyone would see watching the movie. She also added that it was "very easy for you to just feel Wakandan and feel African," which is an interesting thing for a Ugandan to say, but she did catch herself and admitted to that little bit of personal trivia during the interview.
She also noted that the set was a very emotionally safe working environment
The entertainment industry — for the most part — is getting a lot better about making sure the cast and crew are working under the safest and most facilitating circumstances possible. For example, the practice of using intimacy coordinators on sets is becoming much more common than it used to be. There probably weren't many of those working specifically on "Wakanda Forever," but according to what Florence Kasumba experienced while filming, the environment and the culture on set were all about being emotionally supportive. "It was a very, very safe work environment [on the] first movie, but also the second because on top of that, imagine you have to deal with so many people that are very sad because of that huge loss. The fact that people took care of us, the fact that there was so much support from production but also from the cast members, that just shows how great it was working for [Chadwick Boseman] and how much we felt for him."
Kasumba wasn't the only cast member who felt emotionally supported on set, either. Letitia Wright, who plays T'Challa's little sister Shuri, was grateful to have veteran actor Angela Bassett (who plays Queen Ramonda) to work with, even if their mother-daughter relationship was only a fictional one. In a Rotten Tomatoes interview, she recently talked about how "It was brilliant to have Angela on set because it was also not only helpful for Shuri but helpful for me to have that mother figure of nurture going through this process."