Robert Shapiro Was Less Than Impressed By John Travolta's Portrayal Of Him In American Crime Story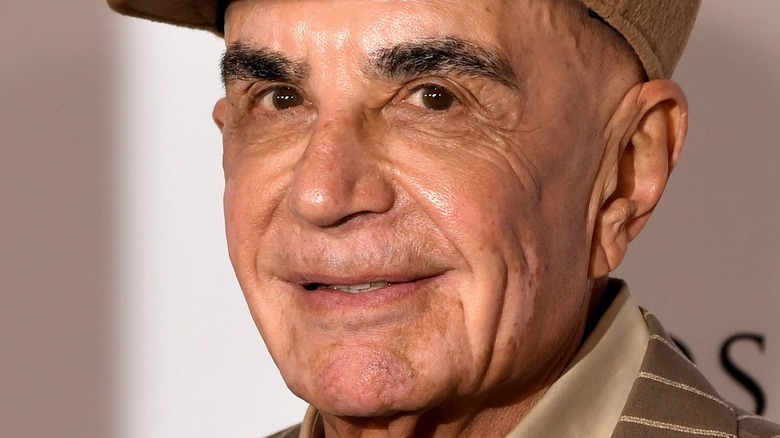 Kevin Winter/Getty Images
The 2016 "The People vs. O.J. Simpson: American Crime Story" provided compelling television even though we knew how it would end. The Ryan Murphy-produced series followed the infamous case from the moment police discovered the bodies of Nicole Brown Simpson and Ron Goldman all the way to the final verdict in the trial of the century. Cuba Gooding Jr. played Simpson, and all the other key players from the trial were also represented by major stars, with Sarah Paulson and Sterling K. Brown as prosecutors Marcia Clark and Christopher Darden, and Courtney B. Vance, Nathan Lane, and David Schwimmer playing defense team Johnny Cochran, F. Lee Bailey, and Robert Kardashian, respectively.
Also in the cast was John Travolta, who starred as Robert Shapiro, Simpson's lead counsel, before being replaced in the role by Cochran before the start of legal proceedings. The actor would go on to receive a Primetime Emmy Award nomination for outstanding supporting actor for his performance and also to win as one of its producers for outstanding limited series. But not everyone was riveted by his interpretation of the attorney, and Shapiro himself was less than impressed by Travolta's portrayal of him.
Robert Shapiro wishes John Travolta would have consulted with him during filming
In a 2016 encounter with TMZ, Robert Shapiro was asked if he had any words to share about John Travolta based on his Emmy nomination for the series. The veteran lawyer replied, "I wish he would have talked to me, and found out who I am and what I am really like." When asked if he was ever consulted by the actor about playing him, Shapiro commented, "No. I never talked to him." Later in the interview, when asked if Travolta had reached out, if he would have spoken with him, and if he was bitter that the actor didn't contact him, the retired lawyer responded, "Absolutely. I am not bitter at all. He is a fine actor, and I am sure he did his best, but I would imagine that if you try to interpret who somebody is, rather than meeting them and finding out who they are, you're not gonna hit the nail and be absolutely accurate." 
This matches what Travolta told Parade Magazine earlier that year when asked how he researched Shapiro's mannerisms. The "Pulp Fiction" star said, "There's a lot of video on him. And the books revealed even more about Shapiro. There was [Jeffrey Toobin's] book, Shapiro's book that he wrote himself ["The Search for Justice: A Defense Attorney's Brief on the O.J. Simpson Case"] plus there's an O.J. book ..." He finished by claiming those books and the lawyer's physicality guided his research.