4-20 Releases That Will Blow Everyone Away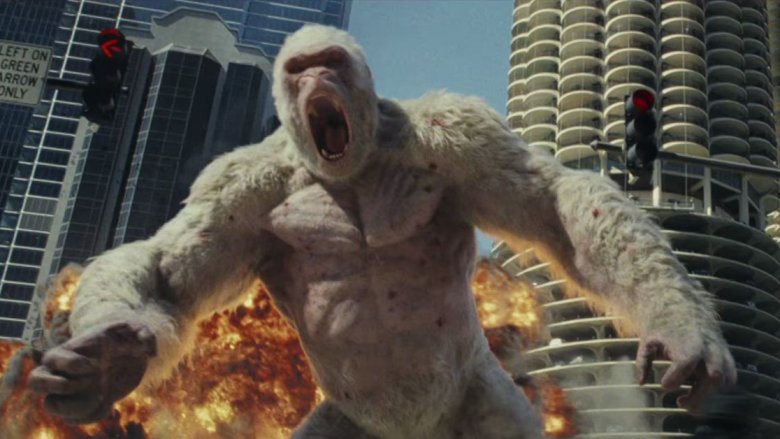 On April 20, marijuana users the world over will gather in their masses to celebrate their beloved herb, whether it's legal to do so or not. In the U.K., thousands descend on London's famous Hyde Park to smoke it up in protest of the country's anti-pot laws, and in Paris, weed-themed treasure hunts have been known to take place across the city. 
The real reason this date became the unofficial stoner's holiday is a little hazy (some say it's derived from a U.S. penal code, while others believe the term 4-20 was actually coined by a group of American students in the '70s), but it's now so ingrained in popular culture that movie studios, record labels, game developers and even comic book publishers love to take advantage of it. If you're a fan of any of the aforementioned mediums, then mark April 20, 2018 in your calendar, because there's a ton of cool new stuff coming out that day.
From Hollywood blockbusters and video game reboots to albums we've been waiting decades to hear, here are the releases you can't afford to miss this 4-20.
Super Troopers 2
The long-gestating sequel to 2001 cult comedy Super Troopers is finally coming to the cineplex this year, after a successful Indiegogo campaign made a second outing for everyone's favorite Vermont state troopers possible. Written by and starring New York comedy troupe Broken Lizard (a name they came up with after spending "three days smoking joints"), the movie will pit Jay Chandrasekhar (Thorny), Paul Soter (Foster), Steve Lemme (Mac), Erik Stolhanske (Rabbit) and Kevin Heffernan (Farva) against a group of Canadian Mounties after a small slice of Canada is found to actually be on U.S. soil.
By the time the film drops it will have been almost two decades since the Broken Lizard guys first appeared as the outrageous law enforcement unit, though according to founding member Steve Lemme, not a lot has changed for the characters in that time. "Well, we do all have cellphones in this movie," he told Seven Days. "But otherwise, it seems like time has stood still for these state troopers. Which is good, because we didn't really want to answer the question of where these guys have been for the last 15 years — although we do answer it."
God of War
The hotly anticipated God of War (which has been more commonly referred to as God of War PS4 since it was previewed at E3 2016) is just around the corner now, but fans of the franchise still aren't really sure what to expect from the game, which is being described as a "soft reboot." Sony's Santa Monica Studio have completely overhauled the mechanics, doing away with the popular Quick Time Events and changing the camera to an over-the-shoulder angle. Previous installments (this will be the eighth in total) have all been based around Greek Mythology, whereas this time out Kratos — accompanied by his son Atreus — will be in a world of Norse myth instead.
The game's writer and director Cory Barlog is confident that the changes will go down well when it hits shelves on 4-20. "First, let me say that this is my favorite release day of my entire career. If I live to be 100, I do not think I will be able to top this release day," Barlog wrote on PlayStation Blog. "Mark the date on your calendar, people. Clear that schedule, tell your significant other they are wonderful, because that is always a nice thing to do, and then wonder what you will do with all that free time you have now that you don't need to keep asking me when the release date is."
Duck Duck Goose
The trailer for Duck Duck Goose states that the film is from the people behind Shrek, though that claim is something of a stretch. In reality, DreamWorks have nothing to do with this movie, which is set to be the first release from Original Force, a Chinese VFX company-turned-production house with big plans to muscle into Hollywood's animated feature market. Industry vets Penney Finkelman Cox and Sandra Rabins (who helped to launch DreamWorks and were instrumental in getting Sony Pictures Animation off the ground) were appointed co-presidents of Original Force in 2015, but according to Variety, the duo left their posts before the release of the company's debut film.
"I would like to thank Penney and Sandy for their creative leadership, vision and tenacity in turning Original Force into a first class international animation company," Original Force CEO Harley Zhao said. "Having launched us from our start-up phase and seen us through the delivery of our first film, Sandy and Penney will be following their passion and returning to their roots as producers." 
The real reason for their departure may well become obvious when Duck Duck Goose drops, as the trailer (which is full of fart jokes and tired slapstick humor) doesn't exactly inspire. The 4-20 release date makes a lot of sense here, because you probably aren't going to enjoy this one sober.
New A Perfect Circle album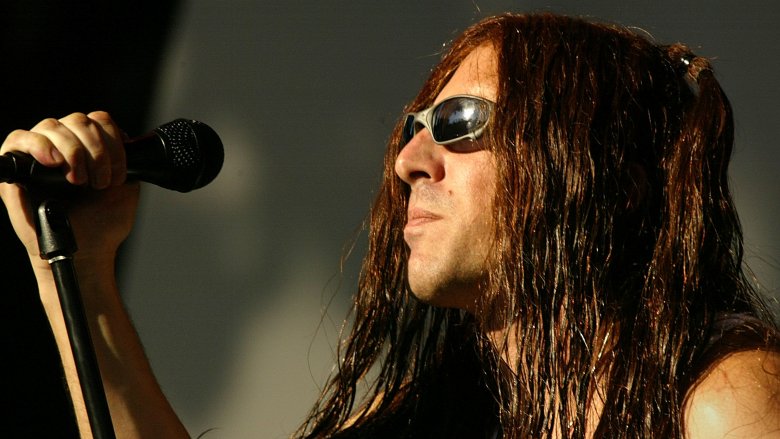 Getty Images
A Perfect Circle are back with a brand new album this April, their first record in 14 years. The band formed in 1999 and dropped the critically acclaimed Mer de Noms a year later, an LP that "nobody realized was needed until it happened," as AllMusic's Ned Raggett argued in his review. They returned with Thirteenth Step and anti-war covers album Emotive in 2003 and 2004, but the star-studded lineup split and returned to their respective bands after that. Up until recently it looked as though APC were a thing of the past, but on 4-20 their fourth album, Eat the Elephant, will hit record stores nationwide.
"The 20th of April is [British singer-songwriter] Carina Round's birthday," APC founder and vocalist Maynard James Keenan told AXS. "She is a dear friend who is extremely difficult to shop for. Pressure off. Of course, I must also note that the potheads are gonna be thrilled that this album comes out on 4-20. May it serve as a glorious soundtrack to accompany all of the giggling and vexing sounds of nibbling and snacking. Fingers crossed, Cheech and Chong will be proud."
The Originals: Season 5
The Vampire Diaries ran for 171 episodes across eight seasons on The CW, but sadly for fans of the supernatural drama, spinoff The Originals won't reach that milestone. The New Orleans-set show was renewed for a fifth and final season in summer 2017, with showrunner Julie Plec making the announcement via Twitter.
"It's both a gift and a burden to be able to control the ending of a series," she said. "Many shows are not lucky enough to have a hand in deciding when the end has come. Being able to celebrate the completion of The Vampire Diaries was a joyful and deeply emotional ride... Ending a show is always bittersweet, but for me, it's a true blessing to be a part of making that choice."
There is still a slight glimmer of hope for those not quite ready to say goodbye to this universe, however, as CW boss Mark Pedowitz admitted at the Television Critics Association summer press tour (via TVLine) that there had been "many conversations" about another spinoff based around the character of Hope (Danielle Rose Russell), the tribrid (as in vampire, werewolf and witch genes) daughter of Klaus Mikaelson. Watch this space.
Back to the Future manga
Hollywood has been trying (and failing) to successfully adapt Japanese properties for western audiences for years now, but rarely does that relationship go the other way. On 4-20, we're going to get the chance to see what something truly American looks like through a Japanese lens — and not just any old lens. Yusuke Murata (the man behind super-popular manga-turned-anime One Punch Man) has apparently been working on his very own version of '80s classic Back to the Future, announcing the project during a recent Ready Player One promotional event in Tokyo. The film's screenwriter Bob Gale is acting as a supervisor on the project, which will reportedly expand on the story of Marty McFly (played by Michael J. Fox in the movies) with material not seen in the original trilogy.
According to Anime News Network, Murata found recreating Fox's likeness in manga form an "extremely high hurdle" to overcome initially, but the first images show just how great a job he's done at capturing Marty and the rest of the characters, especially Christopher Lloyd's Doc Brown. Thankfully for those of us living outside Japan, Murata's Back to the Future (which will go under the name BTTF) will be available to read for free on Kono Manga. Time to start learning Japanese. Or just download the Google Translate app, whichever you prefer.
Sting and Shaggy album
When Sting appeared at the Grammys earlier this year, those in attendance were enjoying a performance of his classic "Englishman in New York" when they got a surprise — the British legend was joined on stage by none other than Shaggy, who changed the lyrics to "Jamaican in New York" and debuted a snippet of the pair's first single, "Don't Make Me Wait." At the end of the performance, the "It Wasn't Me" singer announced that the duo were releasing a joint, Caribbean-inspired album on 4-20, which will be named 44/876.
According to Billboard, the two were brought together by Martin Kierszenbaum (Sting's manager and Shaggy's former A&R exec) for a fundraiser and they immediately hit it off. "We just had a rapport," Sting said. "In the early '80s, I was in Jamaica a lot. I wrote "Every Breath You Take" in Jamaica. So Jamaica was a kind of refuge and obviously a great influence on my own musical DNA with reggae, so I felt I owed a debt to Jamaica. When Shaggy said, 'Will you come do this show for the hospital that I fund,' I felt like it was an ideal opportunity to give back to this island that had given me so much."
Tully
Director Jason Reitman and Academy Award-winning stripper-turned-screenwriter Diablo Cody (Juno) are teaming up for another comedy-drama this year, and this time out they're turning their irreverent eye on motherhood in the modern age. The film stars Charlize Theron (who led previous Reitman/Cody outing Young Adult) as an exhausted mother of three who reluctantly accepts help in the form of a mysterious and hip young nanny (Mackenzie Davis). Tully — the name of the aforementioned nanny — had its festival premiere at Sundance, and it went down well with those in attendance.
"I hope Jason Reitman and Diablo Cody and Charlize Theron keep making films together forever," Tracking Board enthused. "Young Adult was my favorite Reitman film before this, and I think Tully is right on par with it. Theron is terrific in the film, and as a physically transformative performance, this is right up there with Monster... She reminds me of De Niro in his late '70s/early '80s prime when he would completely change his body from role to role, and the choices he made helped build his characters from the outside in."
Nintendo Labo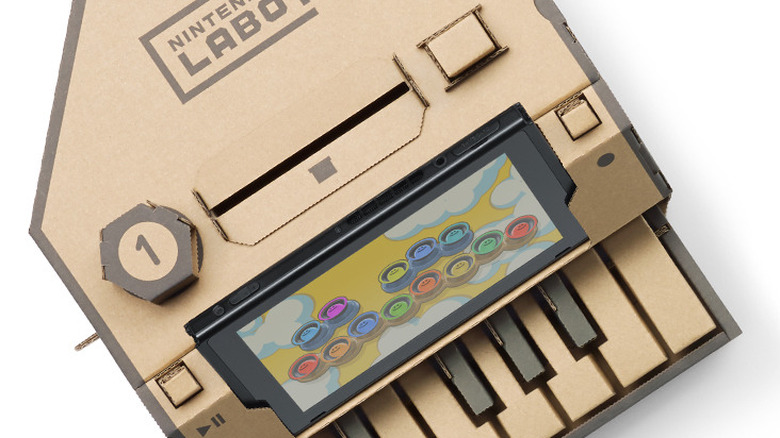 Nintendo
The success of Nintendo's 2017 hybrid console the Switch (it outsold 2012's Wii U after just a single year on the market) cemented the company's position as the king of party hardware. On 4-20, those parties are going to get even better with the addition of cardboard. Yes, cardboard.
The Nintendo Labo isn't just a single product, but a variety of different perforated cut-out kits that the user builds at home. Each kit has a space that the Switch console slots into, making the gaming experience a lot more hands-on. These 'Toy-Cons,' as Nintendo is calling them, are able to interact with the game's software. It might seem like a bizarre concept on the surface, but according to Nintendo director Shinya Takahashi, playing with cardboard is quite common for Japanese kids.
"I'm sure we surprised everyone with the use of cardboard," Takahashi said (via Rolling Stone). "But it's not so far-fetched if you consider how familiar the material is, at least to Japanese people who, from a young age, use it for play and as a material for creating things such as fancy crafts."
Whether western gamers will warm to the idea is anybody's guess, as many will likely be put off by the price tag. The variety kit and the robot kit (both of which drop on 4-20 in the U.S.) retail at $69.99 and $79.99, respectively, but can you really put a price on this much fun?