The Handmaid's Tale Showrunner Has Had Season 6 On His Mind For Quite Some Time Now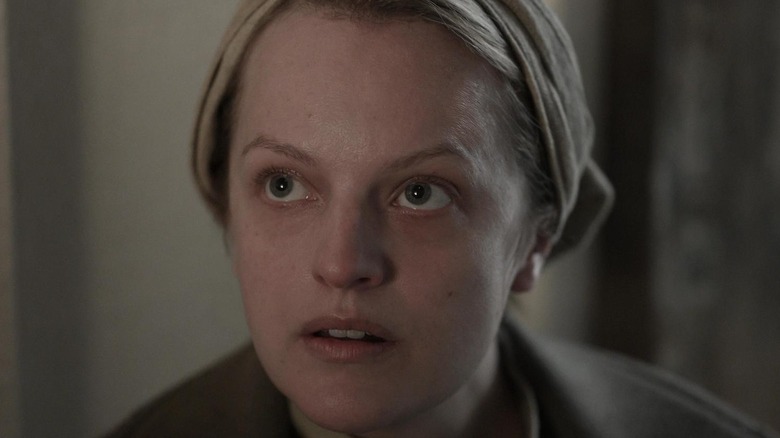 Hulu
The following article contains spoilers for "The Handmaid's Tale" Season 5 finale.
"The Handmaid's Tale" — the dystopian drama series based on the 1985 novel of the same name by Margaret Atwood — has just wrapped up its fifth season, with the finale having aired on November 9, 2022. This season has been as action-packed as ever, beginning with the aftermath of June (Elisabeth Moss) and the other handmaids killing Commander Waterford (Joseph Fiennes). From there, much of the season focused on the growing animosity between June and Serena Joy (Yvonne Strahovski). After a tense pregnancy, which included keeping herself safe from an angry June, Serena gave birth in Episode 7 — with, surprisingly, June's help.
The final episode of the season, "Safe," sees June escape from an attempted murder when Luke beats the man up, protecting her — leading to Luke (O-T Fagbenle) being wanted by the police after the man dies in the hospital. This gets in the way of June and Luke trying to escape Toronto with June's baby Nichole following the growing protests by Canadians who are fed up with the Americans in their country. Luke tells June to get on the train without him, claiming he'll follow as soon as he can — only to turn himself in to the police after June gets on the train with Nichole. There, June finds herself running into Serena with her newborn baby Noah after she manages to escape Mrs. Wheeler (Genevieve Angelson), Serena's former host, who is after Noah.
June and Serena stuck together on a train definitely makes way for plenty of drama to ensue next season (which will be the show's last). And, as it turns out, the sixth season has been on the mind of showrunner Bruce Miller for quite some time — here's what Miller has to say about going into the show's final season.
Bruce Miller is grateful to be ending the show on his own creative terms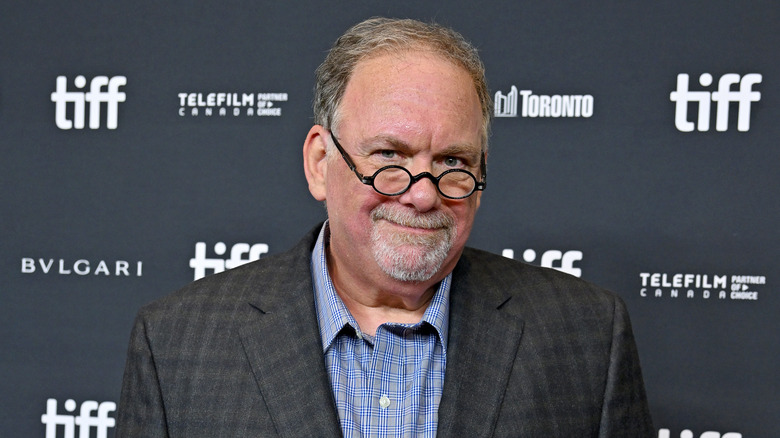 Amanda Edwards/Getty Images
In a November 2022 interview with Entertainment Weekly, following the release of the Season 5 finale, "The Handmaid's Tale" showrunner Bruce Miller discussed the end of the season and what's ahead for Season 6. When asked if he has Season 6 mapped out yet, Miller discussed how having control over when the show ends has given him the time to think about the ending.
Miller said, "I'm very lucky in that I've had a long time to think about this. We are ending our show on our own creative terms. Hulu and MGM have been uniquely remarkable and generous in that way. So I think the good thing is, I'm able to do it the way that I want to do it ... I [have been thinking] about the stuff that happens in season 6 for a while." The showrunner went on to say that he has been watching how other shows navigate their series finales — both good and bad — to guide himself when it comes time to write his show's last-ever episode.
While watching these other shows, Miller has been focusing on what made some endings satisfying while others were frustrating — a process he also did while writing the pilot of "The Handmaid's Tale." Miller said, "I had written pilots before, but I watched a lot of pilots because they are usually stinky, and I don't want a stinky one."
Bruce Miller isn't concerned with having a traditional series ending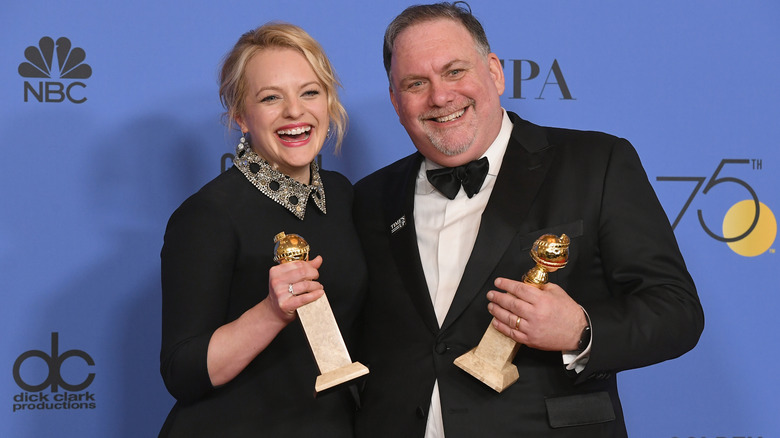 Kevin Winter/Getty Images
In the same conversation with EW, Bruce Miller revealed two of the shows he has been watching to study the endings: "Game of Thrones" (whose finale was, notably, hated by many) and "The Sopranos" (which has one of the most divisive endings out there).
Miller said, "I've been watching a lot of last seasons of shows that knew they were ending. And how do you do it? How do you do it in a way that's frustrating? How do you do it in a way that's satisfying? And what are the things that stick with you? So I'm thinking about it in a really prosaic 'history of television' terms." And, with "The Sopranos," Miller has been paying close attention to how the final season is structured around the fact that the episodes are leading up to the show's ending.
But, when it comes down to it, Miller admitted that all he cares about is having a good final season full of good moments and episodes and that he's willing to forgo expectations to achieve that. Miller explained, "That's all I'm thinking about. And if it doesn't feel like the finale of a show, that's okay. I mean, the beginning of it didn't feel like the beginning of a show either."