Millie Bobby Brown Reveals Which Stranger Things Character Nancy Should End Up With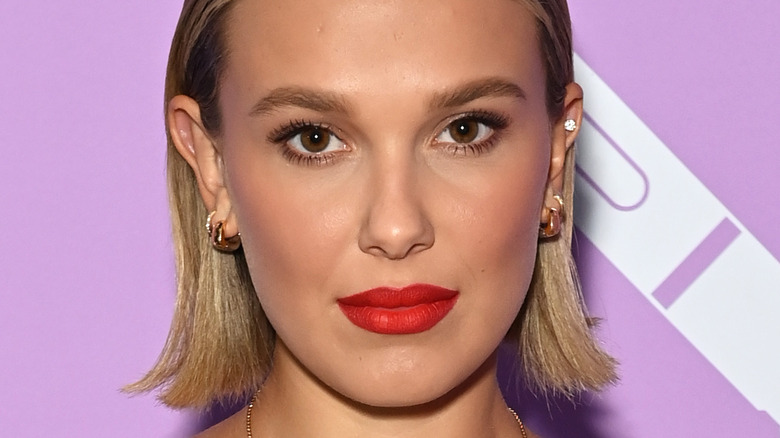 Bryan Bedder/Getty Images
Between the release of Season 4 of "Stranger Things" and the debut of "Enola Holmes 2," 2022 has been a major year for Millie Bobby Brown. And the burgeoning superstar has indeed spent much of it either walking the red carpet for premiere events or chatting up various entertainment outlets to promote these high-profile projects.
Of course, some promotional chats have been more adventurous than others, with certain outlets going out of their way to set themselves apart from the pack. That includes Vanity Fair, which recently strapped Brown into a real, working lie detector machine for an in-depth interview spanning all corners of the actor's life and career. Brown is hilariously tense throughout the interview and clearly dodges a couple of questions along the way.
But when it came time to talk about one particular story arc in Season 4 of "Stranger Things," she didn't hold anything back. That arc involves the reinvigorated love triangle between Nancy Wheeler (Natalia Dyer), Jonathan Byers (Charlie Heaton), and Steve Harrington (Joe Keery). And when asked which of the two Nancy should end up with, Brown didn't hesitate to make her true feelings known.
Brown is not crazy about the reemergance of the Nancy and Steve storyline
When Vanity Fair asked Millie Bobby Brown whether she thinks Steve and Nancy belong together, she answered with a resounding "no." This will surely upset all the Team Stancy kids out there who couldn't get enough of the longing gazes that pass between the two in Season 4 of "Stranger Things." Stancy fans will be even more bothered when they hear the actor's response to the follow-up question about who Nancy should pick. "Jonathan," Brown said, adding, "because he is kind and he might just need a little bit more time to grow into himself as a man."
Whether you like Brown's answer or not, it's clear she's put considerable thought into Nancy's now unexpectedly complicated love life and the makeup of the two dashing lads vying for her attention. While Brown might be shortchanging Steve's growth since their Season 2 breakup, it's still hard not to root for the tenderhearted if sometimes aimless Jonathan.
For the record, Natalia Dyer has mixed feelings about whether or not there's even a love triangle to speak of (via Collider). In any case, it should be fascinating to see how things shake out for the trio in the fifth and final season of "Stranger Things."