The Blacklist's Ryan Eggold Freaked Out When Presented With His First Fight Sequence
lev radin/Shutterstock
It has been almost a decade since the twist of Tom Keen's (Ryan Eggold) true nature was finally revealed to fans of "The Blacklist." After nearly an entire season of pretending to be Liz's (Megan Boone) gentle-natured school teacher husband, Tom admitted he was a cutthroat spy hired to watch Liz. At the time, it was unclear if his life with Liz was just a cover or if his feelings ran deeper for the FBI agent. Though Eggold eventually left "The Blacklist," Tom continues to be one of the most fascinating characters of the series.
We would go on to watch him shave his head to infiltrate a sect of white nationalists and die tragically before he got his happy ending with his wife. Yes, Tom definitively becomes Liz's ride-or-die. But there was nothing like watching that first season and seeing unassuming Tom melt away to the cold-blooded killer of Joseph Phelps in Episode 16. After duplicitous Lucy, AKA Jolene (Rachel Brosnahan), endangers Tom's mission with Liz, he swiftly kills her with no remorse, and the Cowboy (Lance Reddick) is sent to apprehend them. This sudden turn for Tom was not just a delight for the audience but an intense experience for the actor that portrays him.
Tom's terrifying true colors come out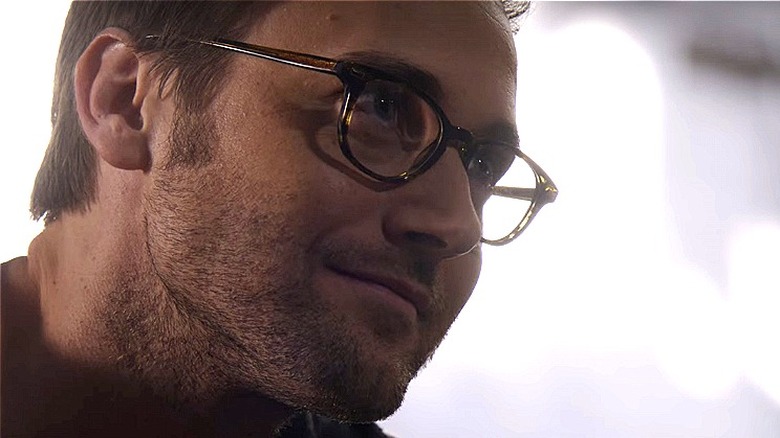 NBC
If there is one word that can describe Tom Keen, it is unpredictable. Even though his seedy dealings revealed in the pilot of "The Blacklist" seem relatively straightforward, Tom's true intentions are always mysterious. Even Ryan Eggold couldn't always put a finger on what his character would do next. When Popsugar pressed Eggold on what he knew about Tom, the actor admitted it hasn't always been a straight line.
"I always knew that he was something other than what he appeared to be, but the exact definition of that was sort of taking shape throughout the whole season and still is," Eggold noted. Perhaps what makes Tom such an unforgettable character to watch is his strange dichotomy of good and evil. But it was Tom's first major fight scene that took Eggold for a ride.
"I've been surprised at some of the things they've written for me, for Tom," Eggold continued. "When I read the first fight sequence stuff when he was killing Jolene and the cowboy, I freaked out. It was amazing." Tom goes from a mild-mannered husband to a well-practiced killing machine almost instantaneously. Knowing that Lucy has endangered his cover, he quickly decides to kill her. After ensuring that Liz is still in the dark, Tom attacks and dispatches Lucy with almost no effort. His calm and collected nature becomes a character-defining trait, one that always made audiences question his true goals.
Tom's demise was a far cry from the character's origins
Tom's five-season tenure on "The Blacklist" was full of ups, downs, and plot twists. The spy-turned-ally ultimately expires after going down in a blaze of glory with his wife, but it was a long roller coaster ride of emotions to get there. Tom has had many aliases and changing allegiances that can be hard to keep track of. This version of Tom is much more nuanced than the original trajectory of the character. If things had been different, we would have seen a much more brutal and irredeemable Tom Keen.
"[Tom] was much more violent and evil, like horrendous," Eggold informed Popsugar during Season 1. "But that character has been scrapped, and there's something else happening." That something else was a more fulfilling and beautiful story. Though Liz was unsure if she could trust the man who had lied to her, they formed an unbreakable bond that made Tom's death that much more heartbreaking.
"I think it's a good ending for the character primarily because he's had this incredible journey of being somewhat sociopathic and a well-trained operative who can manipulate people ... but then meets this woman, develops this relationship, has a child with her, and has a family now, and really learns to love someone and to care about someone and to be loved," Eggold told Entertainment Weekly.