Where You've Seen The Cast Of Netflix's Inside Man Before
Netflix
TV writer Steven Moffat knows how to write smart characters. Not just smart, but brilliant. As co-creator of the popular British series "Sherlock," and the former showrunner of "Doctor Who," it's clear that Moffat has a penchant for geniuses who tend to stand out from the crowd. Now with the Netflix mini-series "Inside Man" Moffat has created an original, suspense-fueled, and twisty thriller that has captured the rapt attention of viewers, putting the series in the top 10 most popular shows on the streaming site following its October 31st premiere.  
"Inside Man" is a four-part mini-series that jumps between the United States and the United Kingdom. In the U.S., a murderer on death row hopes to do some good before his inevitable execution by helping people solve unusual cases. Meanwhile across the pond, an English vicar finds himself in a complicated situation when he assaults his son's tutor and locks her in his cellar. When the tutor's friend — an investigative journalist — realizes that she's missing, she enlists the help of the American death row inmate in the hopes of finding her friend before it's too late.
With a cast made of up both British and American actors, it's likely that viewers will notice at least one or two familiar faces in "Inside Man." Instead of scratching your head trying to remember where you've seen them before, here are the performers in "Inside Man" and where you might recognize them from.
Spoilers for Netflix's "Inside Man" Season 1 ahead. 
Dolly Wells as Janice Fife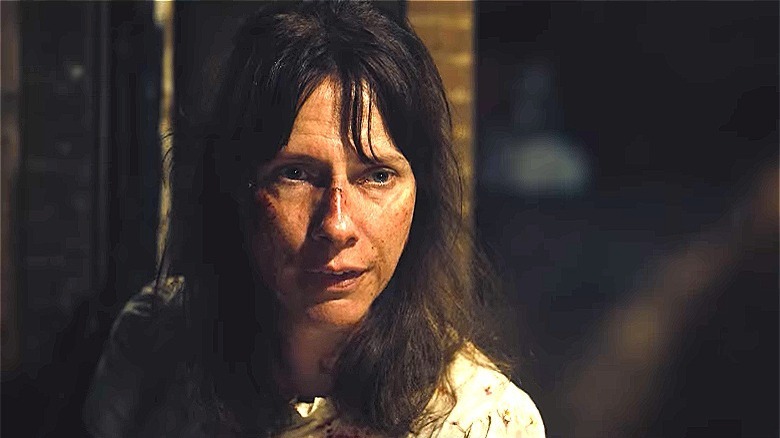 Netflix
Janice Fife is the victim of a bungled misunderstanding which leads to her being taken hostage by the local vicar, Harry Watling, and his wife, Mary Watling. Janice has been tutoring their teenage son, Ben, but when Ben hands her a flash drive with disturbing illegal content, she is forced to confront Ben's father about the issue. To keep her from going to the police, Harry assaults Janice and locks her in the cellar. Despite the terrifying circumstances, Janice manages to keep a clear head and use clever tactics to pit Mary and Harry against one another in the hopes of gaining her freedom.
English actor Dolly Wells plays Janice, and fans of British television and cinema should be able to recognize her from any number of other roles. She appeared in both "Bridget Jones's Diary" and "Bridget Jones's Baby" as Woney, the pompous wife of the equally smug Cosmo (Mark Lingwood). Wells also had a role in 2016's "Pride and Prejudice and Zombies," playing Mrs. Featherstone. She has been active in independent film as well, appearing in movies such as "I Capture the Castle," "Benny & Jolene," "45 Years," "Love Spreads," and more.
A good chunk of Wells' acting career comes from TV. She originally teamed up with writer Steven Moffat for the 2020 Netflix mini-series "Dracula," taking on dual roles as Sister Agatha and her descendent of the same name. Before that, she co-starred with fellow English actor Emily Mortimer in the HBO series "Doll & Em" from 2013 to 2015. Shortly after that show ended, she joined the cast of "Blunt Talk," a comedy series on Starz starring Patrick Stewart. Fans of niche British comedy may also recognize her from the absurdist TV series "Noel Fielding's Luxury Comedy," as well as guest roles on "The IT Crowd" and "The Mighty Boosh."
Lydia West as Beth Davenport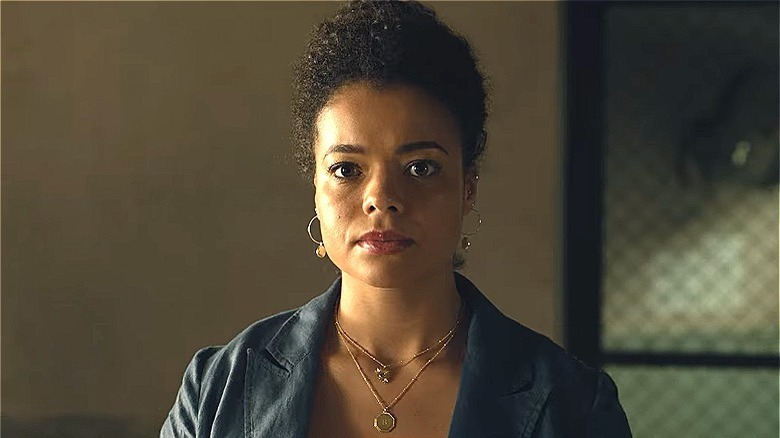 Netflix
Investigative journalist Beth Davenport meets Janice Fife on a train when Janice rescues her from a creepy bully. Beth hopes to get an interview with Janice, but she grows concerned when Janice fails to reply to her texts. When Beth flies to the U.S. hoping for an interview with the enigmatic Jefferson Grieff, she enlists Grieff's aid in discovering what happened to Janice, even though she finds Grieff's nature both fascinating and abhorrent. During her time with Grieff, Beth finds herself extremely curious about the death row inmate's abilities, though she refuses to sympathize with his cause.   
Lydia West plays Beth, and though she has only been in the television acting game for a few years, you may still recognize her. Her first major role came in the form of the 2019 HBO series, "Years and Years." The six-episode mini-series stars Emma Thompson, Rory Kinnear, and "The Lord of the Rings: The Rings of Power" star Maxim Baldry. The sci-fi drama depicts the lives of a successful family living through a disturbing age of British politics in a fictional dystopia. West plays Bethany, the eldest daughter of Stephen (Kinnear) and Celeste (T'Nia Miller).
Like her co-star Dolly Wells, West also appeared in Netflix's "Dracula" as Lucy. She can also be seen in the HBO Max original series "It's a Sin," the Apple TV+ show "Suspicion," and Mike Myers' comedic conspiracy series on Netflix, "The Pentaverate."
Dylan Baker as Warden Casey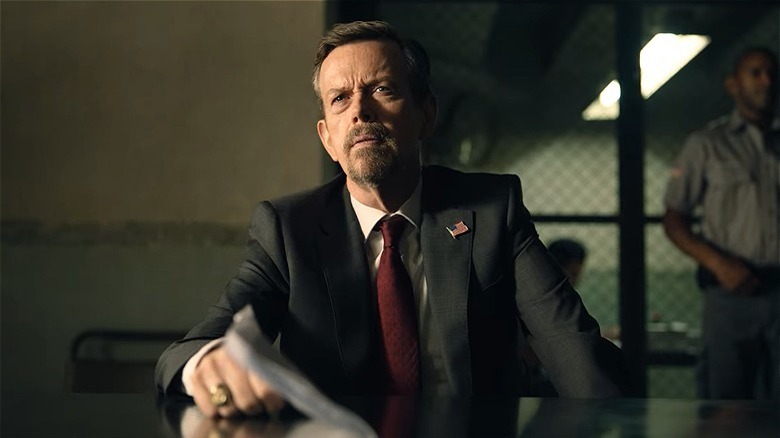 Netflix
Jefferson Grieff may be a murderer, but he's made some powerful friends in prison. One of them is the warden, a man named Casey, who recognizes Grieff's skills as a brilliant criminologist. He also appreciates Grieff's moral code. He may not always agree with Grieff's refusal to work a case, he has to respect it. Casey even does his best to help Grieff get his execution stayed, going so far as to commit blackmail to do it.
Casey is played by Dylan Baker, who is one of those faces that you've likely seen in several movies and TV shows over the decades. He's had guest appearances in a plethora of popular series since the 1980s, such as "Miami Vice," "Spenser: For Hire," "CSI," "The West Wing," "House," "Burn Notice," and multiple episodes of "Law and Order." He was also a regular cast member in the shows "Hunters," "The Resort," "Blindspot," "Homeland," "The Americans," and "Damages," among others.
As for Baker's film career, you may remember his role as Dr. Curt Connors in Sam Raimi's "Spider-Man 2" and "Spider-Man 3." Cult film fans will likely recognize Baker's role in the 2007 camp horror flick, "Trick 'r Treat," where he played Steven, the unsettling neighborhood serial killer. Baker also had small roles in the movies "Planes, Trains & Automobiles," "Requiem for a Dream," "Road to Perdition," "Secretariat," "Selma," and many more.
Lyndsey Marshal as Mary Watling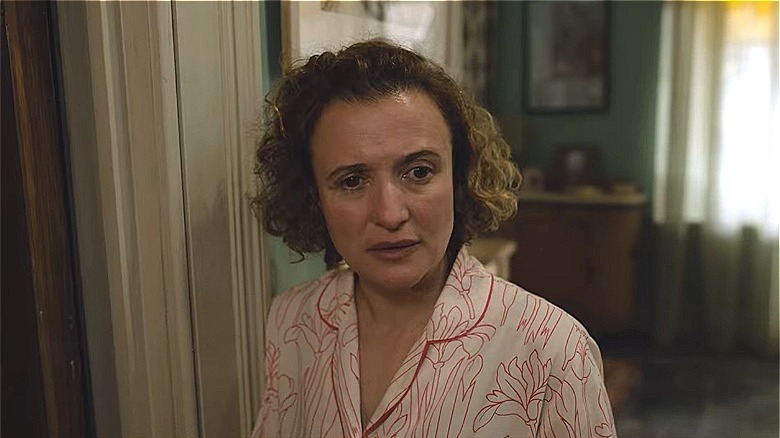 Netflix
A mother will do anything for her child, and Mary Watling is no exception. In "Inside Man," Mary's husband makes the grave mistake of attacking their son's tutor and locking her in the cellar. Instead of phoning the police, Mary immediately begins to google ways to kill someone and get away with it. If that's not dedication, then we don't know what is. Unfortunately, Mary gets in over her head as the danger of discovery becomes more and more imminent. In the end, all of her planning is for naught as the chaos of her and Harry's actions drag them deeper into psychological hell.
British actor Lyndsey Marshal plays Mary, the wife and mother who meets a gory end despite of all of her efforts to cover up a heinous crime. Marshal has appeared in various film and television roles since 2000, so there's a good chance you've seen her before. She had a supporting role as Lottie Hope in 2002's "The Hours," and acted in British indie films such as 2005's "Frozen," "Festival," and 2008's "1234." She also appeared in "Hereafter," directed by Clint Eastwood and starring Matt Damon and Bryce Dallas Howard.
Fans of epic period dramas may remember Marshal as the Egyptian queen herself, Cleopatra in the BBC series "Rome." Marshal was also featured in British TV shows "Being Human," "Garrow's Law," and "The League of Gentleman." She had a guest role in four episodes of the Amazon thriller "Hanna," and like her co-stars Dolly Wells and Lydia West, Marshal also had a role in Netflix's "Dracula."
David Tennant as Harry Watling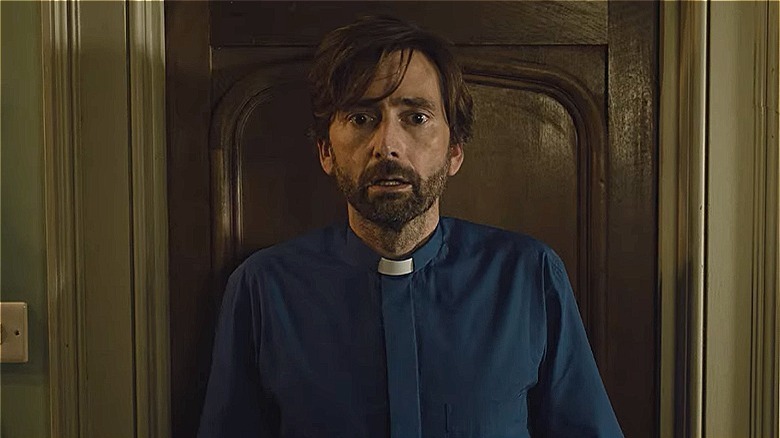 Netflix
It's fairly safe to say that any sci-fi, supernatural, or British television fan is going to know exactly who the actor is playing Harry Watling in "Inside Man." But just in case none of those genres are in your wheelhouse, that's Scottish actor David Tennant as the vicar who will do anything to protect his family — even if it means committing murder. When Harry accepts a flash drive from a troubled man in his church, he has no idea that its contents are of a very abhorrent — and very illegal — nature. When his son's tutor Janice Fife accidentally sees what the flash drive contains, she mistakes it as belonging to his son, Ben. Harry panics and assaults Janice in an effort to keep her from going to the police. As he struggles to make things right, his actions lead to a downward spiral of events, in which Harry's good intentions turn to dark machinations.
Though he initially found fame as the 10th Doctor in the revived "Doctor Who" series, Tennant has gone on to be a huge presence in film and television in several major franchises. Besides his four-year stint as the Doctor (and a recent surprising return), Tennant played the nefarious Barty Crouch Jr. in "Harry Potter and the Goblet of Fire," and he was the mind-controlling villain Kilgrave in Netflix's "Jessica Jones."
Tennant's popularity continued to soar with his role in Amazon's "Good Omens," playing the demon Crowley opposite Michael Sheen as the angel Aziraphale. He and Sheen also teamed up for the critically acclaimed pandemic-centered meta-comedy "Staged." Tennant recently played the lead in the British mini-series "Around the World in 80 Days," based on the classic novel by Jules Verne.
Atkins Estimond as Dillon Kempton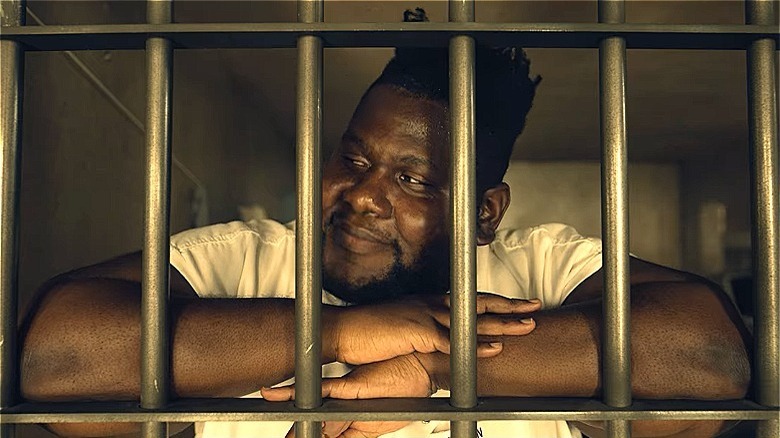 Netflix
Jefferson Grieff's cell neighbor on death row is also his right-hand man, a serial murderer named Dillon. Dillon has a photographic memory and attends every meeting with Grieff's clients as Grieff's recorder. He has no remorse about the murders he's committed and remembers every one of them in fine detail. Dillon's crimes may have been heinous, but his intelligence and humor make him uniquely likable. He and Grieff often engage in stimulating conversation from their side-by-side jail cells.
American actor Atkins Estimond plays Dillon Kempton. Estimond may look familiar if you're a fan of obscure television and film, and his acting talents haven't escaped the notice of top critics. His role as the ethical gangster Osito in the Starz crime drama "Hightown" caught the notice of The New York Times, labeling Estimond as a "standout" performer. He also played recurring roles in the AMC series "Lodge 49" and in Crackle's "StartUp."
Atkins's first film role was in 2014's "Dumb and Dumber To." In 2015, he appeared in the drama "Lila and Eve," starring Jennifer Lopez and Viola Davis, and in the 2018 remake of the cult classic, "Superfly." He made guest appearances in TV shows "Preacher," "How to Get Away with Murder," and "Step Up: High Water."
Kate Dickie as Morag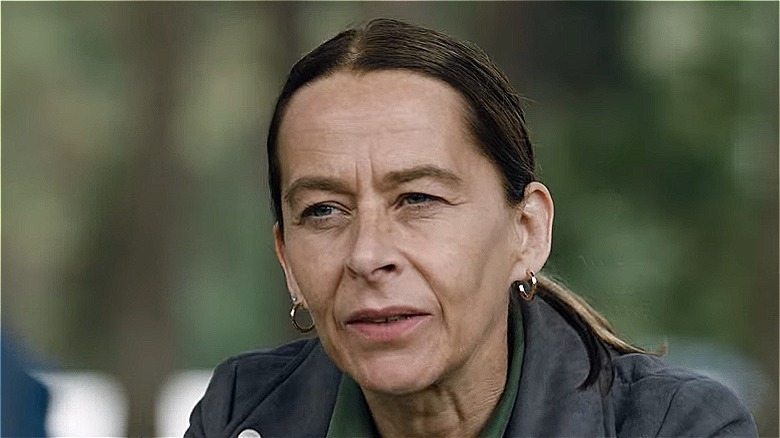 Netflix
As Beth Davenport follows the trail of breadcrumbs to find Janice Fife, she is surprised to discover the huge network of people that Grieff has at his disposal outside of the prison. One member of that network is Morag, a woman with a brilliant mind who has no qualms about her criminal lifestyle. She utilizes her skills to assist Beth in her investigation, including posing as a police officer, theft, and burglary. Morag herself is something of a mystery; she confesses to Beth that she once killed a man who underestimated her, but refuses to go into any more details about her life.
Morag is played by Scottish actor Kate Dickie, and she might be recognizable to fans of "Game of Thrones." She played Lysa Arryn, the mentally unstable sister of Catelyn Stark (Michelle Fairley). Lysa ends up murdered by her own husband, Petyr Baelish (Aidan Gillen), when he pushes her through the Moon Door after she grows jealous of his inappropriate attentions toward her niece, Sansa (Sophie Turner).
Dickie has had many other credits to her name in both movies and TV besides "Game of Thrones." In 2012, she acted in Ridley Scott's "Alien" franchise prequel "Prometheus" as the ship's medic. Dickie went on to have a role in another popular horror film, "The Witch," as Katherine, the mother of Thomasin. You may also remember her as the Queen in David Lowery's "The Green Knight."
Louis Oliver as Ben Watling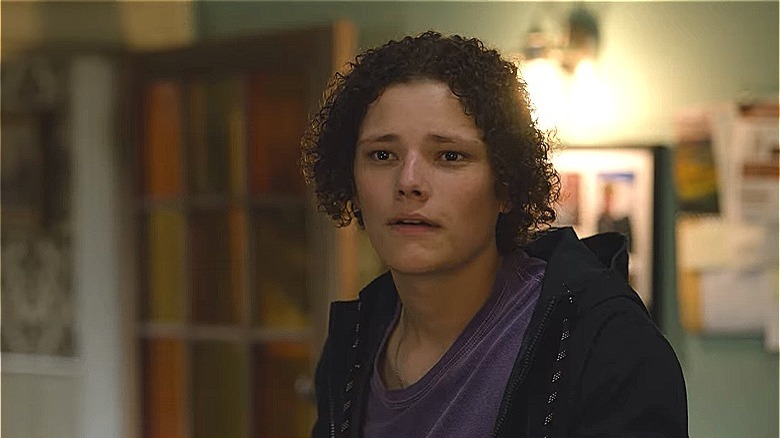 Netflix
Ben Watling is the teenage son of Harry and Mary. He's a normal kid by all accounts — he has a girlfriend, he likes attending concerts with his friends, and though he's had some trouble with math, he's a very good student. He and Janice have built up a rapport during their tutoring sessions, as she is the only adult who has ever been bluntly honest with him. When Ben gives Janice a flash drive without realizing what's on it, he becomes the center of a series of unfortunate events that could destroy the lives of himself and his family.
Catching his parents in one lie after another, Ben starts to grow suspicious of their strange behavior. He is shocked to find his math tutor bloodied and handcuffed in the cellar, and though he gives his father a chance to explain, he is crushed when Harry lies to him instead. Things take an even darker turn when Ben is locked inside with Janice with a faulty space heater that leaks carbon monoxide. 
Young actor Louis Oliver plays Ben in "Inside Man," which is only his third IMDb-certified acting credit. Still, fans may recognize him from two other popular TV series. In "His Last Vow," the Season 3 finale episode of BBC's "Sherlock," Oliver played the younger version of the sociopathic detective in a flashback sequence. Fans of Michael Flanagan's hit Netflix horror series, "Midnight Mass" may remember Oliver as Ooker, an altar boy at St. Patrick's Church who meets a tragic end. As an added piece of interesting trivia, Oliver is also the son of Steven Moffat.
Stanley Tucci as Jefferson Grieff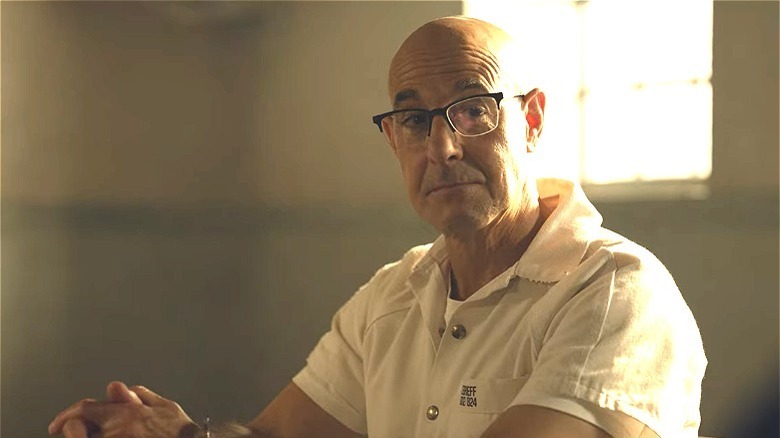 Netflix
Jefferson Grieff is a prominent criminal psychologist, a brilliant man who understands the mind of a violent killer from first-hand experience. He is in jail for murdering his wife, mutilating her corpse, and cutting off her head, which he then buried in a secret location that no one can find. He knows that his crime was horrific, which is why he accepts his imprisonment and imminent death sentence.
In the hopes of putting some good into the world before he goes, Grieff uses his expertise to help people who come to him with unusual cases. When a British journalist arrives at the prison to interview him, he is reluctant to tell his story, as he fears that she may try to put him in a sympathetic light. Beth Davenport insists that this is not the case, so in order to test her, Grieff agrees to help her find the missing Janice Fife.
Celebrated star of the stage and screens big and small, Stanley Tucci portrays the enigmatic Jefferson Grieff. Tucci's career goes back to the 1980s, and he has played a variety of characters of diverse backgrounds over the last 40 years. Fans of "The Devil Wears Prada" may remember that Tucci played Nigel, a fashion expert and close confidante to Meryl Streep's Miranda Priestly. He also played the flamboyantly dressed master of ceremonies, Caesar Flickerman, in "The Hunger Games" movies. Tucci has featured in films such as "The Pelican Brief," "America's Sweethearts," "The Terminal," "The Fifth Estate," "Spotlight," and "Captain America: The First Avenger." Some of his TV credits include "ER," "Murder One," "Monk," and "30 Rock."