The Walking Dead Will Feature First 'Fully Nude' Zombie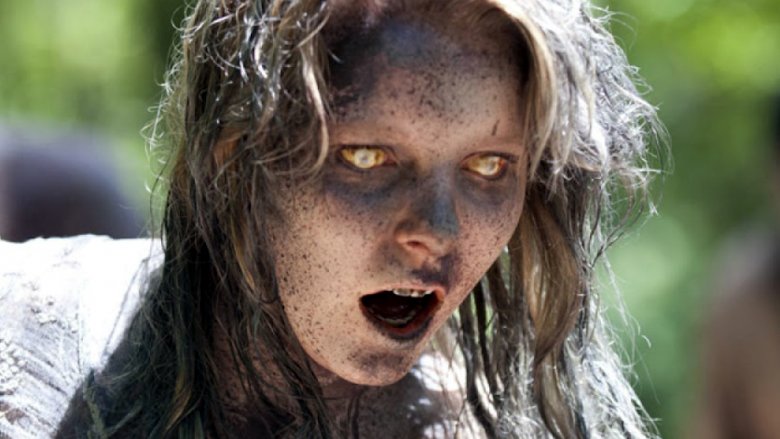 AMC
Considering all of the confusion that comes with a zombie apocalypse, it's pretty amazing that most of the zombies on The Walking Dead are fully clothed. But that will reportedly change during the second half of season 8.
Executive producer Greg Nicotero told Entertainment Weekly that the AMC series will feature its first naked walker. "There's an episode where we did our first fully nude walker," he said. "We've never done that before." 
There's no word about the walker's gender or what exactly we'll be seeing, but The Walking Dead has consistently pushed the boundaries since it debuted in 2010. Last year, AMC began to allow the show to include two "f-words" per season. 
Nicotero also said the second half of season 8 will have a very different tone than the first half now that Negan (Jeffrey Dean Morgan) and the Saviors have left the Sanctuary. "I think the second half of the season, there's much less talking about what's going on," Nicotero said. "Clearly, the balance has shifted. Now that Negan and his group have escaped the Sanctuary, there's not as much talking about what the ramifications are of what we're going to do, but now our group has to be on the defensive because Negan's out and he's pissed and it's definitely a different dynamic than the first half of the season."
He also said he's not worried about the show after Morgan Jones (Lennie James) leaves for Fear the Walking Dead. "Our cast, since the beginning, has always been very organic in terms of how it morphs into different things," Nicotero said. "We had season 1 and then we had the farm, and then we had the prison, and then we had Terminus, and then we had Alexandria. The dynamics of the show shift and change and I really believe that by the time this season ends, we're going to see another one of those great opportunities where the show continues to show its strength."
The Walking Dead returns Feb. 25.