First Look At Morgan's Fear The Walking Dead Crossover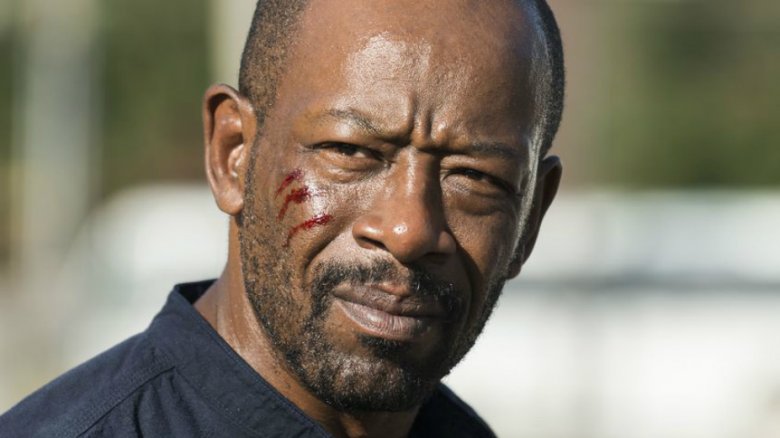 AMC
Morgan Jones is about to go where no character on The Walking Dead has gone before: Fear the Walking Dead. But that does raise a few big questions.
Entertainment Weekly has the first images of actor Lennie James on the Walking Dead prequel, and they could provide some clues about when exactly it is in the timeline that Morgan enters the picture. The last time we saw Fear, the show was still a few years behind where The Walking Dead is now. 
We first met Morgan in the pilot of The Walking Dead when Rick (Andrew Lincoln) came across him living in Georgia. At that time, Morgan had already lost his wife to walkers, and he was doing his best to protect his young son. But after Rick left to find his family in Atlanta, Morgan lost his son, too, which left him intensely overwhelmed with grief. He showed up again in season 3, then became a series regular in season 6.
So when does he cross paths with the characters on Fear? In the new photos, Morgan is using the Aikido staff that he trained with under Eastman before rejoining Rick's group in season 6. In one of the images, he's also dressed almost exactly like was when he made that return. 
We probably won't get many details from Fear co-showrunner Andrew Chambliss. "As Morgan Jones steps into the world of [Fear the Walking Dead], he'll be continuing the journey he began on The Walking Dead way back in the pilot," he said, noting that James really wanted to explore more of Morgan's backstory. "When we first met Lennie, he impressed upon us how much he cared about the character and how important it was to him for us to take Morgan to places we hadn't seen before. It's been a great challenge to set for ourselves, and it's what we hope to do with the character—to push Morgan to places he could only get by coming into contact with the characters on Fear. They'll change him. And, at the same time, he'll change them."
James will remain on The Walking Dead through the end of season 8, but he'll then make the move over to Fear. Check out the images below.