How Law & Order: SVU Star Ice T Caused A Fan Frenzy Over Bagels
Dia Dipasupil/Getty Images
Although Mariska Hargitay is the only original cast member still starring in "Law & Order: Special Victims Unit," Ice-T has been playing Sergeant Fin Tutuola for so long that it seems like he was there the whole time. After joining the cast in Season 2, Fin has since become a pillar of the Manhattan Special Victims Unit. Fin is a no-nonsense team player who is always there to provide backup if his fellow officers are in need. No matter who he's sharing the screen with, Ice-T gives an engaging performance that draws the viewer into the story being told. As a longtime friend of Captain Olivia Benson (Hargitay), Fin is a loyal second-in-command who can take charge of any situation in her absence.
At this point, it seems like Fin has done it all. He's gone undercover, gone on stakeouts, and solved an impressive number of cases, putting plenty of dangerous criminals behind bars along the way. Off-screen, Ice-T's career has been just as riveting (via NPR). However, when it comes to the most important meal of the day, he could afford to branch out a bit. Ice-T recently caused a fan frenzy online after admitting that he's never tried one of the most popular breakfast foods New York City has to offer.
Ice-T claims he's never eaten a bagel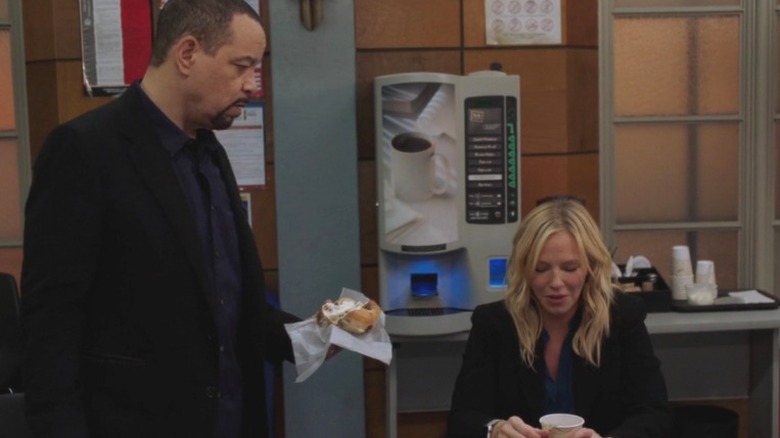 NBC
When Ice-T revealed on Twitter that he'd never had a bagel, fans were floored. After all, bagels are a common breakfast food, especially in New York City (via NPR). Some people felt that this was a mistake that needed to be rectified immediately. "I know there are more pressing things to us as a community, I just REALLY want to make sure the first bagel Ice-T eats is a really good one," wrote Twitter user @julieklausner. Philadelphia Cream Cheese even offered to send him some bagels and cream cheese so that he could try the combination for himself (via Twitter).
Other fans didn't buy it. "Remember when Ice-T said he'd never eaten a bagel and then an SVU super fan was like, 'Actually, you did and here's the episode you ate it on.'?," wrote Twitter user @ItsTheBrandi, referring to a scene in a Season 20 episode titled "Hell's Kitchen" that shows Fin preparing a bagel. However, Ice-T later implied that the bagel in question was a prop.
Thankfully, a dating app called Coffee Meets Bagel invited Ice-T to try one on their YouTube channel. Ice states that he usually prefers donuts, banging a rock-hard bagel against his counter before going in for a bite. "It's not bad," Ice says around a mouthful of bread (via YouTube). "It has a different consistency than a donut, but it's not bad." There you have it, folks. Next time, he'll have to try it toasted.