Jason Momoa Looks Perfect As Lobo In Epic Fan Art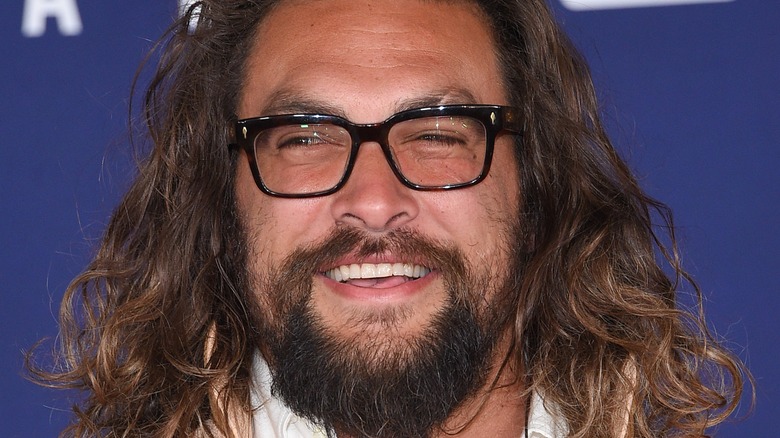 DFree/Shutterstock
With anti-heroes like Venom, Deadpool, and Black Adam making waves at the box office with their unorthodox methods and off-beat senses of humor, it's natural to wonder whether some of the other most prominent and popular anti-heroes of the comic book world are going to get feature films of their own. And the success of "Black Adam" in particular makes a film centered on filthy-mouthed Czarnian bounty hunter Lobo a distinct possibility — if only an actor can be found to embody the character's hyper-violence and unusual profanity.
Who has the x-factor necessary to bring Lobo from the page to the screen? One obvious choice, thanks to his experience playing the barbaric (but much less verbal than Lobo) Khal Drago on "Game of Thrones" is Jason Momoa. There's only one problem: Momoa is already busy in the DC Extended Universe playing Aquaman. But that can't stop fans from dreaming about Momoa in the role of Lobo, whether or not such an arrangement would ever be practically possible. And if you take a look at some recently released fan art depicting Momoa in the role, you have to admit he'd make a good fit, and it seems evident that he'd be able to make the Ultimate Bastich as entertaining on the screen as he is on the page.
A Lobo movie might actually be in the works
Fans are right to speculate on who might portray Lobo on the big screen. And Jason Momoa was recently asked about the possibility in a ComicBook.com interview to promote his upcoming "Slumberland" film on Netflix (itself based on a seminal comic strip by Winsor McCoy). James Gunn, set to take over the film wing of DC Comics, posted a picture of Lobo on his official Mastodon account, leading some to assume that a Lobo feature film is in the works. When asked about it, Momoa didn't shut down the prospect, his duties as Aquaman notwithstanding. Having recently discussed an upcoming "dream project" within the DC Extended Universe, Momoa doesn't deny that such a project could involve Lobo: "Huh. Well, everyone knows I'm a big comic book fan and so the comic that I collect the most and I have every comic there is ... you can do your research and find out what it is."
Could this be a reference to Lobo? Would audiences accept two DC superheroes (Aquaman and Lobo) portrayed by the same actor across multiple projects? Would Lobo and Aquaman have to fight each other with Momoa portraying both roles?
None of these questions are answered by the excellent piece by fan art maestro Bosslogic on Instagram depicting Momoa as Lobo, but it looks pretty cool anyway. The picture shows Momoa in full Lobo gear and makeup, and the comments seem mostly enthusiastic about the prospect — even with the Atlantean conflict of interest the casting would represent.
The art might remind you of one particular canceled Jason Mamoa comic book adaptation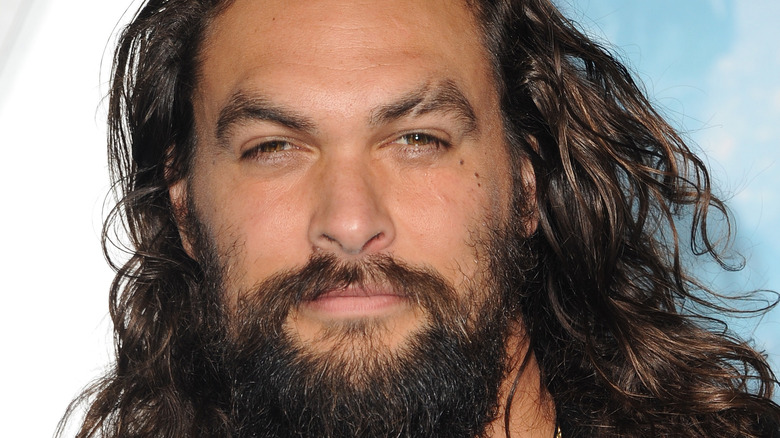 Tinseltown/Shutterstock
Bosslogic's rendition of Jason Momoa in the role of Lobo looks good and true to the original character. But it also calls to mind another abortive Jason Momoa comic book movie project, one that would not have conflicted with his role as Aquaman in the DC Extended Universe in anyway. It's "The Crow," already adapted in the '90s with Brandon Lee as the titular gloomy crimefighter, and for a time, Momoa was attached to the project. Unfortunately, it didn't happen, and Momoa even apologized to fans of the character for his inability to get the project off the ground.
Looking at Momoa as Lobo in Bosslogic's fan art, it's difficult not to see the similarities between both characters' distinctive facial features, and lament that neither Momoa's "Lobo" or Momoa's "The Crow" ever made their way to the screen — at least, not yet.