Millie Bobby Brown Looked To Fleabag For Inspiration In Enola Holmes 2 Fourth Wall Breaking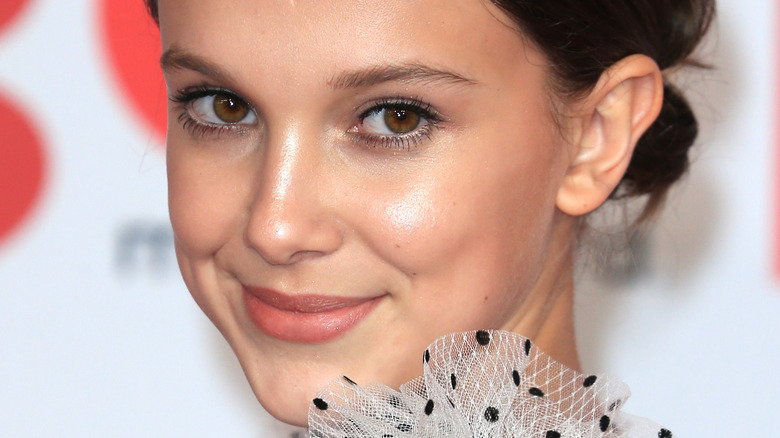 Fred Duval/Shutterstock
Millie Bobby Brown's meteoric rise in Hollywood may seem like an overnight success story, but the actor has continued to hone her craft over the past decade. Success all started with Bobby Brown's first appearance on the small screen as Young Alice in the television series "Once Upon a Time in Wonderland," and then she later teamed with the king of monsters himself, Godzilla, in two feature films. But the role Bobby Brown is best known for is that of the super-powered El (Eleven) on the sci-fi, horror drama, "Stranger Things."
But while Bobby Brown's career has been almost entirely dedicated to acting, the thespian did garner her first producing credit for her work in filmmaker Harry Bradbeer's "Enola Holmes." Bradbeer's movie was a Netflix adaptation of Nancy Springer's 2006 book, "The Case of the Missing Marquess (An Enola Holmes Mystery)," and Bobby Brown also played the lead role. 
Now, "Enola Holmes 2" continues the adventures of the burgeoning detective, and her brother Sherlock (Henry Cavill) returns, too. Also, the wonderful way Enola interacts with audiences is back. But do you know where Bobby Brown draws inspiration from when it comes to Enola's unique way of breaking the fourth wall?
Bobby Brown really enjoyed Fleabag's fourth wall breaks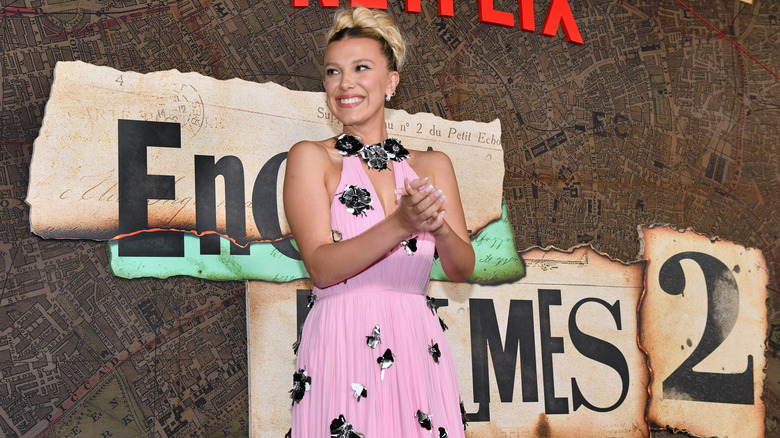 Craig Barritt/Getty Images
Breaking the fourth wall is nothing new in filmmaking. Monty Python certainly mastered the technique during the comedy troupe's career. Millie Bobby Brown was also quite passionate about creating more of Enola's fourth-wall interactions for audiences to enjoy in "Enola Holmes 2." She drew inspiration from the comedy series "Fleabag." Bobby Brown was quite taken with the way the titular character, who Phoebe Waller-Bridge portrays, knocked down the fourth wall.
"It's just like the most perfect way to break the fourth wall with her wit, her humor, her timing," Brown said in an interview with Variety. "It's so inspirational to me. I know that Harry [Bradbeer] has worked so closely with Phoebe in the past, so it's been a blessing to have him guide me on such a great course of how to achieve it." Bobby Brown really put forth an effort to up the ante in Bradbeer's sequel as much as possible, and in as many places as the director would allow for fourth-wall breaks.
"Maybe Harry [Bradbeer] can agree with me on this," Bobby Brown explained in the same interview. "But I think in every scene we tried doing, we tried breaking the fourth wall and then he edited the ones that landed the most." Certainly, breaking the fourth wall seems to be a trademark for Enola. Hopefully, she'll continue the fine tradition of rad wall and rule-breakers like Ferris Bueller (Matthew Broderick) and Deadpool (Ryan Reynolds) for many sequels to come.