Family Guy's Patrick Warburton Has No Issues With Turning The Show Off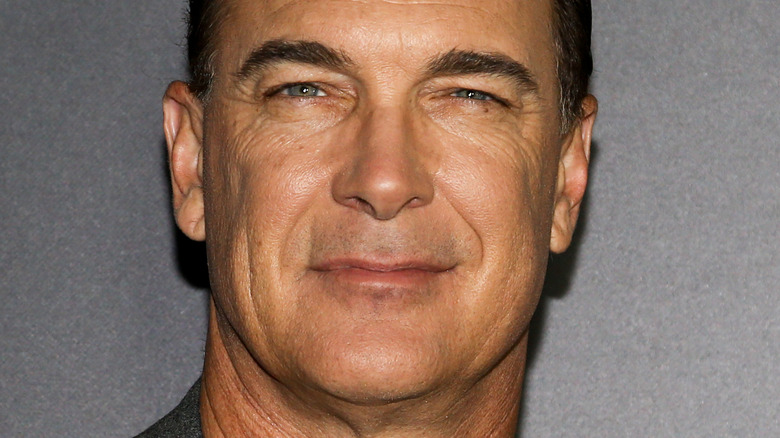 Debby Wong/Shutterstock
An episode of "Family Guy" is a remedy for those who hold the belief that animation is a medium only reserved for children. Writing for the South Florida Sun-Sentinel, critic Tom Jicha described the Seth MacFarlane comedy as a "water cooler show," saying "it is so outrageous and over the top that it inspires follow-up conversation." What's seen on "Family Guy" has to be discussed — it's a fact of life. While it faced off against the likes of "Futurama" and "The Simpsons" during its late '90s debut, the crass animated sitcom has maintained its cultural hold, continually bringing in millions of viewers, even in 2022 (via TV Series Finale).
The Fox series is one to push the envelope and has gotten embroiled in its fair share of controversies. Several organizations have called out "Family Guy" for its insensitivities throughout the years. Perhaps the most famous to paint the series as indecent is The Parents Television Council, which once dubbed it as one of the worst shows for a child to watch (via Broadcasting & Cable). Common Sense Media suggests that viewers under the age of 14 steer clear of the series. Glaad has condemned the series for its homophobic and transphobic jokes, while critic Ken Tucker previously highlighted the show's mocking behavior. "Racist, anti-Semitic, and AIDS jokes; shoddy animation; stolen ideas: The cartoon as vile swill," Tucker wrote for Entertainment Weekly.
Despite its controversies, "Family Guy" continues to truck along. Seeing as the show isn't for everyone, it shouldn't be too difficult to turn it off and watch something more palatable. After all, that's what "Family Guy" voice actor Patrick Warburton does when the series goes too far for his tastes.
Patrick Warburton turns off Family Guy when it becomes too sacrilegious
Behind the voice of police officer Joe Swanson is Patrick Warburton. One of Peter Griffin's (voiced by Seth MacFarlane) closest friends, Swanson is known to be one of the most cool-headed characters on the show. Warburton, a veteran voice actor and performer, has lent his voice to the likes of "Bee Movie," "The Emperor's New Groove," and "Seinfeld." Warburton continues to voice Swanson on "Family Guy," even when the Fox comedy goes too far. 
While speaking with HuffPost in 2015, Warburton revealed that he's had issues with the show's content and has even refused to do a scene. "It was something that was so offensive that I said, 'If that's in the show, I can't do this episode. ... Put it in another [expletive] episode that I'm not in,'" Warburton said. "We all wonder if we have a line that can be crossed, and I just discovered there is actually a line with me."
Despite the occasional insensitivity found in the writing, Warburton continues to watch the series until it hits too close on the religious front. "It's because I'm a Christian, and it's also because I just see it as diminished returns. Like, it's something that you're just going to get a jillion people to just turn the TV off," the actor discussed. Warburton's mother is actually a member of The Parents Television Council, one of the most prominent groups outspoken against the show's content. For Warburton, the best course of action is to just stop watching the show when it goes too far. "We turn it off in our house every now and then, too, when it gets just too sacrilegious," the "Family Guy" actor added.