Ana Gasteyer Recalls Her Time On SNL Being Chaotic And Stressful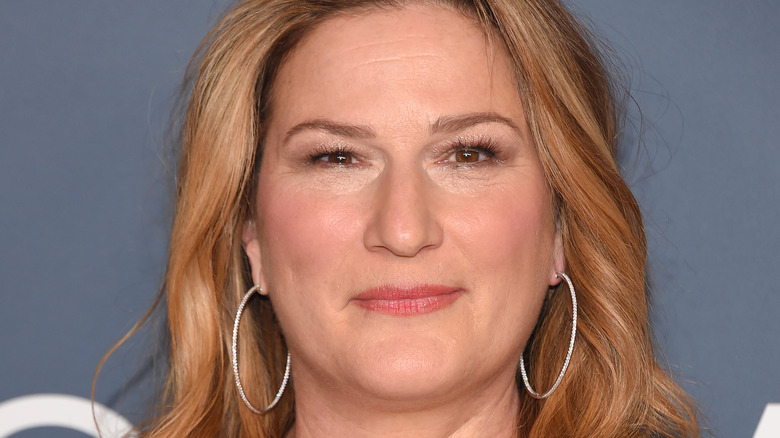 DFree/Shutterstock
"Saturday Night Live" has been an institution of television on NBC for nearly 50 years. Beginning all the way back in 1975, the weekly comedy-music show was created by Lorne Michaels and is both the longest-running sketch comedy show in American history as well as the longest-running variety show in American history (via Forbes).
Of course, much of this impressive achievement comes from the format of the series, which often sees massive celebrities showing up to host or play their latest music. With actors from the latest movies and musical guests behind the hottest new albums, viewers would often tune in just to see the biggest stars of the day, much like with the red carpet specials that air prior to awards shows.
Comedian and writer Ana Gasteyer was on "Saturday Night Live" for 16 years, from 1996 to 2012 (via IMDb) and while she achieved national fame for her portrayals of popular cultural figures like Martha Stewart and Celine Dion, according to Gasteyer, her time on the weekly comedy series wasn't all wine and roses, though.
Ana Gasteyer was on Saturday Night Live for 16 years
Ana Gasteyer joined fellow former "Saturday Night Live" castmates Dana Carvey and David Spade for an episode of their "Fly on the Wall" podcast, and she had plenty to say about her time on the long-running sketch comedy series, though a lot of it was negative, pertaining to the stress behind being on the show. For instance, early on, Gasteyer describes "Saturday Night Live" as a "perma-sh**show."
To clarify her point, Gasteyer explained how women on the show would have to do mental math to be sure that they had time for everything expected of them. "Women, we have so much hair and makeup...you have to do all this math yourself. You have to go like, 'Oh right, we have to be ready for dress at 8:05, I better get in the chair by 6:30.' You're always doing your own stage management."
While it sounds like the deck is definitely stacked unfairly for women on "Saturday Night Live," Gasteyer also described how impossible it was to find something to eat on set. "All we had was one soda machine...literally there was, like, no food. We would steal Tootsie Rolls from Lorne's office and popcorn," she recalled, also mentioning that cast members would do the occasional bit of dumpster diving.
Of course, Gasteyer also noted her good fortune in getting cast in "Saturday Night Live" and the success it afforded her, concluding: "It sounds so spoiled because here you are on television, but I think there was a lot of stress around all that."