The Woman King's Thuso Mbedu Explains The Intense Training That Prepped Her For The Movie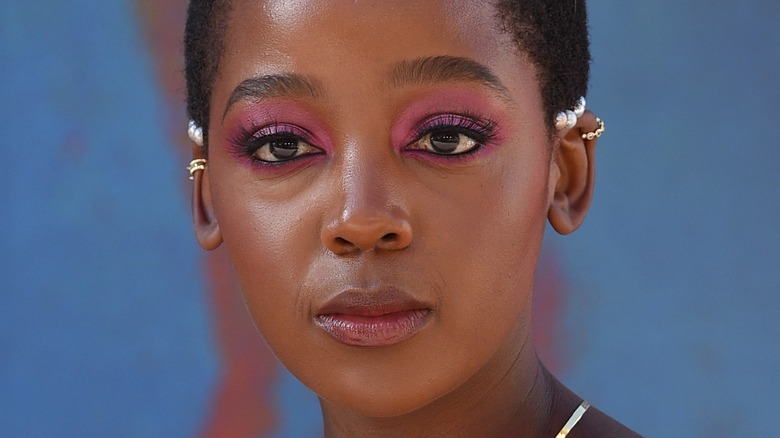 DFree/Shutterstock
One of the most critically acclaimed historical action films in recent years, Gina Prince-Bythewood's "The Woman King" featured a brutally kinetic style of fight choreography that feels all at once superhuman and realistic — likely due to the fact that the director had the actors perform the majority of their own stunts.
In an interview with "The Daily Show" host (and little-known "Black Panther" star) Trevor Noah, actor Thuso Mbedu described Prince-Bythewood's nigh-unflinching standards when it came to the fight sequences. Mbedu plays Nawi, a new recruit in Dahomey's all-female military force, the Agojie. "Gina, our director, does not believe in stunt doubles," she told Noah. "So part of my audition for the movie was going through a physical and fitness test to determine whether I'd be able to do my own stunts or not."
It doesn't appear as though Prince-Bythewood lacks respect for what stunt performers do or doubts how crucial they are to the action genre — in fact, she employed quite a number of them across her work on "The Woman King" and Netflix's Charlize Theron-led comic book feature, "The Old Guard." Rather, it was a matter of maintaining the reality of this quasi-historical piece. Speaking about crafting fight sequences on "The Woman King," she told Metacritic, "I wanted it to be raw and visceral and real... I also wanted it to be the actors in these moments, and you can only get that with the actor giving us performance." Prince-Bythewood enlisted the help of numerous professionals to prepare the cast for this daunting physical challenge.
The team behind The Woman King's stunts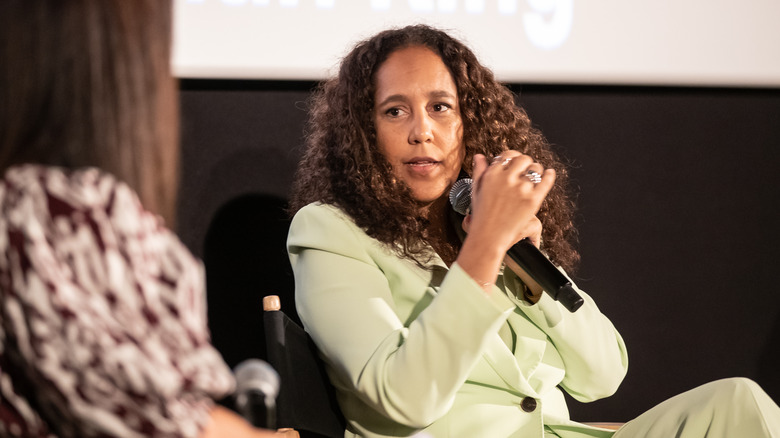 Miikka Skaffari/Getty Images
Every day for four months, the cast would complete a 90-minute strength training session with celebrity trainer Gabriela McClain (per The Hollywood Reporter). Sheila Atim, who plays Amenza, said the regimen transformed both their bodies and their minds (as seen in this behind-the-scenes featurette, on YouTube). Afterward, they were given to the film's stunt coordinator, Danny Hernandez, for daily combat training.
Prince-Bythewood had previously worked with Hernandez on "The Old Guard," which also saw standard actors training as stunt performers in order to ground its action sequences. Speaking about this process to Insider, he said "It's a lot of work, self-sacrifice, pain, and bruises... Because it's all for real. No cheats. No stunt doubles." Though a couple of actors, including Theron, are credited as having stunt doubles, many complex fight sequences were done entirely without their help (such as this airplane brawl, which Hernandez discusses at length in his interview with Insider).
Hernandez worked with one of the few stunt doubles on "The Woman King" to bring the cast up to speed in time for filming. According to Prince-Bythewood's interview with Metacritic, only two actors in "The Woman King" ever needed a stunt double — one of which was Viola Davis, who played the titular ruler and leader of the Agojie. Though Prince-Bythewood maintains that Davis performed 90 percent of her own stunts, she was at times covered by prolific stunt performer and actor Jénel Stevens. Stevens is an accomplished martial arts trainer whose work in the entertainment industry spans over 60 films and television shows, including multiple appearances as a member of the Dora Milaje of "Black Panther." Together, Hernandez and Stevens put the cast through a grueling training process that transformed them from Hollywood movie stars into battle-ready warriors.
Mbedu threw herself into the process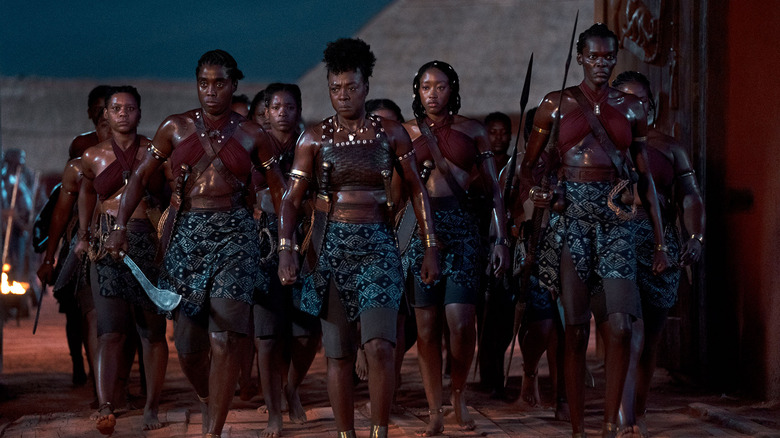 Sony Pictures Entertainment
Mbedu told Noah that after she accepted an offer for the film in April of 2021, she took it upon herself to begin training in Muay Thai before Hernandez would properly train the cast during pre-production in July. Their daily strength training was followed by over three additional hours of daily martial arts and weapons instruction with Hernandez and Stevens. According to Viola Davis, they trained with swords, spears, and machetes, making the actor feel "like a badass."
Apparently, Prince-Bythewood had only planned for two hours of combat training per day, but Mbedu unintentionally changed her mind. As she and Noah both recall, Mbedu asked the director for an extra hour of training to ensure her fighting skills would be on par with her acting. Prince-Bythewood took to the idea so completely, she extended training hours for the entire cast — as well as herself. "As a director, if I'm going to ask you to do something, I have to be willing to do it myself," Prince-Bythewood told Metacritic, "I knew this level of training was going to be part of the rehearsal process and part of them building character. And as a director, I wanted to be a part of that."
Stevens taught the cast the basics of weapon strikes through an ancient Filipino numerical style called Kali. She told Women's Health the combat was initially overwhelming for the actors, but that eventually "they got into a rhythm with it and they just got used to it..." After hearing of the intense training regime, Noah told Mbedu during their interview "so, like you know how to fight now..." In response, she said "I like to believe so," before bursting into a fit of laughter.
"The Woman King" is in theaters now and is set for VOD release on November 22, 2022.