Here's How Ticket Sales Are Going So Far For Black Panther: Wakanda Forever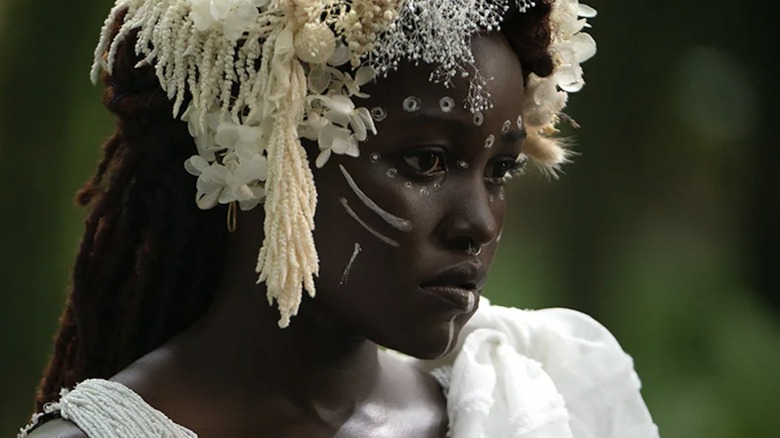 Marvel Studios/Disney
Advance ticket sale numbers are rolling in for Marvel Studios' "Black Panther: Wakanda Forever," and they are slightly surprising. Per The Hollywood Reporter's own sources, the film generated $45 million in pre-sales alone, outpacing "Thor: Love and Thunder" but failing to match "Doctor Strange in the Multiverse of Madness." The film — just days away from a massive global theatrical release — is a sequel to one of the Marvel Cinematic Universe's best-performing and most critically acclaimed projects.
The fact that "Wakanda Forever" has failed to generate pre-sale hype on the same level as "Multiverse of Madness" is a bit surprising. The first "Black Panther" opened to a record-breaking $202 million box office, going on to bring home well over $1.3 billion in global revenue. At the time, it was the third-highest-grossing MCU film, just steps behind the first two "Avengers" movies. (With the release of "Infinity War," "Endgame," and "Spider-Man: No Way Home," it now ranks sixth.) 2016's "Doctor Strange" opened to just $85 million, per the Hollywood Reporter, and grossed just under $680 million total (via Box Office Mojo).
More than that, "Doctor Strange" as a franchise just doesn't carry the same amount of cultural prominence as "Black Panther." Especially before the release of his sequel and his appearances in other properties, the master of the mystic arts' relatively middling box office and weak supporting characters made him less of an Iron Man and more of an Ant-Man. How, then, could a sequel generate so much more hype than "Black Panther?" The answer could lie in the multiverse.
Less crossover, less hype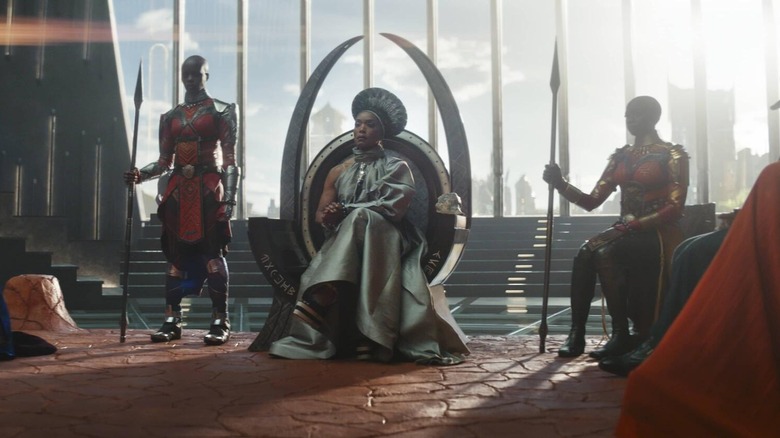 Marvel Studios/Disney
Interestingly, the original "Black Panther" stands apart from the five financially-superior MCU films in that it's not an "event" film. The trailers promised no crossovers, no universe-changing outcomes, no infinity stones, and no Thanos. It was — and always seemed it would be — an isolated story. The same is largely true for "Black Panther: Wakanda Forever." Despite a lukewarm rumbling that the much-anticipated "Fantastic Four" foe Doctor Doom would make his debut, the film appears to be almost entirely concerned with its own, Wakanda-centric storyline.
While this is a strong narrative choice, it could explain why it isn't performing as well in pre-sales as "Doctor Strange in the Multiverse of Madness." Though the "Doctor Strange" sequel was almost entirely self-contained, Marvel seemingly leaned into the expectations of multiversal ramifications and crossovers. From the trailers alone, it appeared as though the film would bridge the gap between the MCU, the Fox "X-Men" universe, and even a few "What If...?" stories. For fans, this may have placed "Multiverse of Madness" in a similar category to "Spider-Man: No Way Home" or even "Avengers: Endgame."
As The Hollywood Reporter stated, however, the film's box office was significantly front-loaded — once the hype dwindled, so did the box office. If this was due to the film's over-promising, "Wakanda Forever" should be safe from such a pitfall.
"Black Panther: Wakanda Forever" premieres in theaters on November 11, 2022.