Marvel Studio's Chadwick Boseman Intro Is Wakanda Forever's Most Powerful Moment
The following article contains spoilers for "Black Panther: Wakanda Forever."
One of the most impressive aspects of "Black Panther: Wakanda Forever" is how it manages to accomplish so much in under three hours. It tells a compelling story of Shuri (Letitia Wright) dealing with loss and ascending to the mantle of Black Panther. It introduces audiences to Riri Williams (Dominique Thorne), who will go on to become the hero Ironheart. And it serves as a fitting tribute to a renowned actor who is no longer with us — Chadwick Boseman. 
Tragically, Boseman passed away in 2020. Rather than recast the role, the forces that be at Marvel decided to push forward, focusing on other characters set within Black Panther's realm. And "Wakanda Forever" even has T'Challa pass away in the film from a mysterious illness to mirror Boseman's own passing. 
The film opens with Shuri attempting to save her brother, only to find out her efforts are too little too late. What follows is a celebration and mourning of T'Challa's life as all of Wakanda remembers their valiant king. And what follows is one of the most heartwrenching moments ever to come out of the Marvel Cinematic Universe. 
A special Marvel logo for Chadwick Boseman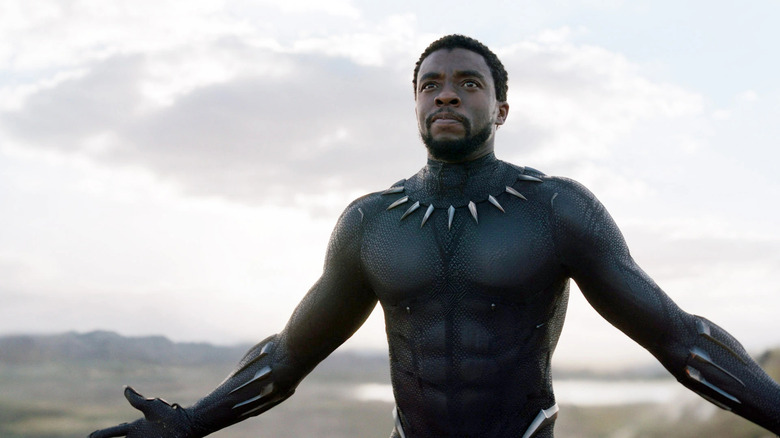 Marvel Studios/Disney
Normally, the Marvel opening credits logo plays after a short scene at the beginning of every movie. The scene introduces us to the hero or villain we'll be following for the next two hours. Then the logo plays with either the triumphant "Avengers" score playing underneath or some other kind of popular music. There can naturally be some variations to the logo, but it's a way for Marvel to show off its massive roster of characters. 
However, something different happens during this portion of "Black Panther: Wakanda Forever." Instead of seeing the likes of Captain America and Hulk appear, we only see images of Chadwick Boseman as T'Challa, aka Black Panther. After select images, we see scenes play out over the word "Marvel" in the logo to remember all that Boseman had accomplished during his time in the MCU, which in retrospect feels all too short. 
To truly underscore the moment and add further poignancy to it, no music plays during the sequence. It's completely silent, almost forcing the audience to take in the images and remember all that Boseman did during his career. There were likely theaters around the world where you could hear a pin drop during this sequence that could make even the toughest individual shed a tear. 
Chadwick Boseman changed the MCU for the better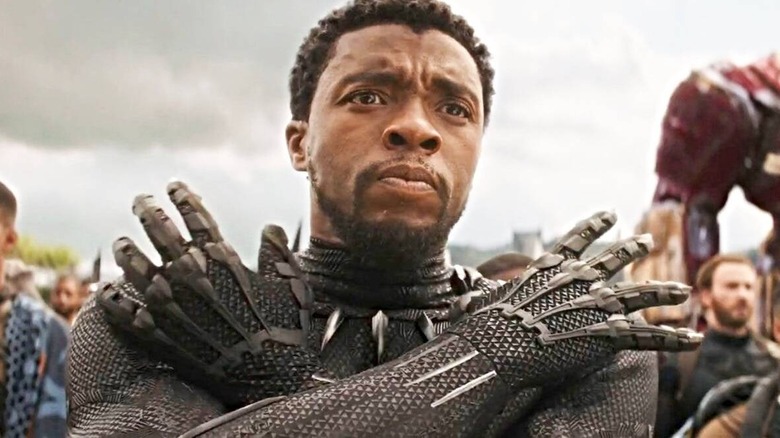 Marvel Studios/Disney
Chadwick Boseman's introduction to the MCU began with a role in "Captain America: Civil War." In this film, he's both Wakanda's protector and the next in line for the throne, with the latter sadly coming to pass sooner rather than later after the Winter Soldier (Sebastian Stan) assassinates his father, King T'Chaka (John Kani). T'Challa then pursues vengeance against those who have wronged him, but by the end of the movie, he's learned to let go of his anger. 
It's a journey mirrored by his sister, Shuri, in "Black Panther: Wakanda Forever." Shuri also allows her anger to consume her after Namor (Tenoch Huerta) kills a loved one of hers. While she's capable of great destruction, she too learns to pursue a grander calling by the finale. It just goes to show there's still a little part of T'Challa out there in her. 
In addition to headlining his own feature film with 2018's "Black Panther," Boseman also featured heavily in "Avengers: Infinity War" and "Avengers: Endgame." That's not even getting into the actor's impressive filmography outside of the MCU. Boseman had a career like no other, and it's abundantly clear he was taken far too soon.