Nick Kroll Has A Hard Time Watching His Live-Action Scene In Big Mouth Season 5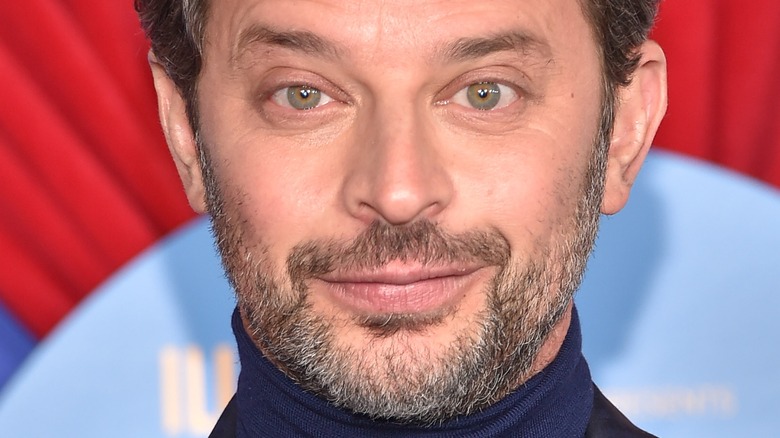 DFree/Shutterstock
There is nothing more excruciating than the painful changes of puberty. Hormones, mistakes, and tears are universal parts of the package, and there is no better example of this than in Nick Kroll's Netflix series "Big Mouth." Based on the traumatic details of Kroll's youth, the series uses animation to poke fun at the trials of growing up. Kroll voices his childhood caricature as Nick Birch, while John Mulaney is the equally neurotic Andrew. Though there are outrageous aspects such as Maya Rudolph's scene-stealing Hormone Monstress, Connie, "Big Mouth" still uses the platform to tell resonant stories.
The series tackles multiple perspectives on issues and tries to stay topical. During the height of the #MeToo movement, what started initially as a joke, turned out to be a musical number satirizing the toxic message in the 1994 film "Disclosure" (via IndieWire). With every upcoming season, Kroll leans in to top the last and often to great success. But in the case of Season 5's meta experiment, Kroll isn't exactly comfortable appearing as himself in live action.
Animation has its perks
The Season 5 finale of "Big Mouth" proved one of the more ambitious endeavors to date. In a meta turn of events, young Nick Birch demands to speak to whoever is in charge, leading him to real-life Nick Kroll. Throughout the sequence, the live-action Kroll and his animated counterpart debate among themselves their neuroses. And even in the scene, Kroll notes that he wasn't sure if the idea would be a slam dunk. In an interview with Consequence TV, Kroll elaborated on what made this move particularly awkward.
"We shot that in the thick of the pandemic, and I think right after my wife had given birth. And I, to be frank, hate how I look in it because I feel like I was out of the practice of being on camera and probably was not at my normal, on-camera fighting weight," Kroll explained. "I was more likely in the pandemic having just had our first child. So, I like the idea of what we were doing. I just have trouble looking at myself." Kroll is certainly old hat at performing live-action. His recurring part in "Parks and Recreation" was more than memorable, and he just appeared in Olivia Wilde's drama-infused film "Don't Worry Darling." But there is something about animation that serves as a shield for the actor. When you can draw characters however you want, there is little opportunity for self-doubt.
Even bigger things are in store for Big Mouth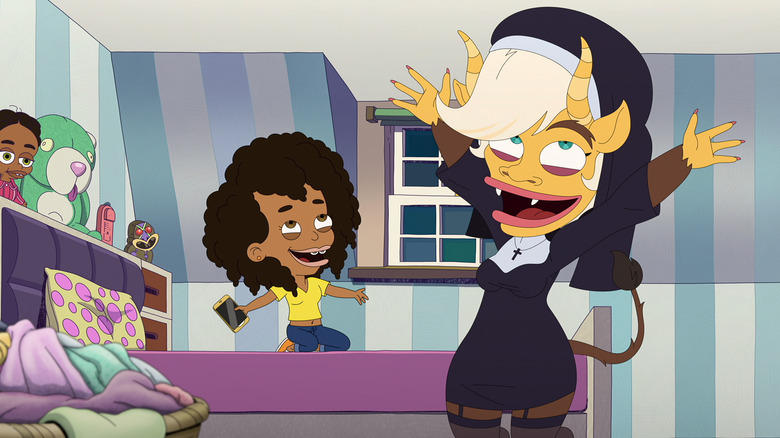 Courtesy of Netflix
As if Nick Kroll's schedule wasn't jam-packed enough, the comedian continues to push through with many pursuits. In addition to attending the Venice Film Festival premiere of "Don't Worry Darling" and releasing his Netflix special, Kroll is also a father as of 2021. As the "Parks and Recreation" actor made apparent in an interview with The Cut, he has a healthy sense of humor about all the drama surrounding the Olivia Wilde film. But he also looks forward to Season 6 of "Big Mouth." His meta appearance in Season 5 didn't throw the series too off track. It may be segueing into a new era. After the changes in his life, Kroll teased that the new season would have family-centric stories.
"[Having a family] has opened me up emotionally, and I think artistically," Kroll told Danielle Cohen of The Cut. "I have access to different emotions I had only experienced as a bystander, watching my siblings or friends have kids." Kroll's animated series has always been about youth's growing pains, and from the sound of it, "Big Mouth" Season 6 will have more vulnerability than ever before.