Bad Sisters Gets The Season 2 Green Light From Apple TV+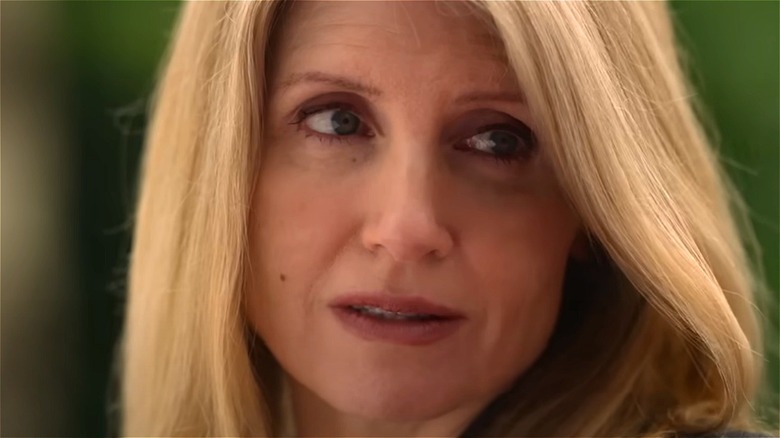 Apple TV+
Unexpected death, insurance fraud, and sibling interactions? That doesn't immediately sound like a good combination for a comedy television show, but then again, dark humor is its own beast — and one with a very specific niche. 
"Bad Sisters" follows the Garvey sisters — Eva (Sharon Horgan), Grace (Anne-Marie Duff), Ursula (Eva Birthistle), Bibi (Sarah Greene), and Becka (Eve Hewson) — in two different timelines that occur before and after the mysterious death of their brother-in-law John Paul Williams (Claes Bang). John, as it happens, was vicious and exceptionally mean, which makes his death something that casts quite a bit of suspicion cast towards the Garvey sisters. The first season of "Bad Sisters" has been a huge success with critics, and the show currently holds an impeccable rating of 100% on Rotten Tomatoes. That inaugural run consisted of 10 episodes, premiering on Apple TV+ on August 19, 2022, with the final episode dropping on October 14, 2022. 
Considering the overwhelming critical response to "Bad Sisters," it was only a matter of time before Season 2 would be given the green light. Thankfully, fans can now rest assured that the intense family feud drama will continue.
Season 2 of Bad Sisters has been officially confirmed
According to TV Line, Season 2 of "Bad Sisters" has now been officially confirmed, with star and writer of the show Sharon Horgan saying, "If you'd have told me three years ago that I'd be making a series about five murderous sisters chasing a man around Ireland trying to kill him, I'd have said: 'Yeah, that sounds about right.'" She continued, "The response to our show had been beyond what we could have hoped for. It gave us the opportunity to shine a light on stories that don't always get such a global platform. I look forward to getting chilly in the Irish Sea one more time."
On a storyline level, it's no huge surprise that the show will go on. After all, the first season of "Bad Sisters" did end with a shocking twist involving John Paul and the sisters, the ramifications of which will truly paint the upcoming future season in some pretty severe ways. Now that it has been revealed what happened to John Paul, it will be even more interesting to see how the Garvey sisters family dynamic will be changed by this turn of events ... especially considering that some of the sisters will be forced to move in with each other, a development that's poised to set off major fireworks. 
Either way, Season 2 will certainly hope to continue impressing critics and fans of Irish black comedy alike.