The Devastating Death Of Harry Potter Star Leslie Phillips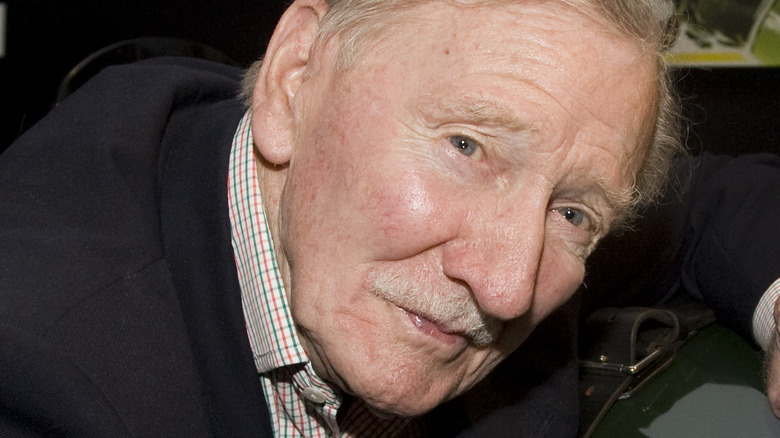 John Phillips/Getty Images
The world has lost another magical force of entertainment with the passing of famous English actor Leslie Phillips. As The Sun reports, Phillips passed peacefully in his sleep on November 7, 2022 at the age of 98. His wife Zara said of the news, "I've lost a wonderful husband and the public has lost a truly great showman. He was quite simply a national treasure. People loved him. He was mobbed everywhere he went." She continued, "When we married he cheekily introduced me to the Press as royalty, insisting I was the new Zara Phillips and that I was related to the Queen."
Born on April 20, 1924, Phillips had a long and illustrious career that was marked not only by success but by personal tragedies as well. His father died when he was just a young lad of nine, and a year later, his mother sent him to the Italia Conte Stage School, where he quickly lost his cockney accent. Phillips also served in the military during World War 2, where he earned the rank of 2nd Lieutenant in the Durham Light Infantry division. Phillips married his first wife, Penelope Bartley, in 1948, but they divorced later in 1965, and she died in a house fire in 1981. Phillips eventually remarried in 1982 to Angela Scoular, who died in 2011. He then married Zara Carr in 2013, who had been a long-time friend. However, Phillips himself was always an entertainer and comedian, and these profoundly personal losses never really affected his ability to lift the spirits of all around him.
Leslie Phillips had a decades spanning career and prolific style
According to IMDb, Leslie Phillips had over 174 acting credits, as well as nods for producing, directing, and self-appearances, with his first role being a bit part in "Lassie from Lancashire" in an unaccredited role in 1938. He made several more appearances in bit parts in movies and shows like "The Citadel" in 1938, "The Magic Bow" in 1946, and "The Galloping Major" in 1951, to name just a few of his exploits, but perhaps what helped put Phillips on the map was 1952's "My Wife Jacqueline," where he had a leading role and leaned heavily into British comedy stereotypes.
Later in 1957, Phillips was given worldwide attention for appearing alongside Gene Kelly in "Les Girls," which catapulted him to international stardom. Phillips was also famous for "The Navy Lark," which was both a radio program and movie in 1959, and he continued appearing in many different television shows and films like "Our Man at St. Mark's," "Foreign Affairs," "Casanova '73," and Steven Spielberg's "Empire of the Sun." When asked about how being a British style icon, Phillips told The Chap in 2020, "I was very dapper and a lot of people used to copy me in those days. That happened a lot, and also lot of people became a doctors because of the movies. In fact I blame myself for the NHS. But gradually I started looking for better roles and started doing more classical roles, and turned my career around into a different arena and back onto the stage, where I've done a lot of Chekhov, Shakespeare, all sorts."
Leslie Phillips was the voice of the Sorting Hat in the Harry Potter franchise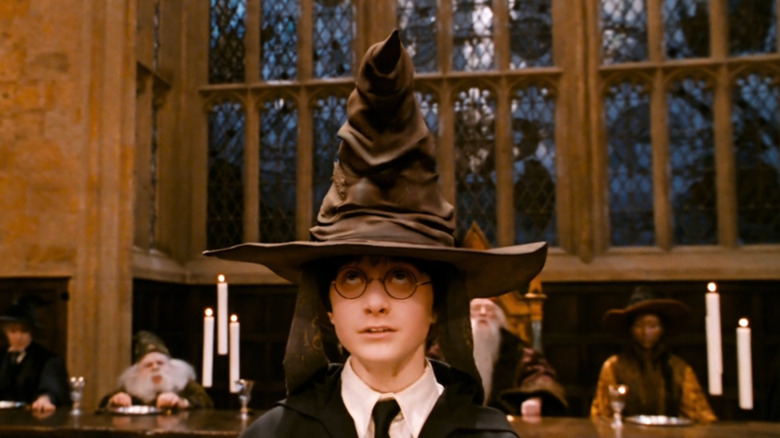 Warner Bros. Pictures
Perhaps what Leslie Phillips is best known for these days is playing the Sorting Hat of the "Harry Potter" movies. As a refresher for the muggles, the Sorting Hat is the mechanism by which new students at Hogwarts are placed into their respective houses like Ravenclaw, Hufflepuff, Slytherin, and Gryffindor. The Sorting Hat is sentient and is able to judge an individual's innate characteristics and propensities in order to find them the proper magical house, but it also considers the individual's wants and desires, which is best highlighted when Harry Potter (Daniel Radcliffe) is concerned that he'll be placed in Slytherin, and he is told that the Sorting Hat can sense such things.
Speaking with the BBC in 2014, Phillips said of his voice work involving the "Harry Potter" franchise and other such endeavors, "I have done quite a lot of voices in my time. I have a distinctive voice, and through the years of work that I've done, my voice is well known. I'm often asked purely on the level of my voice — it literally led to Harry Potter. I play the Sorting Hat and I've had a wonderful reaction to that." The world has lost quite a few "Harry Potter" actors recently, but at least Phillip's extensive career will forever be preserved.