Ellie Kemper Was Almost Alright With The Idea Of Being Rejected For A Role On The Office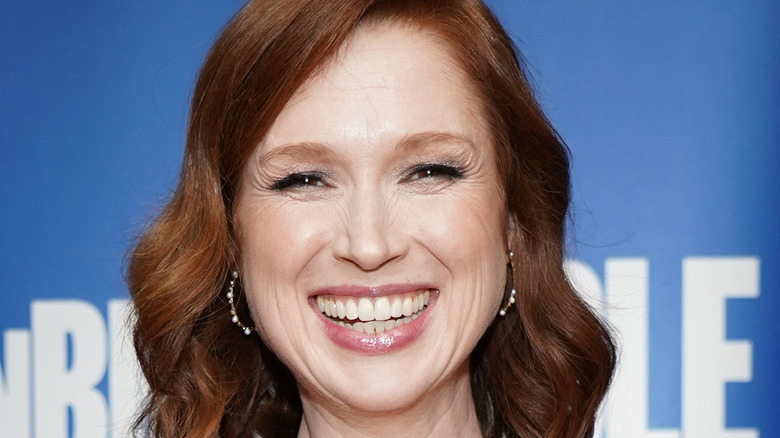 Rachel Luna/Getty Images
"The Office" — the popular NBC mockumentary developed by Greg Daniels about the everyday work lives of a group of paper company employees — created a memorable set of characters, to say the least. Some fan favorites include well-meaning but ignorant regional manager Michael Scott (Steve Carell), quirky salesman Dwight Schrute (Rainn Wilson), and sarcastic salesman Jim Halpert (John Krasinski).
While all of the aforementioned employees are there from the get-go, the series also added new cast members in later seasons. One of the characters to come in later on was Erin Hannon, played by Ellie Kemper. Erin comes into the mix in Season 5, taking over as receptionist when Pam quits the position to join the Michael Scott Paper Company as a salesperson. "The Office" was Kemper's breakthrough role and, after the series wrapped, she went on to continue her successful career, even earning two Emmy nominations for "Unbreakable Kimmy Schmidt."
Fans would likely agree that Kemper was perfect for the role of optimistic Erin. And as excited as she was about the prospect of playing Erin, Kemper had also been accepting of the chance that she may be rejected from the role. Here's what the actress has to say about the time leading up to landing the part.
Kemper was excited just to be auditioning
In a February 2020 interview with Today, Ellie Kemper discussed how she landed a role on the popular sitcom, revealing right off the bat that she was a huge fan of "The Office" before being cast in the role of Erin. In fact, because she was such a huge fan, she found herself feeling okay with the prospect of not getting the role because the audition itself was so memorable.
"I remember during my audition as Erin, I was reading with Ed Helms, and I thought, you know, this is the most exciting thing that has ever happened to me career-wise, so if it ends right now, that'll be fine," said Kemper. But now, she looks back and thinks that it would not have been fine, actually. "Because I wouldn't have gotten a part on 'The Office!'"
The actress then shared that her first day on set turned out to be a very surreal experience, given that, because she was such a fan of the show, she felt like she really knew the characters already — but they didn't know her. Kemper concluded, "It is surreal to feel like you know people and then to actually arrive on a set and meet them in person ... It was like I won the lottery."