The Best Time Erin Hannon Ever Broke Character On The Office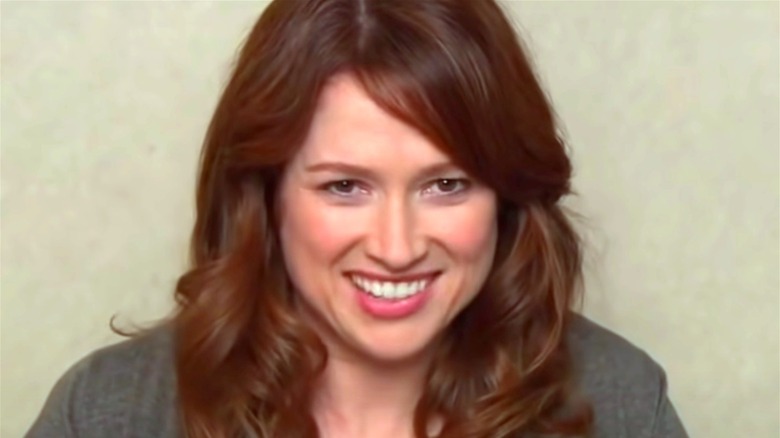 NBC
Throughout its nine-season run on NBC, "The Office" won five Emmys, launched the careers many A-list stars that include Steve Carrell and John Krasinski, and is still considered one of the best television shows of all time. While millions of fans still come back to see clips of their favorite Dunder Mifflin employees on YouTube, just as many viewers are tuning in to see the show's outtakes, when the actors just couldn't keep it together for the scene.
If you do a quick search for "The Office" bloopers, you'll find numerous, addictively re-watchable compilations of times when the cast were enjoying a scene more than they expected. Some of the most memorable outtakes from the show include Stanley's sudden burst of personality when telling Michael "we get to go home!" or Gabe (Zach Woods) making Jim (John Krasinski) and Dwight (Rainn Wilson) crack up by telling them about the online karate classes he's taking.
The cast of the show all have hilarious scenes where they broke character from laughing too hard, forgetting a line, or in the case of Erin Hannon (Ellie Kemper), something else entirely.
Elllie Kemper's stomach interrupted a scene
One of the best times that Kemper's character broke was during the filming of the Season 8 episode, "Free Family Portrait Studio." In the middle of a scene in which Andy Bernard (Ed Helms) reveals how he has sunk so low, Kemper breaks character and immediately apologizes to her co-star. "Sorry is that my stomach?" Kemper says. The actress then goes on to ask the crew if they heard her stomach make a noise. "I thought it was like a door creaking," Helms tells her.
After a few more apologies, Kemper says she's ready to start, but co-star Helms imitates her stomach, making a creaking sound. Kemper says "It was so loud, it wouldn't stop," and looks down.
Over the course of the show, Andy and Erin had an on-again/off-again relationship, and while the two characters may have had some friction between one another, the actors loved working together. Helms told fellow "Office" actor Brian Baumgartner on the latter's podcast that "There was something so breezy and simple and natural about goofing off with Erin." But he admitted that he didn't enjoy filming the scenes in which Andy wasn't so kind to Erin. This blooper definitely wasn't one of those uncomfortable moments.