John Candy's Yellowbelly Scene From SCTV Blew Conan O'Brien's Mind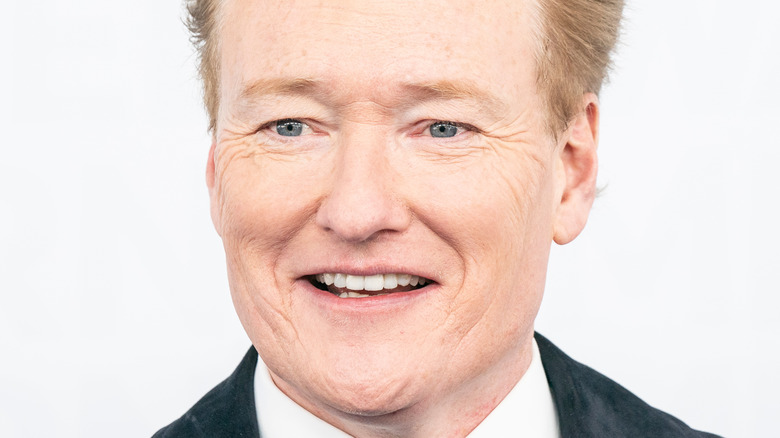 lev radin/Shutterstock
Conan O'Brien is regarded by many to be one of the pre-eminent comedic minds of the modern era. For proof of his far-reaching impact on the comedic world, a quick glance at his IMDb page will show writing credits on groundbreaking comedy series like "Not Necessarily the News," "Saturday Night Live," and "The Simpsons." However, he is perhaps best known as the wildly animated host of late night talk shows "Late Night," "The Tonight Show," and, up until 2021, TBS' "Conan."
These days, O'Brien hosts a podcast called "Conan O'Brien Needs a Friend," which is a lot like his talk shows in that he brings on celebrity guests and chats about pretty much anything they want. Unlike his TV series, which usually compress the interviews to a few minutes, the podcast allows Conan and guests to get cozy and have an in-depth conversation. During a recent episode, the comedian went in-depth with Colin Hanks about all manner of topics covering the actor's career and personal life.
In the course of conversation, the two bonded over their shared love of the late actor John Candy. In praising the comedic legend's work, O'Brien gushed over an infamous sketch called "Yellowbelly" that Candy appeared in four decades ago. 
Candy's infamous Yellowbelly sketch likely helped form O'Brien's twisted sense of humor
If you're wondering how Conan O'Brien and Colin Hanks got on the topic of John Candy, it's because Hanks recently set about making a documentary about the man, who was a friend of his father, Tom Hanks. O'Brien was interested in the documentary, as he's a fan of Candy's work. In particular, O'Brien mentioned how much he adored the late actor's contributions to Canada's famed SCTV sketch comedy series, with the "Yellowbelly" sketch still fondly in his brain 40 years after he first saw it.
The infamous sketch aired in the early '80s when Candy was still a star on the rise. It found him playing a quivering, disgraced cavalryman in an Old West town who, in a fit of cowardly fright, shot a woman and her young son in the back. Candy said not a word in the twistedly funny clip, which lasted a mere 55 seconds. Brevity aside, the sketch clearly left a major mark on O'Brien's psyche, as he recounted it in surprisingly solid detail with almost no prompting. "It seared my brain," O'Brien said of the sketch. "I was watching that with my brothers... and my mind exploded through my skull that you could do that!"
If one is familiar with O'Brien's brand of comedy, it's easy enough to see Candy's "Yellowbelly" sketch as a sort of touchstone moment for him and his future work, and that fact stands as a testament to Candy's enduring genius.