George Lucas Helped Direct A Solo: A Star Wars Story Scene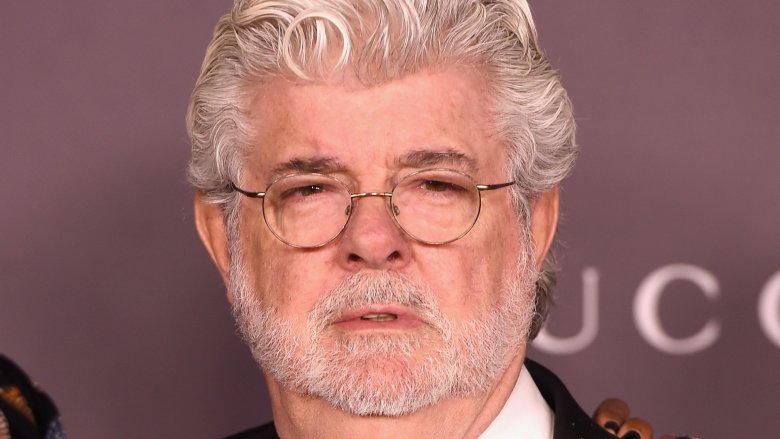 Getty Images
Ron Howard got some help from a Star Wars vet on Solo: A Star Wars Story. The director revealed in a recent interview with Entertainment Weekly that his old friend (and Star Wars mastermind) George Lucas stopped by the set after he took over as director to provide some pointers– and to assist with directing one of the scenes.
Howard said that Lucas and his wife, Melody, paid a visit to set on the first day that he picked up shooting. "It made me feel great," he said. "He told me just trust my instincts, you know? I know he kind of fundamentally feels like, first and foremost, [these films are] sort of for 12-year-old boys, and yet even he knows that it's grown so far beyond that, and the fans have grown with the series in a great, important way. So he didn't offer a lot of advice except, 'You'll get this.'"
Lucasfilm president Kathleen Kennedy said that Lucas had intended to "just kind of stop by and say hi," but he wound up staying on set for five hours. "There's even one little moment in a scene that — I can't tell you what, sorry — but in the scene on the Millennium Falcon where George said, 'Why doesn't Han just do this,'" Kennedy revealed.
Kennedy said that the "funny little bit" will "probably get a laugh" from the audience. "Ron  happened to be by the monitor and not inside the Falcon and he goes, 'Oh that's a great idea,' and ran in and said, 'George wants us to do this,'" she recalled. "So that was pretty cool. I think George felt pretty great about that. He could revisit these characters, and I think he felt so comfortable, obviously with Ron being there, that it was just fun for him."
Alden Ehrenreich, Donald Glover, Emilia Clarke, Woody Harrelson, Thandie Newton, Phoebe Waller-Bridge, Paul Bettany, and Joonas Suotamo star in Solo: A Star Wars Story. The movie, which was written by Lawrence and Jon Kasdan, hits theaters on May 25.