Tom Cruise Used One Of His Own Planes In Top Gun: Maverick's Final Scene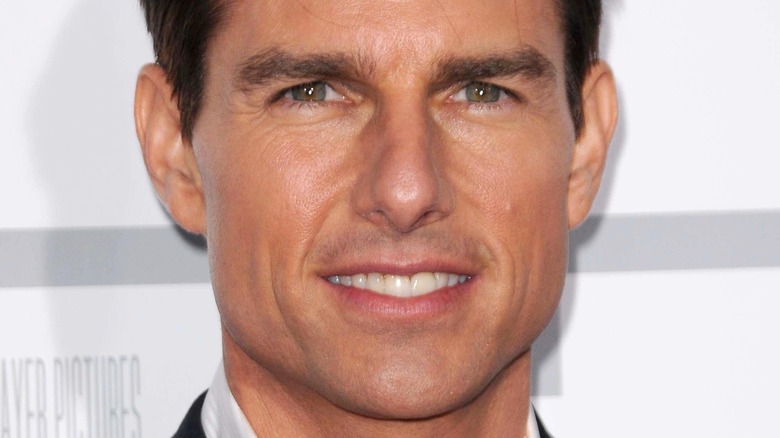 s_bukley/Shutterstock
Nearly 40 years after Tom Cruise flew into our hearts with 1986's "Top Gun," its sequel, "Top Gun: Maverick," has proven that there is still plenty of fuel in the tank for audiences to enjoy. Released during the 2022 Memorial Day weekend, the film, which follows Pete Maverick (Tom Cruise) returning to the Top Gun program in order to train a new crop of pilots for a dangerous mission, became a record-breaking juggernaut at the box office. Upon its opening weekend, the film earned over $160 million, becoming the most successful film to open during Memorial Day weekend, besting the previous record-holder, "Pirates of the Caribbean: At World's End" (via Deadline). "Maverick" would go on to become the year's current highest-grossing title (via Variety) with a worldwide box office gross of over $1.4 billion (via Box Office Mojo). On top of that, the film was lauded by critics and audiences alike, boasting a 96% score on Rotten Tomatoes. 
Among the film's most beloved aspects are its daring arrays of stunts and plane flying sequences. "Maverick" saw a different challenge as the rest of the cast had to go through rigorous training in order to direct themselves while simultaneously performing their many high-flying action scenes (via The Independent). For stunt guru Cruise, however, this was clearly a great chance for him to allow his immense love of aviation to shine once again. And he would do this by showing off his own impressive air vessel in the film. 
Cruise's P-51 Mustang is his pride and joy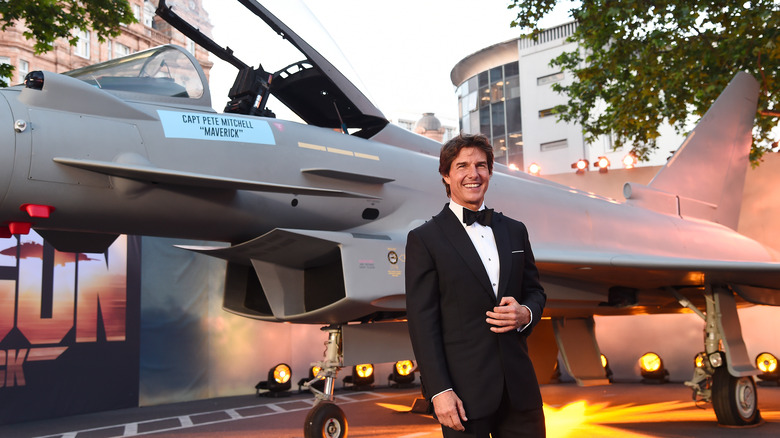 Eamonn M. Mccormack/Getty Images
The end of "Top Gun: Maverick" would see the use of a P-51 Mustang where Rooster, which Maverick uses to fly with his love interest, Penny (Jennifer Connelly). The impressive machine, which was originally built as a fighter jet in the 1940s for use in World War II, belongs to Tom Cruise. "You know if 'Top Gun' was made in the 1940s ... this airplane is the star of the show," says "Top Gun: Maverick" technical advisor Steve Hinton in a behind-the-scenes featurette (via YouTube). "Airplanes today are very computer-oriented and P-51 is all push, pull, cables, nothing's automatic." To promote the film's release, Cruise even brought late-night television host James Corden into the plane for a special flight — much to Corden's dismay (via YouTube).
While Cruise may be well-known for his daring array of stunts within such movies as the "Mission: Impossible" franchise, the actor also has a real-life need for speed, owning a varied collection of valuable automobiles, motorcycles, and planes. This should come as no surprise, considering that Cruise obtained his pilot's license in 1994 (via Style). His plane collection is especially impressive, as he is reported to own upwards of five private jets, including a Gulfstream IV G4 jet, which he originally got for his then-wife, Katie Holmes. Even his famous Mustang would sport "Kiss Me, Kate" on its side for some time until the two broke up (via Forbes).