Jorja Fox Had High Hopes For Filming A Musical CSI Episode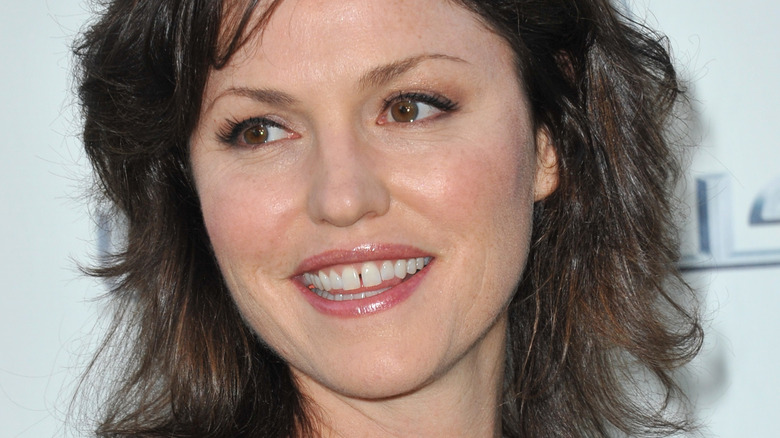 Featureflash Photo Agency/Shutterstock
Over the course of her long television career, Jorja Fox has become a familiar presence on shows like "ER" and "The West Wing." However, her most famous role is Sara Sidle in "CSI: Crime Scene Investigation." Fox played Sidle for nearly 300 episodes between 2000 and 2015 (via IMDb). 
In 2021, Fox reprised her role as the forensic scientist in "CSI: Vegas."  The spin-off series assembles a new team of investigators and scientists, including returning stars Fox as Sidle and William Petersen as Gil Grissom, to research a case involving David Hodges (Wallace Langham). "I had the great fortune of playing a character that I know very well, the second time around," Fox told Collider in regard to her return to "CSI." "Weirdly enough ... getting into Sara Sidle is as easy as putting on a certain jacket or a certain belt. I don't know that I would have thought, as an actor, that I would ever experience that." 
Fox may have gotten to revisit her former character, but she still has an unlikely item on her "CSI" bucket list.
Jorja Fox nagged the CSI producers, but they didn't relent
During her long tenure on "CSI," Sara Sidle had run-ins with murderers, dealt with childhood trauma, and sailed off into the sunset with Grissom. However, there's one thing that Jorja Fox never got to do: a musical episode. According to the actress, she had been advocating for a musical episode for well over a decade. "Well, I will never give up on the musical," she told The Killing Times. "I know I have been plugging away trying to convince the producers for 14 years now, almost, that we could really pull off an awesome musical, so there is that dream ... the dreams that never get realized that [you] just kind of hang onto."
Standalone musical episodes are a rare feature in television, and for some shows, they stand apart as cult favorites. "Grey's Anatomy" and "Scrubs" both added razzle-dazzle to their hospital locales, and "Once More, With Feeling," the musical episode of "Buffy the Vampire Slayer," was met with critical acclaim. One can't blame Fox, then, for wanting to bring some song and dance to Sin City. That being said, the crime procedural is a difficult genre to bridge with musicals, as the short-lived "Cop Rock" tried and failed stupendously to do so in 1990. If the "CSI" producers finally relent, they'll have plenty of opportunities to inject a little music into the crime lab.  
Season 2 of "CSI: Vegas" airs Thursdays on CBS.