Sofia Coppola's Most Memorable Movies Ranked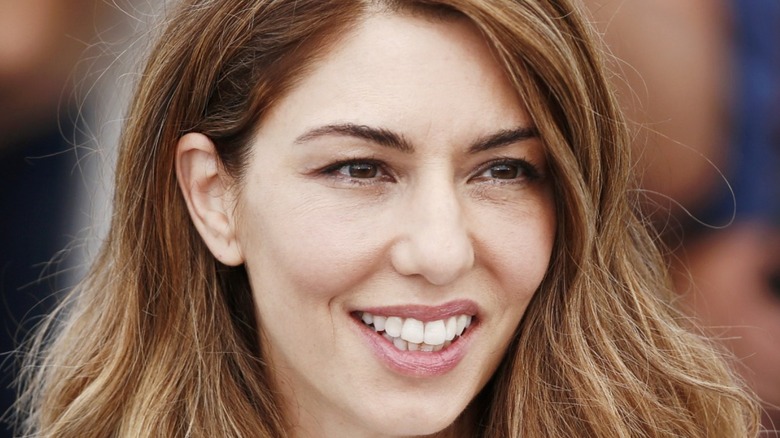 Andrea Raffin/Shutterstock
Sofia Coppola is one of the most revered talents and passionate cinephiles in contemporary American film. Although she is best known for writing and directing, she got her start in front of the camera playing minor roles opposite members of the Brat Pack in "The Outsiders" and "Rumble Fish." After her much-maligned appearance in father Francis Ford Coppola's "The Godfather III," Coppola transitioned from acting to independent filmmaking by writing, directing, and producing her short film "Lick the Star."
Her major breakthrough arrived with her first feature-length film "The Virgin Suicides," which premiered at the 1999 Cannes Film Festival. With "The Virgin Suicides," Coppola joined the ranks of Quentin Tarantino with "Reservoir Dogs" and ex-husband Spike Jonze with "Being John Malkovich" in the pantheon of extraordinary directorial debuts. The film announced the arrival of a new auteur with a singular vision — one that pairs dreamy, ethereal aesthetics with popular music to evoke her characters' feelings, wants, and needs. Over the course of Coppola's seven feature-length films, a short, and a Netflix TV special, she keeps returning to the themes of fame, longing, and isolation. 
Coppola's films run the gamut in terms of tone and time setting, but they are all united in their visceral ability to immerse you in their worlds, whether set in 18th century France or 1970s Michigan. It can be said that directors essentially keep making different versions of the same movie over and over. Although her work often varies in tone, scale, and genre, Sofia Coppola's filmography would definitely support that claim.
Here are Sofia Coppola's most memorable movies ranked. Warning: spoilers ahead.
9. Lick The Star
Sofia Coppola's first film was the 1998 short "Lick the Star," which follows two girls, popular Chloe (Audrey Kelly) and more introverted Kate (Christina Turley) as they navigate the ever-shifting social hierarchy of middle school. After Kate recovers from an injury that led to a week-long absence, she returns to school to find that Chloe has ascended to become the most popular girl in class. Chloe even has a horde of devoted followers whom she has convinced to partake in her devious plan to poison her male peers at school with rat poison.
Shot in black and white, "Lick the Star" marks Coppola's first collaboration with cinematographer Lance Accord, whom she would later work with on "Lost In Translation" and "Marie Antoinette." "Lick the Star" has all the expected shaggy trademarks of a director's first spin at the wheel and the dialogue lacks the subtlety and polish of Coppola's best work, but this short film has an undeniable vision. Retrospectively, "Lick the Star" is a strong introduction to the themes of fame (here via social popularity), longing, and isolation that Coppola returns to throughout the rest of her career. 
8. A Very Murray Christmas
Coppola's first foray into television reunites her with Bill Murray for the Emmy-nominated 2015 Netflix special "A Very Murray Christmas." Murray plays a nearly identical version of himself and is about to record a live Christmas special hosted at New York's legendary Carlyle Hotel. The joyous night is thrown into jeopardy as a strong snowstorm barrels toward New York City, resulting in many of Murray's scheduled guests having no choice but to cancel their appearances on the show.
Murray scrambles to improvise as he mounts the Christmas special at the behest of his dogged producers Liz (Amy Poehler) and Bev (Julie White), taking viewers on rollicking series of sketches and musical performances with likes of George Clooney, Miley Cyrus, Jason Schwartzman, and Coppola's husband Thomas Mars' band Phoenix among others.
"A Very Murray Christmas" is Sofia Coppola at her broadest, which is understandable given the lighthearted tone of the show. She shared writing duties with Murray himself as well as Mitch Glazer, who co-penned the script of Murray's beloved dark comedy "Scrooged." "A Very Murray Christmas" is an undeniable outlier in Coppola's career — a bit of a wry sore thumb — finding her operating on a hyper-casual, relaxed plane that she never really returns to, the closest being her reunion with Bill Murray and Rashida Jones in "On the Rocks."
 "A Very Murray Christmas" may rely too much on inside-baseball references and often feels a tad indulgent, but the holiday special is undeniably endearing.
7. The Bling Ring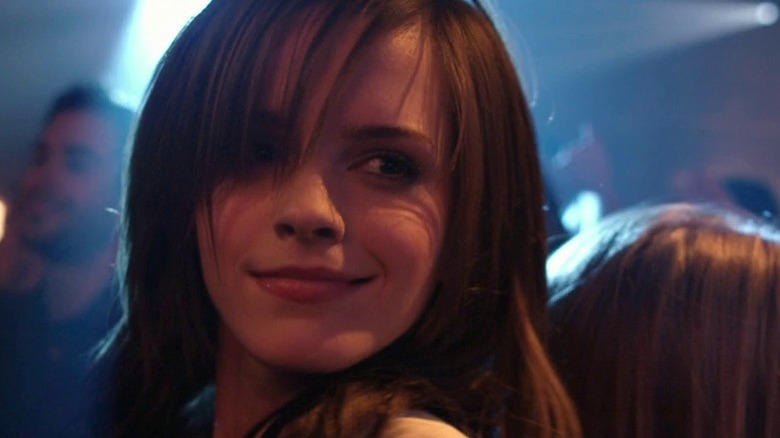 A24
After trekking to Michigan, Tokyo, and Versailles, Coppola returned to the greater Los Angeles area with her crime satire "The Bling Ring." Based on the true story reported in the incendiary 2010 Vanity Fair article "The Suspects Wore Louboutins," "The Bling Ring" centers on disaffected high schoolers, Marc (Israel Broussard), Rebecca Ann (Katie Chang), Nicki (Emma Watson), Sam (Taissa Farmiga), and Chloe (Claire Julien).
The group's toxic obsession with celebrity culture and fame leads them to start breaking into the homes of wealthy people to steal luxury items. They start small, targeting lesser-known but rich acquaintances, then escalating all the way to mid-aughts elite stars like Audrina Patridge, Orlando Bloom, and Paris Hilton, who plays herself in an amusing role. Eventually, surveillance footage of the group caught in the act brings them to a legal reckoning. What docks "The Bling Ring" a few points in the ranks of Coppola's best films is its unfortunate lack of memorable characters. 
Watson's turn as Nicki is quite the departure from her days as Hermione Granger. Despite her iconic line "I want to rob," the vapid, empty nature of the characters — however true to life — prevents "The Bling Ring" from being one of Coppola's most memorable efforts. Sometimes it is unclear from a tonal perspective if we are supposed to empathize with the burglar teens or gawk at their downfall, which leaves the viewer feeling a little at sea. Of all Sofia Coppola's feature films, "The Bling Ring" is certainly her least visually appealing, employing a fairly sterile, dull color palette. This is perhaps an intentional comment on the banality of tabloid-driven celebrity culture, but, compared to Coppola's usually rapturous aesthetics, "The Bling Ring" cannot help but pale in comparison.
6. On the Rocks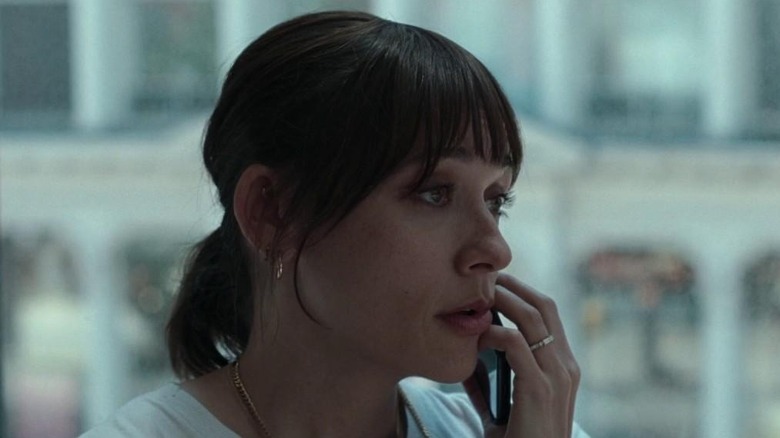 American Zoetrope
Coppola kept audiences on their toes by following up her gory, balmy remake of "The Beguiled" with the warm New York City love letter "On the Rocks." She continues her exploration of father-and-daughter relationships, focusing here on the sweet, complex intricacies between creatively-blocked novelist Laura Keane (Rashida Jones) and her charismatic art dealer father Felix (Bill Murray). When Laura starts to suspect that her husband Dean (Marlon Waynes) is having an affair with a co-worker, she confesses her fears to Felix, accidentally galvanizing him to wage nothing short of a private investigation. The shared interest in getting to the bottom of Dean's reinvigorates Laura and Felix's previously strained relationship as they plot to determine if Dean is actually having an affair. But when things go awry on a trip to Mexico and Laura's paranoia starts to get the worst of her, she and Felix slip back into their old parent-child dynamic and she is forced to set new boundaries for her father.
This marks Coppola's third collaboration with Bill Murray and their creative shorthand is made palpable by how effortlessly they gel together. Naysayers could chide the comedy for its slightness compared to the rest of Coppola's catalog, but what "On the Rocks" lacks in stakes it compensates for in charm. This is the closest Coppola has veered into caper territory, following Laura and Felix as they reconnect while zipping around New York City, stalking classic haunts. "On the Rocks" provided some much-needed escapism for pandemic audiences with its fall 2020 release.
5. The Beguiled
After dividing audiences and critics with "The Bling Ring" Sofia Coppola returned to lush period drama with her reinterpretation of Don Siegel's 1971 film "The Beguiled," adapted from Thomas P. Cullinan's novel of the same name. For her take on Cullinan's Southern Gothic text, Coppola realigns the focus to the female perspective with Nicole Kidman starring as Miss Martha Farnsworth, who runs a school for girls in idyllic, rural Virginia during the American Civil War. Although most of the students and teachers have fled, Martha's school has managed to evade the horrors of the war until student Amy (Oona Laurence) discovers wounded Union Army Corporal John McBurney (Colin Farrell) on the periphery of the school's property. Martha provides John with shelter and treatment as he recuperates, but his arrival has a chaotic effect on the school's tranquil atmosphere. John's presence sparks jealous rivalries between teacher Miss Edwina Morrow (Kirsten Dunst), pupil Alicia (Elle Fanning), and the other students, who all vie for the elusive man's attention.
Like the majority of Coppola's work, "The Beguiled" premiered at the Cannes Film Festival where she won the award for best director and was met with the strongest reviews of her career since "Lost In Translation." Easily her goriest film by a mile, "The Beguiled" is a liberating exercise for Coppola, who utilizes her signature aesthetic and thematic subjects into the story while also clearly having a ball while toying with tropes of horror and thriller genres. There are very few filmmakers working today that can effortlessly instill modernity into their period features the way Coppola does. In that capacity, she is practically peerless.
4. Marie Antoinette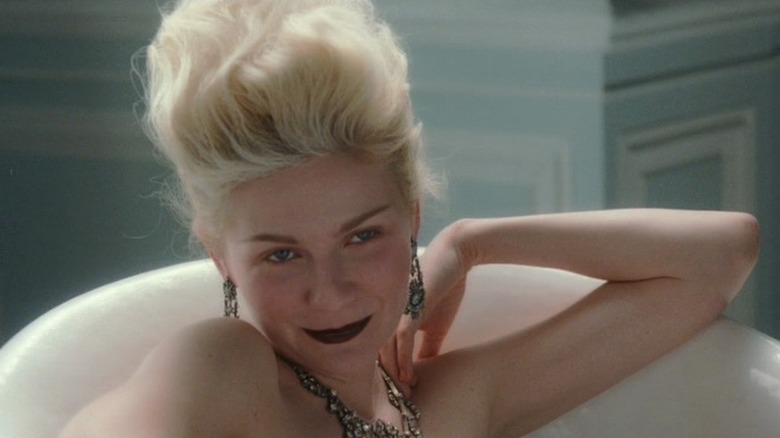 Sony Pictures Releasing
After the tremendous success of "Lost In Translation," expectations were riding high for Coppola's third feature film. The reputation she cultivated for crafting subtle, nuanced films since "The Virgin Suicides" took quite a turn with her flashy, candy-colored biopic "Marie Antoinette." Perhaps the most divisive entry in Coppola's filmography, the Oscar-winning "Marie Antoinette" injects modern sensibilities and aesthetics into 18th century France as it charts teenaged Marie's (Kirsten Dunst) bumpy ascent to the throne.
Coppola bravely subverts most standard conventions of the biopic genre, opting to delve deeper into Marie's psyche and how she was seduced by the decadent excesses of Versailles. This voracious taste for luxury leads Marie to butt heads with other members of the court, who chastise her reckless behavior. The film reaches its most poignant heights when Marie tries to escape the pressures of being the queen and leaves the palace, moving into a small cottage built for her on the edge of the property of Versailles.  
Marie's self-imposed exile does not prevent her from escaping her duties, leading her to lose her innocence, and, ultimately, her head. Rather than adhering to historical accuracies as the definitive truth of Marie's story, Coppola is far more interested in stirring emotions as she evokes Marie's naiveté and the isolation she suffered in her insular work of privilege as queen. The film's success is largely thanks to Coppola's collaboration with Dunst and the astonishing performance she directs her to in their second of three collaborations — four if you count her cameo as herself in "The Bling Ring." Historically revisionist, visually flourishing, and deeply moving, "Marie Antoinette" is undoubtedly the boldest film of Coppola's career.
3. The Virgin Suicides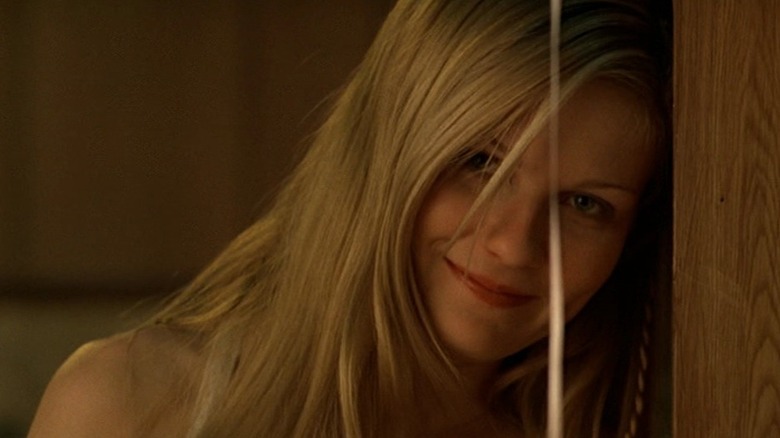 Paramount Pictures
Coppola's adaptation of the hit Jeffrey Eugenides novel of the same is a haunting distillation of her cinematic vocabulary that introduces her oft-treaded theme of isolation. "The Virgin Suicides" centers on the five Lisbon sisters, Therese (Leslie Hayman), Mary (A.J. Cook), Bonnie (Chelse Swain), Lux (Kirsten Dunst), and Cecilia (Hanna Hall). The high school-aged girls live a sheltered existence under the watch of their overprotective parents, Mr. Lisbon (James Woods) and Ms. Lisbon (Kathleen Turner), in 1970s suburban Michigan.
The family's prim veneer begins to crack when Cecilia dies by suicide. Her death leads Mr. and Mrs. Lisbon to curtail the already short leash on their children, instating curfews and severe house rules. But this only further provokes the rebellious spirit blooming within Lux, who experiences a sexual awakening when she begins dating the most sought-after boy at school, Trip Fontaine (Josh Hartnett). When Lux breaks curfew after staying out all night into the early hours of the morning, her parents withdraw their daughters from attending school and impose draconian restrictions on them. The home becomes a prison and the confines weigh heavily on the girls, leading to a devastating act of solidarity and release that will chill you to the bone.
"The Virgin Suicides" is undoubtedly the most upsetting film of Coppola's career. In the hands of another filmmaker, this would be a bleak, dour affair. Coppola finds a path into the interior lives of the Lisbon sisters by using intoxicating 1970s rock needle drops and hazy cinematography to cast her alluring spell. She makes you feel like you have slipped into one of their daydreams. This makes their suffocating domestic environment feel all the more claustrophobic and their ultimate tragic end all the more shocking.
2. Lost in Translation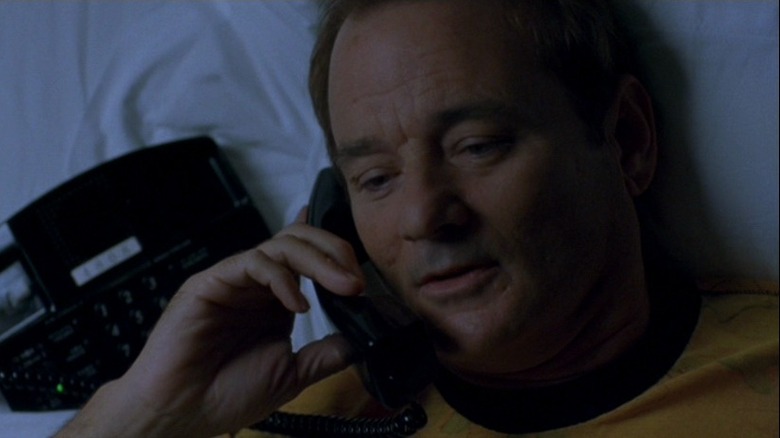 Focus Features
Most would argue that "Lost in Translation" is the apex of Coppola's career as a writer and director. Awards bodies and film critics certainly would. Coppola's first outright comedy centers on two jet-lagged Americans in Tokyo — aging Hollywood actor Bob Harris (Bill Murray) and recent college graduate Charlotte (Scarlett Johansson). Bob and Charlotte find kinship in their mutual loneliness and experiences with Japanese culture shock during nights over drinks at their hotel bar and out on the town. During the days, Charlotte tags along with her photographer husband John (Giovanni Ribisi) as he works at a film press junket. 
When Charlotte tires of John's overly friendly interaction with American movie star Kelly (Anna Farris), she distracts herself by touring the city, taking an ikebana flower arrangement workshop, and a day trip to Kyoto. Despite her beautiful, exciting surroundings, nothing seems to quell Charlotte's nagging isolation in her marriage and fear she has made a mistake marrying John. Like Charlotte, Bob also has martial issues waiting for him back home. But Bob is having a more managed trip to Tokyo as he attends to his various business duties, promoting Suntory whisky while shooting commercials and television talk shows.
"Lost in Translation" earned Sofia Coppola a much-deserved Oscar for best original screenplay and a history-making nomination for best director — at the time, only the third female director and first American woman to do so. This melancholic, hilarious dramedy is one of Coppola's lightest on plot, but richest in character. She gives Bob and Charlotte's unique dynamic space to breathe, one that straddles many lines, from father and daughter and friends to possibly something more romantic. They are both in states of existential crisis, but Coppola builds a world for them to temporarily exist alone together.
1. Somewhere
Coppola's best film is her understated character study "Somewhere." The film opens with an extended long shot of a Ferrari speeding laps around a circular race track until the driver, Johnny Marco (Stephen Dorff) slows to a stop and sets out of the vehicle, and stares out into the distance, listless. Coppola immediately places us in Johnny's cloudy perspective as we follow him along his debaucherous routine in Los Angeles, partying with mooching friends, fans, and other celebrities to the point that he drunkenly falls and breaks his arm. Despite his wealth and carefree lifestyle, Johnny's zen-like detachment prevents him from connecting to virtually anyone or anything. When exotic dancers visit his suite at his home in Chateau Marmont and perform a private show, he falls asleep.
Johnny's life takes a turn when he finds his daughter Cleo (Elle Fanning) waiting for him outside his door. The surprise visit turns into an extended stay as Cleo's mother and Johnny's ex-wife Layla (Lala Sloatman) tells him she needs time to herself. Johnny is suddenly thrust into fulfilling the fatherly duties he has largely neglected all Cleo's life, taking her on a trip to Italy for his movie premiere and an award show honoring his career. When they return back to Los Angeles, Johnny cleans up his act, passing the days with Cleo doing wholesome activities like playing "Rock Band" and swimming at the hotel pool. Cleo not only brings out the best in her father, but she is what finally gives Johnny a sense of meaning. Through Johnny's relationship with Cleo, Coppola gets to wade into familiar thematic waters — father/daughter relationships, celebrity, and alienation — but "Somewhere" is a showcase of everything she does best. With "Somewhere," Sofia Coppola is in complete control of her craft. It is her masterpiece.