Black Adam's Aldis Hodge Had To Work Hard To Avoid Smacking Dwayne Johnson With Hawkman's Mace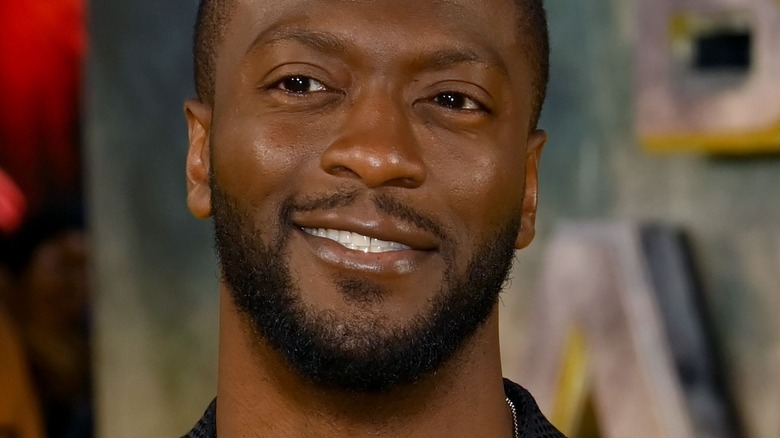 Dave J Hogan/Getty Images
While Marvel has made a major impact in theaters this year with films such as "Thor: Love & Thunder" and "Doctor Strange In The Multiverse of Madness," DC has been in the thick of things, most notably with the Matt Reeves film "The Batman."
DC's latest entry into the genre this year has been "Black Adam." Starring Dwayne Johnson in the titular role, the film sees Black Adam go up against the Justice Society, with a cast that includes Pierce Brosnan, Noah Centineo, Quintessa Swindell, Sarah Shahi, and Aldis Hodge as Hawkman.
Hodge, who is best known for his work in the series "Leverage" and its follow-up "Leverage: Redemption," as well as the films "One Night In Miami" and "The Invisible Man," steps into a live-action superhero role for the first time in his career with Hawkman. In a recent interview, Hodge spoke about the particular challenges he faced in the fight scenes with Johnson, especially when wielding the mace that Hawkman uses to fight others. Here's what he had to say.
Hodge had to be careful not to hit Johnson in the face
In an interview with The Hollywood Reporter, Aldis Hodge revealed that his primary objective when fighting Dwayne Johnson was to make sure he didn't hit the "Black Adam" star with Hawkman's mace, a feat that was more difficult than it looked.
Hodge noted that there was a key difference between real fighting and stunt fighting, in that real fighting involves making sure you did hit your opponent, while stunt fighting involves making sure you don't hit your opponent. Both, however, involve gauging your distance from your opponent.
When playing Hawkman, Hodge added that he had to make those same calculations, but Hawkman's mace added extra length to his arm that he also had to account for. In addition, swinging the mace meant that Hodge would have to hold his arm out straight. The combination of both of those meant that the chances that Hodge would hit Johnson while stunt fighting was high, so Hodge focused on making sure he never hit Johnson, especially his face.
"Because if I scratched his face and we had to shut it down because of me? Yeah, that's no bueno," Hodge concluded.