The White Lotus Season 2, Episode 2 Recap: Red Flags And Beautiful Delusions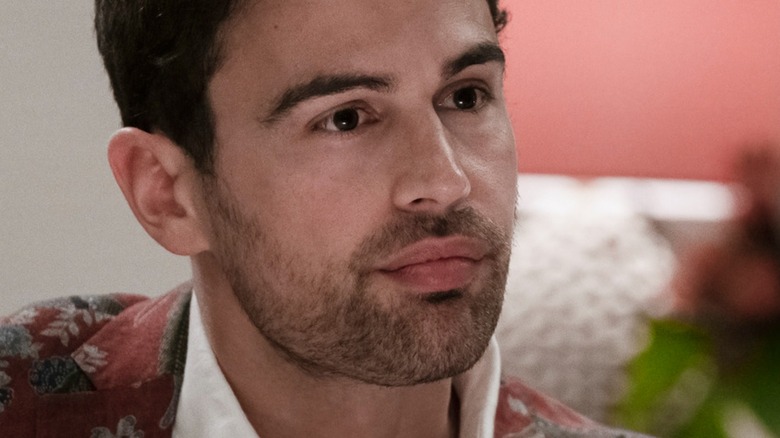 Fabio Lovino/HBO
With two episodes of "The White Lotus" Season 2 down, it may be time to address that the elite chain of hotels has a bit of a PR problem. If the murder of concierge Armond (Murray Bartlett) at the end of Season 1 wasn't bad enough, Season 2 promises to have bodies dropping like flies. Episode 2 hasn't had murder in the literal sense yet, but these entitled characters are more than comfortable with spiritually killing those around them by way of cringe-inducing encounters.
Poor Portia (Haley Lu Richardson) cannot escape Tanya's (Jennifer Coolidge) overbearing presence no matter how hard she tries. If there is a restaurant Portia tries to discreetly patronize, no doubt her employer will show up in some dramatic fashion. Even Dominic (Michael Imperioli), who makes a good show of wanting to reconcile with his wife, cannot stay away from local sex worker Lucia (Simona Tabasco) and her friend Mia (Beatrice Grannò). So goes the universe of "The White Lotus" and Episode 2 demonstrates just as much awkwardness as we've come to expect.
Monica Vitti is dead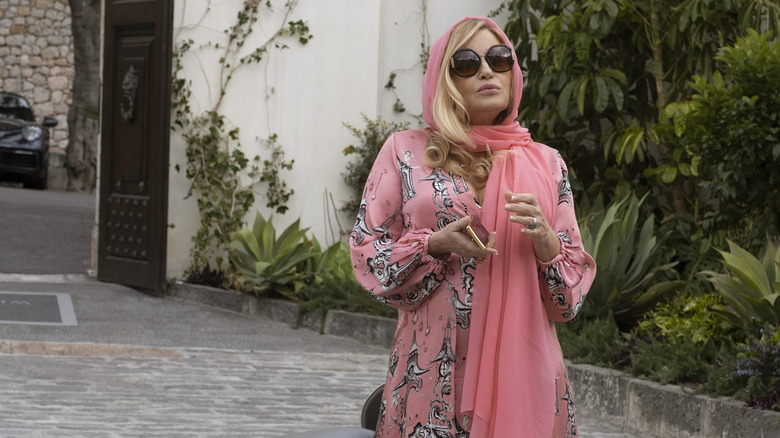 Fabio Lovino/HBO
As Valentina (Sabrina Impacciatore) tells Tanya, iconic Italian film actor Monica Vitti is dead. This is the truth, as well as a grim portend of Tanya's plans for a picturesque Italian vacation. The millionaire attempts to recreate Vitti's romantic aesthetic with a headscarf while racing through Italy on the back of a Vespa. But still, her dreams die quite quickly. Though it is unlikely that Tanya internalizes this in any way, real life is not like the movies. Even though her unhappy husband Greg (Jon Gries) caters to her every wish, it will never be as glamorous as it is in her head. A ride through the Italian countryside fills Tanya's mouth with bugs and despite Greg's best efforts to accommodate her wishes, her marriage is also on the chopping block.
Greg is surprisingly kind to Tanya in this episode. Their marriage is clearly not a perfect one. He consistently shames her for her food choices and now he has to spontaneously fly back to Denver for work. It turns out that this thoughtful gesture was just a last hurrah, bringing the promise of the night to a screeching halt. But it never was real to begin with. Like the Italian movies that Tanya wants to emulate, it was all a fantasy. Predictably, Greg doesn't have to leave Tanya for work. The secretive calls he's been getting are from someone Greg loves, a clear sign that this marriage is on its last legs.
Cameron's red flags just keep popping up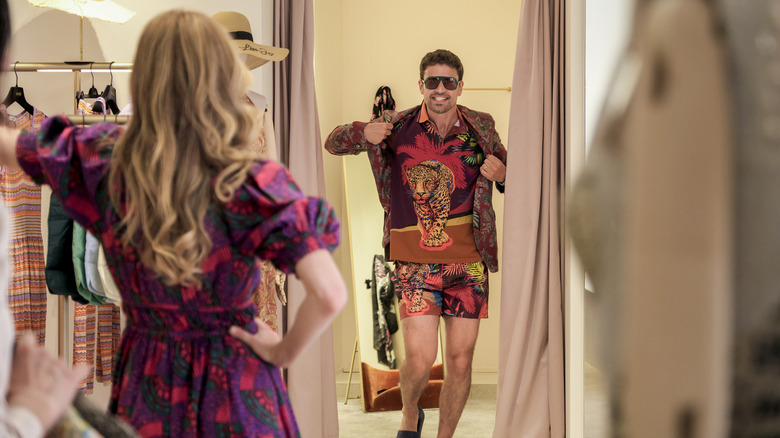 HBO
Theo James' character is far from the romantic lead roles we are used to from the actor. Cameron is the quintessential toxic male, made evident in Episode 1 where he strips down in front of Harper (Aubrey Plaza). Continuing to push the boundaries of acceptable behavior in Episode 2, many may wonder if this is intentional.
"[I]t's interesting, [because] at first... we don't know whether it's deliberate or [if] it's accidental," James reported to Entertainment Tonight. He teased that Cameron is calculated in his decisions and the evidence is starting to pile up. Though Harper is touched to hear about Cameron's concern for his wife after Daphne's (Meghann Fahy) cesarean, it doesn't take away from the consistent red flags cropping up. Harper is always the one to witness Cameron's troubling behavior. She is understandably concerned to hear Cameron screaming on the phone about his missing luggage, wondering if he ever turns his anger on his wife. Daphne only thinks it's funny, putting an even finer point on how concerning Cameron's behavior is.
This is clear after Harper goes for a swim alone and Cameron sneaks up on her. If it were anyone else, this could be perceived as good-natured fun. But it is no accident that this encounter follows immediately after Bert's (F. Murray Abraham) tale of Hades' assault on Persephone. And there is the adjourning door that looms in the episode, making every scene with Cameron filled with anxiety.
The haves and the have not a lots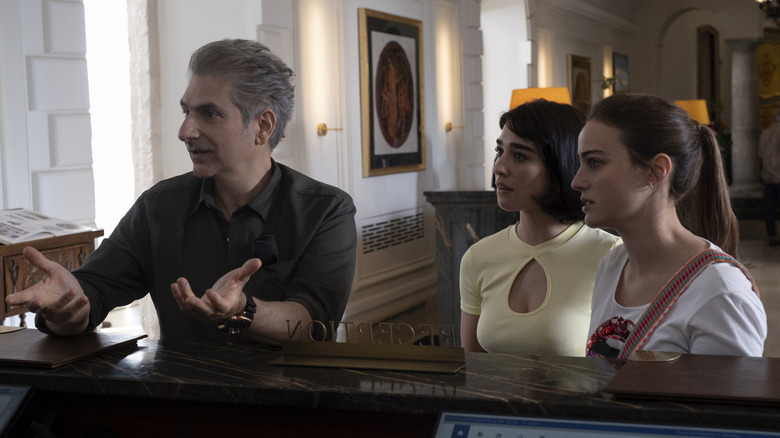 HBO
Any social satire is not complete without the other side of the equation. Viewers have been introduced to the beleaguered Portia, who suffers at the hands of her rich boss, and the out-of-place Harper, whose politics put her at odds with her husband's rich friends. But also thrown into the mix are Italian locals Lucia and Mia. Though not apparently so down on their luck, Lucia doesn't mind taking the gig of being Dominic's hired girlfriend for the week. Lucia and Mia commence running around the hotel, playing on the bar piano, and antagonizing Valentina at the front desk. And though they are technically not guests and Valentina disapproves of their antics, they are the most charming characters this season.
Lucia specifically is the foil to the Di Grasso family. Though they have come to investigate their Sicilian roots, they seem to care little for the culture. They self-admittedly do not know any Italian and have not planned their trip to Bert's grandmother's village with any sensitivity. Dominic's adventures on this trip — one that his wife and daughter were also supposed to be on — devolve into debauchery as he invites Lucia and Mia into his hotel room where his father can hear their raucous partying. Only one conclusion can be made from this storyline. There is nothing wrong with Lucia and Mia making money off of oblivious Americans who come into their home. In fact, it makes them the true heroes of the season so far.
When does The White Lotus Season 2, Episode 3 air?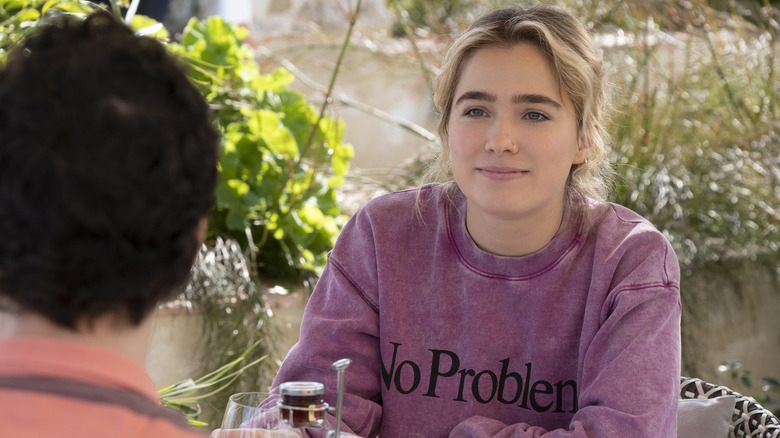 HBO
The third episode of "The White Lotus" Season 2 airs on Sunday, November 13 at 9 p.m. EST, airing on HBO and streaming on HBO Max. The slow burn of Episode 2 only further sets up the dread that is sure to follow. Portia has perhaps the best situation of the episode, going on a date with Albie (Adam DiMarco) and only being slightly put off by his tone-deaf announcement that nice guys always finish last. But with Greg on his way back home, Tanya will need more support than ever. Portia is trapped with her employer, unable to escape the doom that certainly awaits her.
And while Bert may seem like just a textbook case of old-man misogyny, he knows more than he lets on. He gives his son advice on repairing his marriage, knowing that Dominic is continuing his affairs. And as Bert watches the natural movie choice for his Sicilian vacation, "The Godfather," he is given a piece of advice. "Sicilian women are more dangerous than shotguns," Calo tells Michael Corleone in the film. A well-placed foreshadowing for Dominic's Italian friends? Only time will tell.