The Over The Garden Wall Episode Fans Want First-Time Watchers To See
It's always a good time to watch the Cartoon Network animated miniseries "Over the Garden Wall." Released in November 2014, the Patrick McHale-created series follows the adventures of Wirt (Elijah Wood) and Gregory (Collin Dean), two half-brothers who traverse through a fantastical forest to return home, encountering an array of strange characters as they do so. 
The series found great success and acclaim when released and sports a 93% Tomatometer score on Rotten Tomatoes, with the consensus reading "'Over the Garden Wall's modern sensibilities mix well with its fairy-tale setting, creating a whimsically witty series for viewers of all ages." The show also went on to collect its fair share of notable accolades, including Primetime Emmys for Outstanding Animated Program and Overall Individual Achievement (for Nick Cross' atmospheric production design) and an Annie Award nomination for Best Animated TV/Broadcast Production for Children's Audience. The miniseries continues to endure to this day with a successful comic book spinoff series and a strong fanbase that celebrates the show for its characters, lush atmosphere, soundtrack, and mythology. 
Being a miniseries with only 10 11-minute episodes, "Over the Garden Wall" is an exceedingly easy show to watch in its entirety. Nevertheless, fans all have opinions of which of Wirt and Greg's magical adventures is the best for newcomers. While it's certainly a tough choice, the fanbase primarily agrees on one episode that reigns supreme.
Hard Times at the Huskin' Bee is considered the best of the series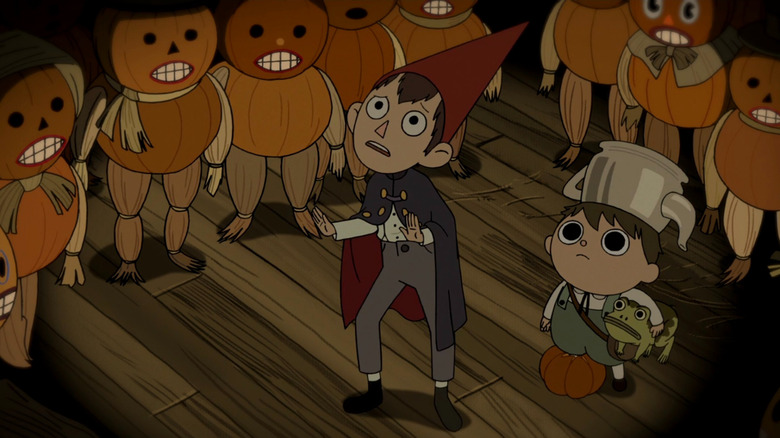 Warner Brothers
"Over the Garden Wall" fans have a hard time trying to settle on the best episode of the charming animated fantasy miniseries. However, a subreddit poll started by u/BuckeyeGuy987 named "Hard Times at the Huskin' Bee" as the best episode, winning the poll with 196 votes. 
The second episode of "Over the Garden Wall" follows Wirt and Gregory as they meet the bluebird Beatrice (Melanie Lynskey). The trio finds themselves in a strange town called Pottsfield that is inhabited by a population of living pumpkins who make our heroes perform manual labor after disrupting their harvest festival. Jam-packed with some of the show's most stunning visuals and a great blend of humor and horror, it's no wonder that fans consider it a high point. On the subreddit, u/ihavereddit3000 describes "Hard Times at the Huskin' Bee" as " ... the most 'Over the Garden Wall' episode of 'Over the Garden Wall.' It has its amazing atmosphere, horror, humor, and beautiful songwriting." 
Although creator Patrick McHale has no plans to make a second season, he is nevertheless proud of its legacy. "I'm extremely happy that people still seem to enjoy the show," McHale said in an interview with Inverse. "The goal was definitely to make a holiday special that could be rewatched every year ... I did hope that it might become a sort of cult classic. I'm very relieved that it found its niche."