The 12 Most Memorable Movie Performances Of 2022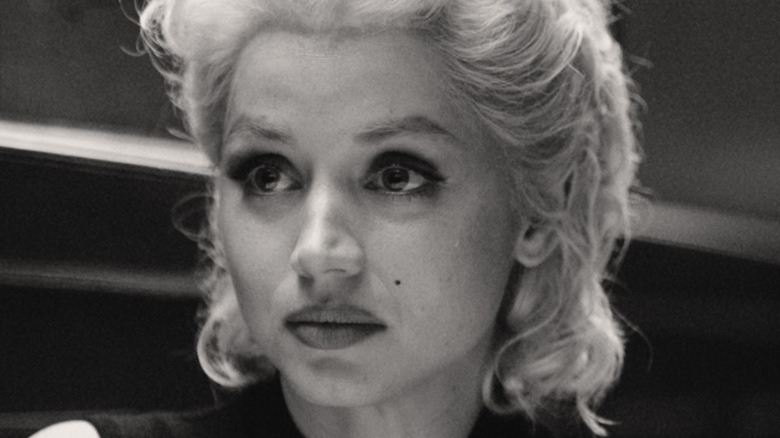 Netflix
There are a number of ways to measure an acting performance. Sometimes an actor disappears into a role so thoroughly that you forget who it is you're really watching. Or, perhaps an actor's established persona simply fits a character perfectly, to the point where you can't imagine another person in the role. It can be an obvious display of craft, preparation, or even physical transformation. But sometimes it can simply feel like magic. Above all, a great performance sticks with you long after it's over, whether it's the center of the narrative or just a few standout scenes.
Throughout 2022, we've been taking stock of the performances that elevated their films to the next level, regardless of whether those films are the sort that is typically honored come awards season. Some of our picks aren't even from movies that we love, but are such striking performances that we felt compelled to include them amongst the year's most memorable. Whether or not we're impressed with their films as a whole, these are the acting performances from 2022 that stand out, the sort that will have you singing their praises all the way through the end credits.
Cate Blanchett as Lydia Tár in Tár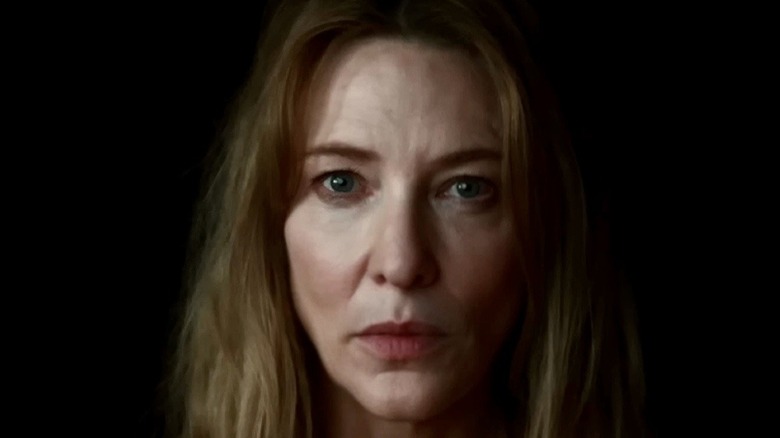 Focus Features
In Todd Field's "Tár," the incredibly versatile Cate Blanchett plays fictional composer/conductor Lydia Tár, an irrepressible personality and a once-in-a-generation talent who hides some very ugly secrets. The film is told almost entirely from the perspective of this self-obsessed snob who is as magnetic as she is detestable. As her sins and schemes are laid bare for the audience, Blanchett educates the audience on how it is that abusive personalities so often thrive in the high echelons of art and business. Where lazier stories might attempt to justify a villainous protagonist's flaws via some defining incident or buried trauma, "Tár" explores the simple explanation that we've all come to understand during the #MeToo era: People who get away with hurting people will keep doing it.
Throughout "Tár," Blanchett keeps us hyper-focused on the titular character and mostly separated from the experiences of the people she uses or destroys in pursuit of her own gratification. It's her challenges — how to keep the noise of the outside world from polluting her music, how to remove underperforming underlings from her orchestra, how to keep her affairs secret from her wife — that occupy the film, and it's Blanchett's performance that makes them seem like just another day at the office. For two and a half hours, we see the world from her podium.
Ana de Armas - Blonde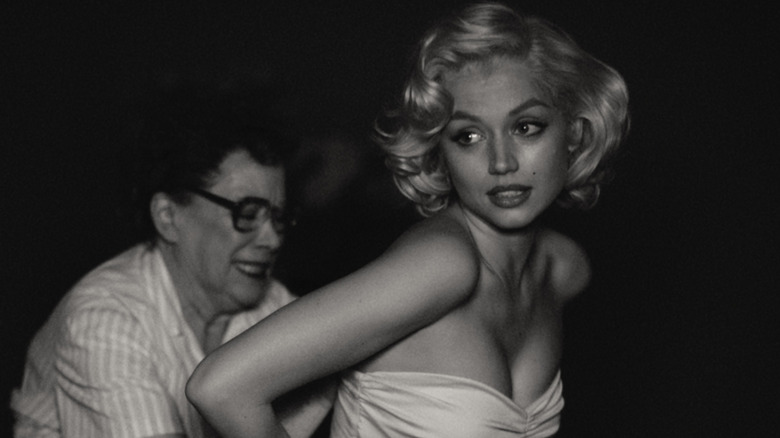 Netflix
"Blonde," director Andrew Dominik's adaptation of a Joyce Carol Oates novel fictionalizing the life of actor Marilyn Monroe, is about as divisive as a movie can be. Film critic James Kendrick hit the nail on the head when he called it "a film that is so good and so bad in equal measure that it is hard to even begin to gauge it." It's creatively photographed, but ponderous and self-indulgent. It attempts to capture the maddening effect that the world's collective sexual obsession had on the young actress, but also piles additional traumas on top of those that she actually suffered. It's either a poetic tribute to an American legend, or a tone-deaf exploitation of the idea of a person at the expense of the human being behind it.
So, it's particularly impressive that, across nearly all reactions to the film, critics and audiences have lavished praise upon the lead performance by Ana de Armas, who dazzles as both the complex actor Norma Jean Baker and her glamorous on-screen persona. It's a unique challenge to portray a cultural icon whose every mannerism is familiar to the audience, while also attempting to subvert it and emphasize the distinction between Marilyn and Norma Jean. Biopic performances are usually at least part impression, but the best go far beyond that to become fascinating characters in their own right. De Armas captures the expected essence of the Monroe we remember without becoming a lazy parody, a difficult feat under any circumstances. Whether or not you think it's enough to save "Blonde" as a whole, Ana de Armas' work in the film is undeniable.
John Boyega - Breaking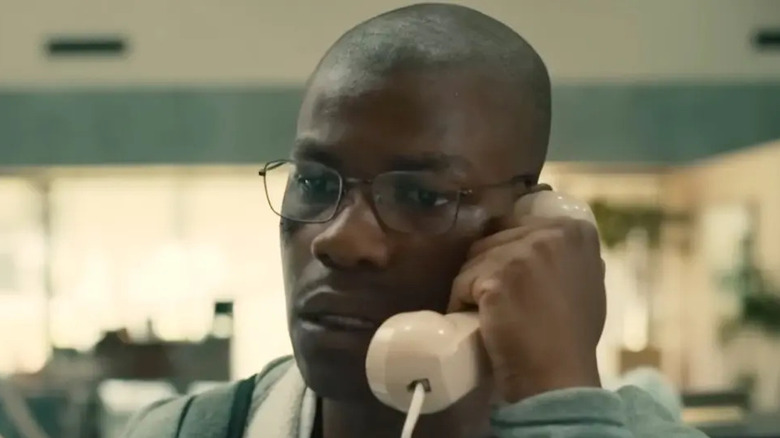 Bleeker Street Cinema
After making a splash with charming roles in action-adventure films like "Attack the Block" and the "Star Wars" sequel trilogy, British actor John Boyega has been spreading his wings in the world of drama. Though his supporting turn as King Ghezo in "The Woman King" was the more widely seen of his performances in 2022, Boyega also played the lead in the indie drama "Breaking," portraying real-life Marine veteran Brian Brown-Easley. In "Breaking," Boyega stars opposite Nicole Beharie and the late Michael K. Williams as a desperate man driven to the edge who holds a bank hostage for one simple demand: He wants the disability benefits owed to him by the Department of Veterans Affairs.
Though "Breaking" doesn't totally hold together, highlighting America's racial inequities and disregard for the well-being of those who return from war but failing to add anything new to the conversation, John Boyega commands every moment that he's on screen. "Breaking" draws obvious comparisons to the Al Pacino-led 1975 classic "Dog Day Afternoon," but Boyega's role distinguishes itself from Pacino's Sonny Wortzik. Brian Brown-Easley isn't a wound-up spitfire, but a tired and wounded man. There's nothing fun or sexy about Brown-Easley's tumble over the edge, and Boyega never gets the benefit of looking cool. He's righteous, but in the doomed way that righteous people often are. Though obviously symbolic of larger societal issues, Boyega portrays Brian Brown-Easley as a real, imperfect person struggling against an impossible situation, imploring us to read past tragic headlines to find the human stories beneath.
Sterling K. Brown - Honk for Jesus. Save Your Soul.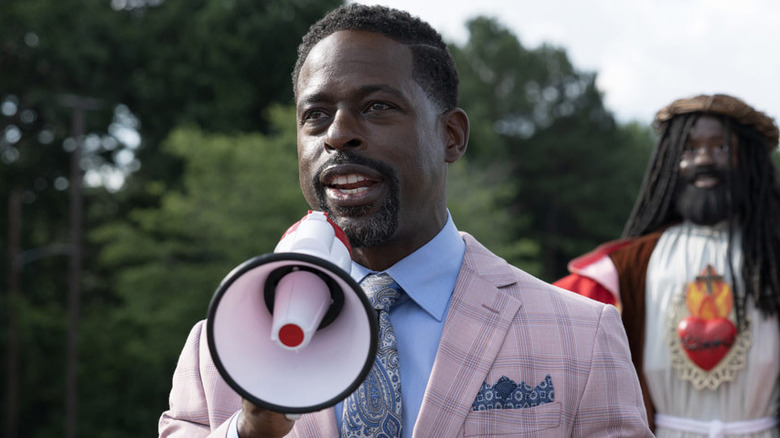 Focus Features
In a sense, "Honk For Jesus. Save Your Soul." is a film about performance. In Adamma Ebo's feature directorial debut, Sterling K. Brown and Regina Hall portray Lee-Curtis and Trinitie Childs, the Pastor and First Lady of a Southern Baptist megachurch that has been rocked by scandal. The grim comedy is framed around the production of a documentary that Lee-Curtis believes will record the rebirth of his empire, alternating back and forth between the lens of the movie-within-a-movie and the far harsher real world around it. Hall and Brown both reveal new layers to their characters with every shift in perspective and it's arguably Hall who gets the Oscar Moment, delivering a pained heartfelt monologue in the third act that's a thematic summation of the entire film.
It's Brown, however, who steals the show with his performance as the disgraced preacher who is essentially a walking embodiment of denial. While Hall's Trinitie switches her smile on and off for the camera or for encounters with passive-aggressive parishioners, Brown's Lee-Curtis fascinates because he practically never takes off his game face — he simply has a different one for each situation. Does anyone, aside from Trinitie, really know who he is? What is there to Lee-Curtis aside from his desires and his ego? Not unlike Cate Blanchett's Lydia Tár, Sterling K. Brown's turn in "Honk for Jesus. Save Your Soul." depicts the fall of a powerful person who believes he can't be killed — but in the case of Lee-Curtis Childs, he's dead already.
Austin Butler - Elvis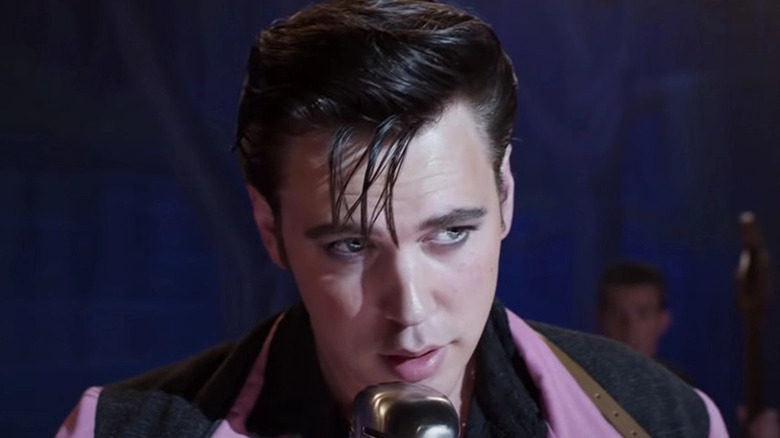 Warner Bros.
What a year it's been for 20th-century icons whose faces decorate the walls of diners across America: 2022 gave us heavily stylized, extravagantly long, and brazenly inaccurate biopics of both Marilyn Monroe and Elvis Presley. Aside from their subject matter and near-three-hour runtimes, "Blonde" and "Elvis" are practically nothing alike. One's a deliberately torturous tragedy with arthouse pretensions, the other's a bombastic nonstop music video montage with blockbuster ambitions. There is one other thing that the two films have in common, however: Even the skeptical have got to give credit to the star of the show.
Austin Butler's performance as Elvis Presley is the only part of Baz Luhrmann's maximalist biopic that unquestionably works, and in truth, it's the only part that has to. At the end of the day, "Elvis" is about conveying the world's love affair with the gyrating rock star, and the roller coaster effect that fame had on the man himself. If the audience couldn't fall in love with him, there would be no movie. Butler absolutely embodies Elvis's sex appeal, his boyish charm, his ego, his shyness, and even his legendary singing voice. The movie's script may reduce him (and everyone else) to a cartoon caricature, but the charisma is all there on the screen, and while you're watching, you get Elvis.
Viola Davis - The Woman King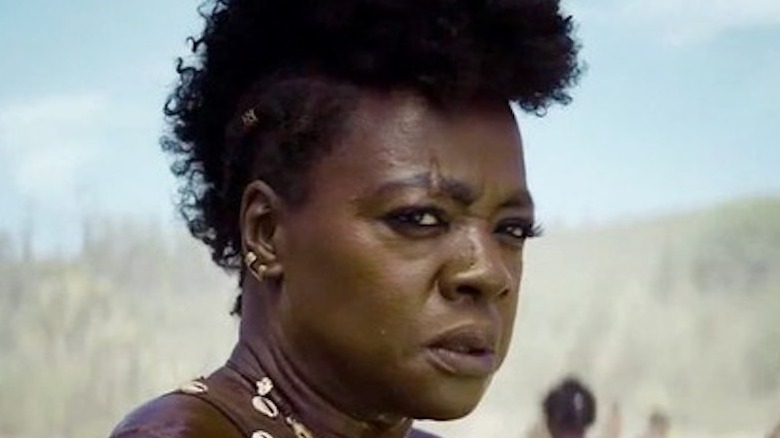 TriStar Picture
Viola Davis is one of Hollywood's greatest living actors, and she's got the statues to prove it. With an Emmy for her leading role as amoral attorney Annalise Keating in the ABC drama "How To Get Away With Murder" and both a Tony and an Oscar for her stage and screen roles in August Wilson's "Fences," Davis is one Grammy shy of EGOT status. Poised, complicated, and surprisingly funny, the question has never been "What can't she do?" so much as "What hasn't she gotten the opportunity to do?" This year, the answer was "Put on a ton of muscle mass, learn fight choreography, and lead a big-budget historical war film, at age 56."
"I [was] going to have a damn heart attack," Davis recalled to Jimmy Fallon on the Tonight Show, describing her five daily hours of weight and martial arts training to prepare for "The Woman King." Davis transformed herself into General Nanisca, the fictional leader of the Agojie, the real-life all-female army of the 19th-century Dahomey Empire. But the impressive physical preparation is only part of what makes Davis's performance as Nanisca so captivating. "The Woman King" puts Nanisca through a great deal of emotional stress, as she copes with trauma from her past while carrying the weight of the world on her shoulders. Everything that makes a typical dramatic Viola Davis performance strong is still there — the intense focus, the veiled vulnerability, the cutting wit — but now she's a physical powerhouse, too.
Rebecca Hall - Resurrection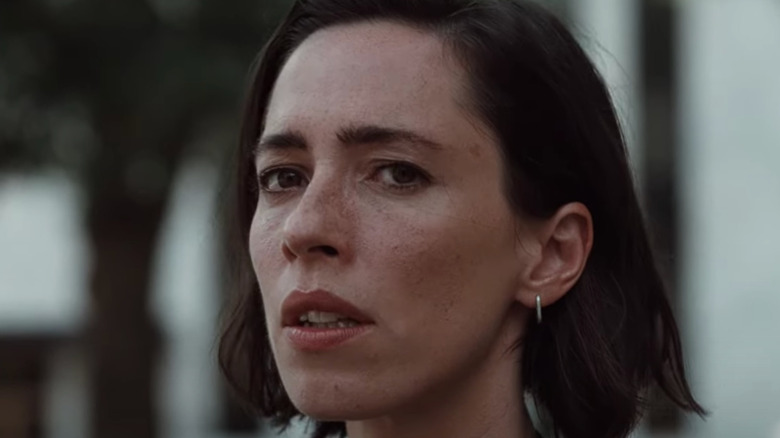 IFC Films
"Resurrection" may wind up one of 2022's buried treasures. Debuting out of competition at this year's Sundance Film Festival and receiving only a limited theatrical release before landing on the horror-focused streaming service Shudder, it's received a fraction of the attention that it would need to garner lead actor Rebecca Hall the Oscar buzz that she deserves. Hall plays Margaret, a put-together businesswoman and single mother who seems to have her life under control. That is, until a familiar face from her past throws everything out of balance, slowly unraveling her psyche as she attempts to keep herself and her daughter safe from a danger only she understands.
Though tightly directed by filmmaker Andrew Semans, "Resurrection" belongs to Hall, who spends almost the entire film on camera driving the emotion of the story. For the first half, we are given precious little information about Margaret or her relationship with the eerily calm David (Tim Roth), who can send her into a panic attack with a mere glance. But, until Hall finally reveals the film's twist in a shocking, unbroken monologue directly to the camera, her panic is all we need to become totally enraptured, desperate to know more.
Between her riveting performances in thrillers like "Resurrection" and "The Night House," and her directorial debut with last year's "Passing," Hall is asserting herself as a force to be reckoned with both in front and behind the camera.
Woody Harrelson - Triangle of Sadness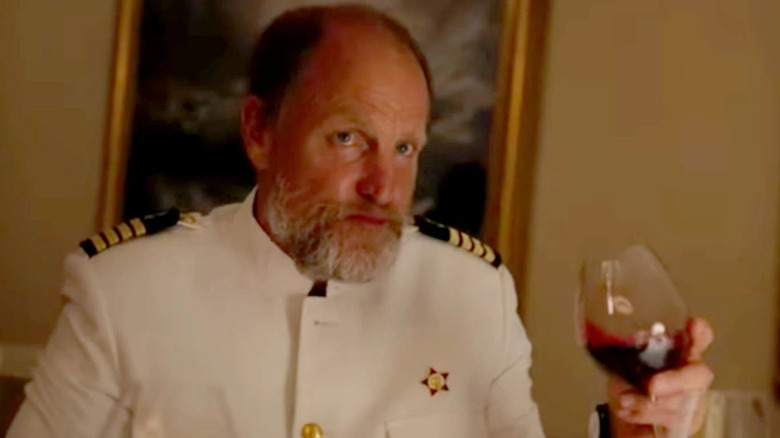 Neon
Comedic performances rarely get their due at the Oscars, even when they come from established actors in art house films. To be fair, we can't even really blame them if they snub this supporting turn in the second act of "Triangle of Sadness." After all, Woody Harrelson's performance as the drunken ship captain is mostly Woody Harrelson doing "Woody Harrelson." But, oh boy, is he great at it.
In "Triangle of Sadness," Harrelson plays the captain of a luxury yacht, which is loaded up with insufferable billionaire passengers. None of the crew are particularly enamored with their clientele, least of all the captain, who is an avowed Marxist. Here, Harrelson expertly applies his gruff, smiling, self-interested persona to great comedic effect. His every line is played for a laugh, but it's his role in the film's central metaphor — arguing economic theory with a passionate Russian capitalist even as the ship they're on is sinking — that makes the middle hour of "Triangle of Sadness" so much better than the forty minutes on either side of it. He may only be in the film for a short time, but like any great supporting performance, the movie simply doesn't work without him.
Maya Hawke - Do Revenge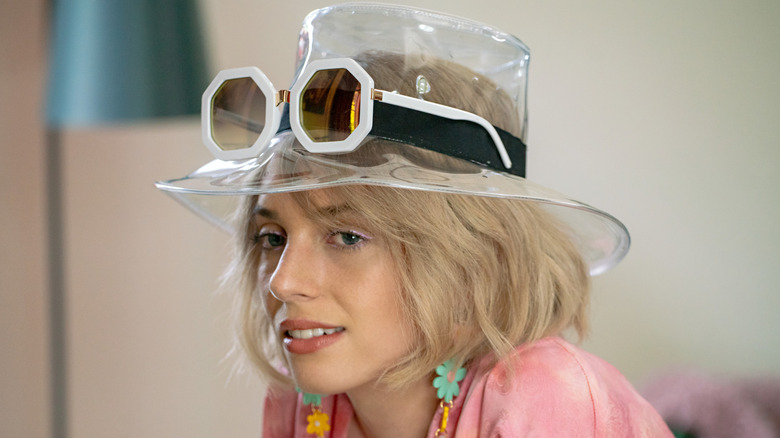 Netflix / Kim Simms
It seems as if every up-and-coming young talent in the entertainment business has a famous last name or a critical family connection in the business that can be uncovered with a cursory Google search. We share the frustration regarding what that says about the industry, and the way it shatters the illusion of meritocracy. Thus, it gives us very little pleasure to admit that the child of famed Hollywood stars Ethan Hawke and Uma Thurman has got the goods.
After joining the cast of "Stranger Things" in 2019, Hawke found herself another prominent role in a Netflix production, starring opposite Camila Mendes in the high school comedy-thriller "Do Revenge." Hawke plays the new kid at a prestigious prep school who teams up with its dethroned queen bee to punish the students who wrong them. Hawke's Eleanor goes from wallflower to trendsetter as she cons her way into the upper echelons of high school society, but there's more to her than there appears.
One doesn't typically go into a high school comedy expecting killer acting, and that might be why Hawke's performance in "Do Revenge" pops as much as it does. Aside from a very brief appearance by Sophie Turner, Hawke is the only actor in the film who's operating at her level. Still, her work here is enough to make us eager to see what she's capable of in more challenging projects. Whatever advantages she may have had getting on screen in the first place, we're glad she's here.
Mia Isaac - Not Okay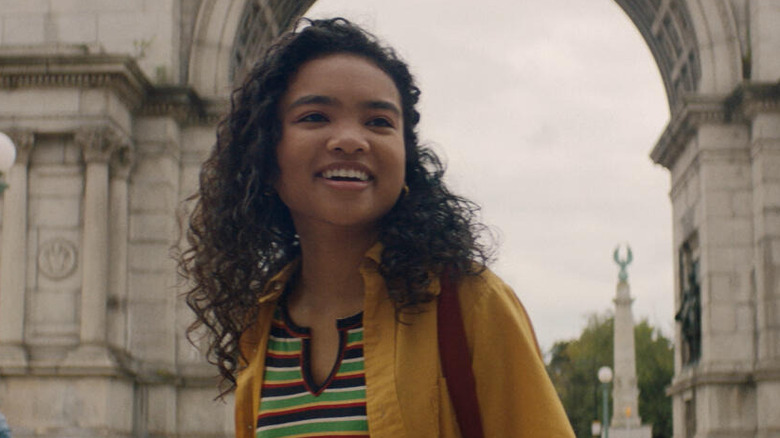 Searchlight Pictures
In a few years, when Mia Isaac becomes a star "out of nowhere," you can tell your friends you read about her here first.
As of this writing, young actor Mia Isaac doesn't even have her own Wikipedia page yet, but she's had one hell of a year in 2022. In July, her debut film "Don't Make Me Go" was released on Amazon Prime, having premiered at Sundance the year before. She plays Wally Park, a high schooler whose father (played by John Cho) takes her on a road trip to find her estranged mother. It's an impressive debut, coming right out of the gate as a lead actor who can go toe to toe with a Hollywood veteran.
Isaac also featured in the dark comedy "Not Okay," in which Zoey Deutch stars as a struggling journalist who cons her way into internet celebrity by exploiting a major public tragedy. It's Issac, however, who steals the show in a prominent supporting role as Rowan Aldren, a bold teenager who has become an important activist after surviving a school shooting. Issac demonstrates bravery of her own in how she represents her character's strength, pain, and trauma, and her performance is unquestionably the best part of the film. "Not Okay" is a clever and biting social satire, but its biggest takeaway is, "This kid's going places."
Michelle Yeoh - Everything Everywhere All at Once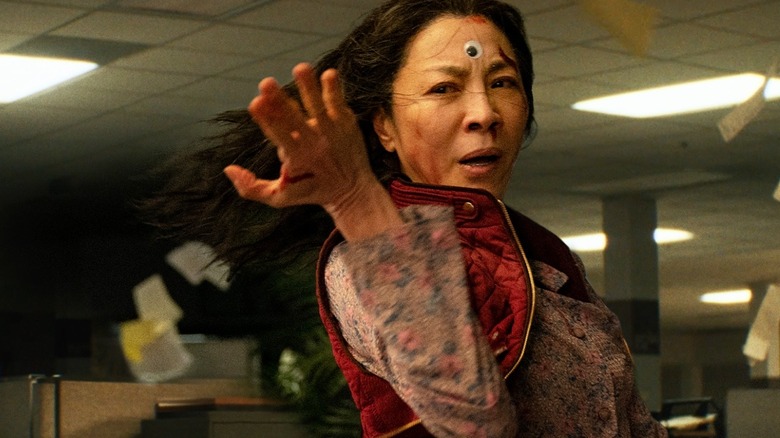 A24
In "Everything Everywhere All at Once," Michelle Yeoh stars as Evelyn Wang, an exhausted small business owner and emotionally withholding wife and mother. While attempting to finish her laundromat's taxes, she is suddenly drawn into a bizarre conflict that spans the entire multiverse, forcing her to explore all of the more fulfilling and glamorous lives she could have lived.
No one familiar with Michelle Yeoh's four-decade career in cinema was surprised when her star turn in "Everything Everywhere All at Once" — her first-ever leading role in Hollywood — brought tears to their eyes. Yeoh has thrilled audiences since 1985 with her performances in films like "Yes, Madam," "Crouching Tiger, Hidden Dragon," and "Crazy Rich Asians." What's more surprising is how much the viewing public has embraced "Everything Everywhere All at Once" for the modern masterpiece that it is. A truly weird genre-mashing comedy, "Everything Everywhere All at Once" is a bona fide hit that has maintained its critical and cultural momentum from its February release all the way through 2022, sending Yeoh to new heights in her Hollywood career. Even in a competitive year, an Oscar run for her performance is not out of the question.
"Everything Everywhere All at Once" is practically a two-hour resume of everything she has accomplished throughout her career as an artist and entertainer. Fun and expressive martial arts? Check. Deep, heartfelt drama? Check. Quirky comedy? Check. It's proof positive that Yeoh can do anything that her competition can do, backward and in a stunt rig.
Steven Yeun - Nope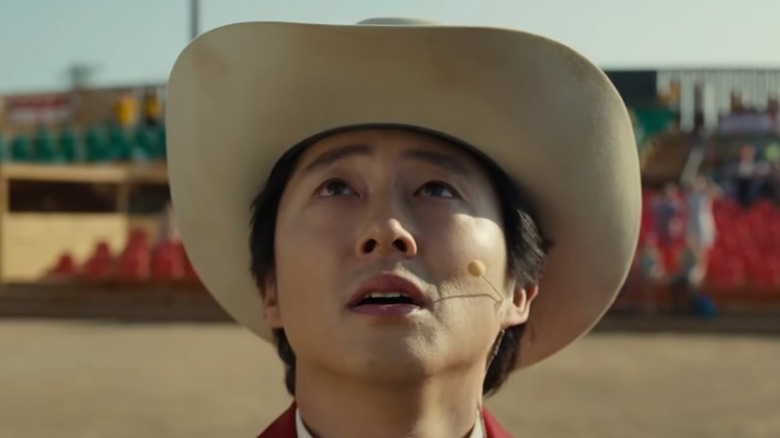 Universal Pictures
"Nope" is one of this year's most interesting blockbusters, the sort of off-beat horror-thriller that only director Jordan Peele could bring us. Peele's films delicately balance visceral and cerebral horror with absurd comedy, and pulling that off requires every actor to be on his wavelength. However, there's never been a performance that's as perfectly locked in with Peele's rhythm as Steven Yeun as Ricky "Lil' Jupe" Park, the child star-turned-theme park promoter in "Nope."
This is particularly important since Ricky is crucial to the movie's message and tone. After witnessing a terrible tragedy as a child, Ricky has spent his life fascinated with the bizarre imagery of the event and its brief impact on pop culture. It is both the worst moment in his life and his fifteen minutes of fame. And so, when Ricky monologues in loving detail about the "Saturday Night Live" sketch based on this bloody episode from his past, it is absolutely gripping. Without going into spoiler territory, this scene is basically the entire film encapsulated. More than any of "Nope's" own spectacle, what stands out most in our memory is Ricky's far-away look as he reflects on an image that we don't even get to see.