Martin McDonagh Shares The Creative Process Behind The Banshees Of Inisherin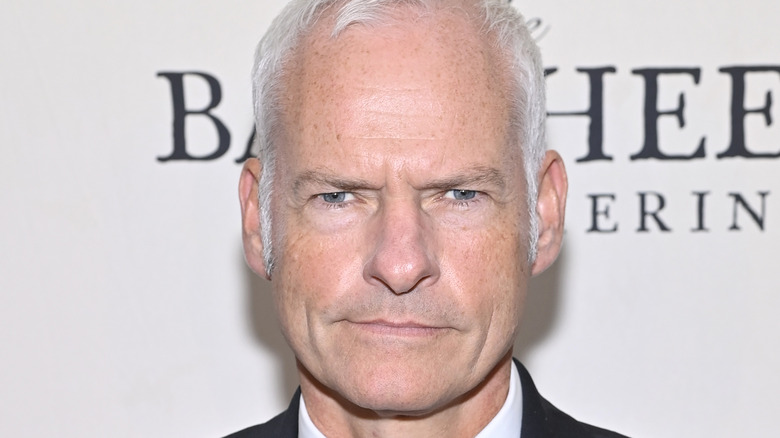 Roy Rochlin/Getty Images
"The Banshees of Inisherin" premiered at the Venice Film Festival in September of 2022 before being released to theaters on October 21, 2022. The film has been receiving overwhelmingly positive reviews — in fact, it currently has a near-perfect 97% Tomatometer score on Rotten Tomatoes.
Written and directed by Martin McDonagh, the film is set on a remote island off the coast of Ireland and focuses on two lifelong friends, Pádraic (Colin Farrell) and Colm (Brendan Gleeson). When Colm unexpectedly and abruptly ends their friendship, Pádraic sets out to repair their friendship with the help of his sister Siobhán (Kerry Condon) and a troubled local man Dominic (Barry Keoghan) but faces an unwavering Colm.
"The Banshees of Inisherin" marks McDonagh's fifth film as writer-director, following up 2017's highly acclaimed "Three Billboards Outside Ebbing, Missouri" (which earned him an Oscar nod for Best Original Screenplay). He also wrote and directed 2008's "In Bruges," which, notably, also starred Farrell and Gleeson.
In a recent interview, McDonagh spoke in detail about the creative process for "The Banshees of Inisherin."
Martin McDonagh used his own experiences to write the two main characters
Writer-director Martin McDonagh recently appeared on The Ringer's podcast, The Big Picture, which is hosted by Sean Fennessey and Amanda Dobbins, to discuss the creative process behind "The Banshees of Inisherin." To begin with, McDonagh admitted that the blank page can be intimidating but that, once he gets going, he loves — and is even entertained by — the writing process. In the case of "The Banshees of Inisherin," McDonagh had the task of creating two complex leading characters in Pádraic and Colm.
When it came to Pádraic, a character experiencing an unexpected and heartbreaking friendship breakup, McDonagh drew on his own heartbreaks. The director said, "A lot of this was written thinking of the pain, or being in the pain, of a sad breakup. And I really tried to be truthful to that sadness as much as I could on Pàdhraic's behalf."
And as for Colm, McDonagh drew on some of his professional experience — specifically, his experience facing doubts in his career. He said, "It's probably based on me, the whole idea of, 'Are we wasting time? Should I be making more than one film every five years? Should I speed it up?' And I think that sort of imbued Brendan [Gleeson]'s side of the story, for sure."
Martin McDonagh set the film during a war to add a shadow to the already sad story
During the conversation, Martin McDonagh also discussed his decision to set "The Banshees of Inisherin" during the Irish Civil War — despite the fact that the war does not impact the story arcs of the characters pretty much whatsoever. Although, thematically, it certainly makes sense to set a friendship breakup — something that can easily be compared to a civil war — during such an event. For McDonagh, the setting was all about further setting the tone.
McDonagh explained, "I think it just adds some kind of gravitas to the simple story of a breakup ... just to have that as a shadow falling across this other sad, complex breakup story I thought would add something cinematically to it. But I don't think you need to know anything really about that war, just the idea of it being over there is interesting enough."
The writer-director also discussed this topic in an interview with The Atlantic in October 2022, emphasizing that viewers don't need to know anything about Irish history or the Irish Civil War because it serves merely as a backdrop — and in some ways a mirror — to what is happening between Pàdraic and Colm. McDonagh said, "All you need to know, really, is that [the civil war] was over a hairline difference of beliefs which had been shared up until the year before. And it led to horrific violence. The main story is that, too: negligible differences that end up, well, spoiler alert, not in a good place."