Fans Are Praising Selena Gomez's Vulnerability In Raw My Mind And Me Documentary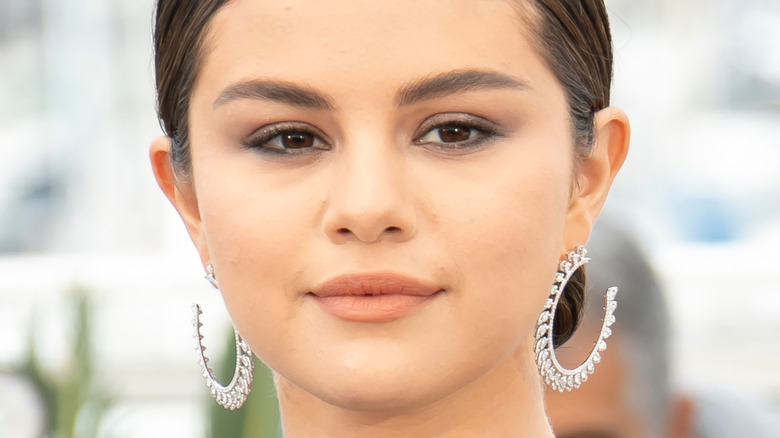 BAKOUNINE/Shutterstock
With their massive social media followings and devoted stans, celebrities are, at least superficially, more accessible and public-facing than ever. Still, there is an unquenchable desire to go even further behind the candelabra to unveil the artifice of online personae. That is perhaps the engine behind a recent wave of pop star documentaries, including 2020's "Miss Americana," a look at Taylor Swift's creative aspirations and tribulations, and 2021's "Billie Eilish: The World's a Little Blurry." Now, "Only Murders in the Building" star Selena Gomez is the subject of her own intimate documentary: "My Mind and Me."
Helmed by the director of 1991's "Madonna: Truth or Dare," "My Mind and Me" starts as a tour documentary and morphs into something entirely different as it deals with Gomez's mental health struggles and a crisis of confidence, drawing a portrait few in the public were likely aware of. Here's how fans are reacting to "My Mind and Me."
Fanks think My Mind and Me is a courageous look at mental health struggles
Fans of Selena Gomez will already be familiar with her extended time in the limelight, the tabloid-friendly relationships, and the health scares that have come to define the multi-hyphenated talent's career. But "My Mind and Me" offers rare insight into Gomez's own emotional journey, and fans are praising the star's vulnerability.
"Just finished watching this and it just felt so emotional," wrote Redditor u/observerq. "It really showed why she puts such a big emphasis on mental health. Watching her go from being someone who had an idea but lacked faith in themselves to being someone who made her ideas come to life was such a journey."
Fans on Twitter were similarly impressed by the heroine's intentionality. "Amazing documentary about mental health narrated by a constantly-judged-and-put-down resilient woman," tweeted @sergio_illan. "Thank you @selenagomez for your advocacy and courage." Added @kelyons1206, "Selena Gomez's new documentary is amazing. It's powerful, empowering, real, and raw. It's so emotional and powerful, I'm truly speechless."
Critics, too, have praised the diaristic film for its rawness and the non-sugarcoated treatment of its subject. "I came away from it convinced that Gomez is a real one to the core," wrote David Ehrlich for IndieWire, "and that she feels the need to help others as intensely as she feels the need to help herself." "My Mind and Me" is now streaming on Apple TV+.