Andor's Andy Serkis Developed A Troublemaker's Backstory For His Character Kino Loy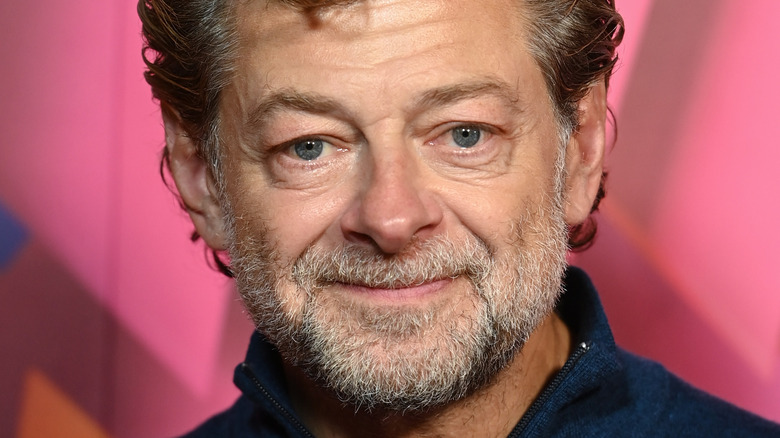 Kate Green/Getty Images
Warning: This article contains spoilers for "Andor." 
One of the biggest surprises of "Andor" Season 1 was the introduction of Andy Serkis as Kino Loy, the harsh floor manager in the Imperial factory. 
"Andor" introduced Kino Loy in Episode 8, titled "Narkina 5," after the moon that holds the Imperial prison factory. Following his wrongful sentencing, Cassian (Diego Luna) meets Loy after arriving at the prison. Kino is the no-nonsense leader of a group of prisoners, ensuring they stay productive as they carry out their sentences. He has the mindset of keeping your nose down, not doing anything to draw attention, and serving your time. 
Kino Loy's character takes a turn in Episode 9, "Nobody's Listening." The events of the episode see the Empire execute an entire group of prisoners. Cassian and Loy's fellow inmate Ulaf suffers a fatal stroke, and the duo learns the Empire has no plans to release the prisoners following their sentences. The episode ends with Loy chillingly revealing to Cassian how many guards are on each floor, signaling his readiness to escape the prison. 
Loy actor Andy Serkis is not a newcomer to the "Star Wars" franchise, having played the sinister Supreme Leader Snoke in the sequel trilogy. His time as the villain was entirely performance-based, with Serkis lending his legendary motion capture skills to the character. While Snoke, the primary villain of "The Force Awakens" and "The Last Jedi," undoubtedly had an entire backstory written out before his introduction, Serkis' "Andor" character wouldn't get that same treatment. 
Thankfully, Serkis created Loy's backstory himself.
Kino Loy's time in prison changed him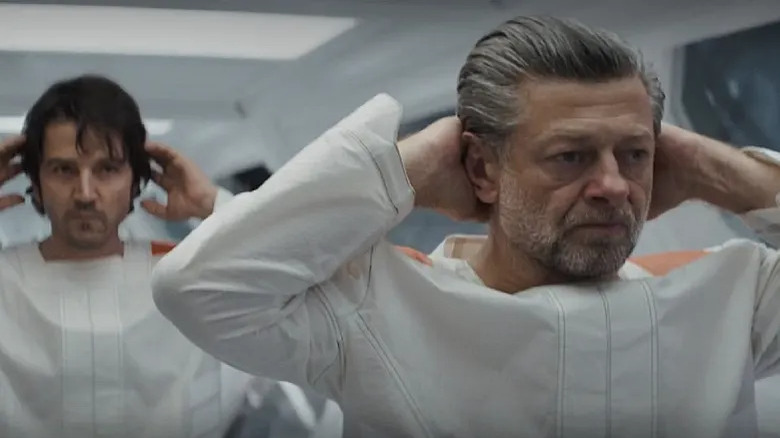 Lucasfilm/Disney+
It turns out that Andy Serkis imagined Kino Loy as an entirely different character before his incarceration. Speaking to Collider about his "Andor" character, Serkis revealed that he created Loy's backstory himself.
Before his imprisonment, Kino Loy was a shop steward with a family, Serkis said. He believes the character would have fought for workers' rights on the outside, making him a troublemaker in the eyes of the Empire. After being sentenced to work in the prison factory, Loy's outlook on life completely changes. "When he was incarcerated, he then almost sheds any desire to look out for other people apart from himself. Just do his time and get out," Serkis revealed. "To try and get out and just survive the sentence, the torture, the desensitization. I think it was that desensitization that made me perhaps have that slightly lost but kind of hardened and toughened shell."
Serkis' original backstory gives his already outstanding "Andor" character even more depth. After watching Episode 9, fans can see hints of Loy's past self returning, as he's now ready to fight back against the Empire's treatment of their prisoners.
We're glad that Andy Serkis made his return to the "Star Wars" universe, and "Andor" director Toby Haynes revealed to The Hollywood Reporter that no one else could play the part. While the actor was initially hesitant to return after directing "Venom: Let There Be Carnage," creator Tony Gilroy convinced him. Haynes praised Serkis, saying, "And now I can't imagine it being anybody else. There was never any other option, really. It had to be Andy."
New episodes of "Andor" hit Disney+ every Wednesday.