Abbott Elementary's Quinta Brunson Takes Pride In Having Incarcerated Fans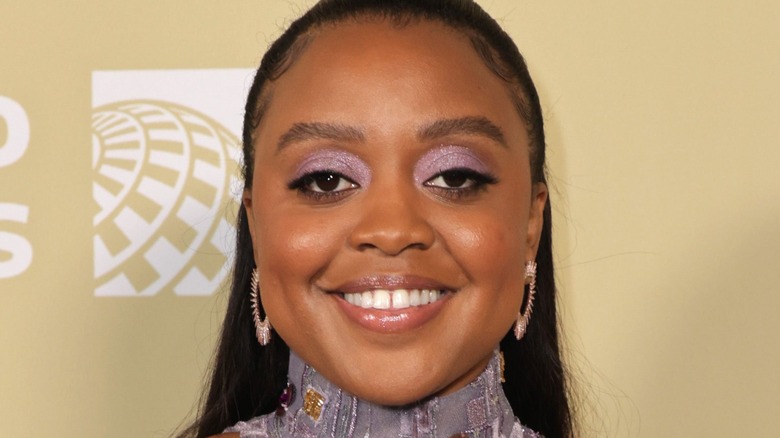 Momodu Mansaray/Getty Images
One of the most popular new shows of the past year is undeniably "Abbott Elementary," which was created by Quinta Brunson. The mockumentary-style comedy follows the personal and professional lives of a group of teachers and employees who work at an underfunded elementary school in Philadelphia. The set of characters includes optimistic second-grade teacher Janine Teagues (Brunson); substitute-turned-full-time teacher Gregory Eddie (Tyler James Williams), who has a crush on Janine; nerdy history teacher Jacob Hill (Chris Perfetti); egocentric school principal Ava Coleman (Janelle James); peculiar custodian Mr. Johnson (William Stanford Davis); resourceful and straightforward second-grade teacher Melissa Schemmenti (Lisa Ann Walter); and veteran kindergarten teacher Barbara Howard (Sheryl Lee Ralph).
"Abbott Elementary" is notable for many reasons — its talented cast, its hilarious and sharp writing — but a significant detail of the show is that it's on network television. It's no secret that streaming services have been increasingly dominating television, so it was quite the feat for "Abbott Elementary" to become such an immediate hit, with critics and viewers alike.
A significant benefit of network television, which you don't often hear people talk about, is its accessibility. For Brunson, however, that was a major draw of going with a network over a streamer — here's what the creator-star has to say about it.
Quinta Brunson is grateful that her show is reaching prisons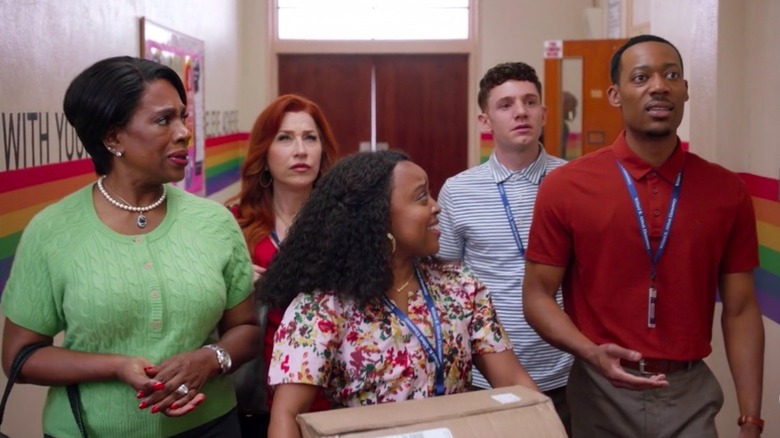 ABC/Hulu
In early November 2022, Quinta Brunson spoke with The Hollywood Reporter, who named her Comedy Star of the Year, about all things "Abbott Elementary." One of the talking points that came up in the conversation was the fact that Brunson has spoken out about her show being accessible to prisons because it's on a network versus a streamer.
Brunson said, "My relationship to prison is maybe different than most people's. I know people who have been in prison. I'm one degree away from a lot of people who know someone in prison." She continued that she has heard from people who tell her that an inmate they know watches the show and really likes it. Brunson continued, "It's real direct for me, and that's always affected my outlook on accessibility. People who are in prison, they're just people. So I do not get many letters. I get straight-up word-of-mouth. And I take that happily."
Brunson has talked about this topic in interviews before. While appearing on Late Night with Seth Meyers in September 2022, Meyers brought up the fact that Brunson had always planned for "Abbott Elementary" to be a network show. Brunson responded, "I love network television, I love the accessibility of it. People laugh at me when I say this, but it's something that people can watch in prison, which is a huge demographic."
Quinta Brunson thinks network television shows are for the masses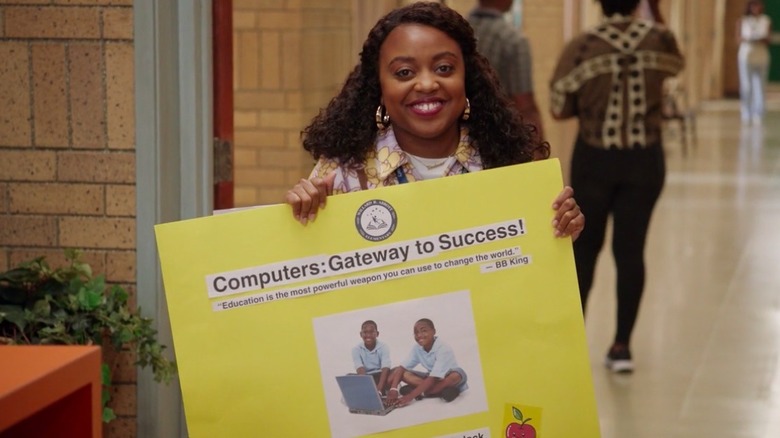 ABC/Hulu
Alongside the aspect of prisoners having access to the show, Quinta Brunson has emphasized the importance of accessibility in general — not only in terms of who can watch it but also in terms of who wants to watch it. In March 2022, Brunson discussed this topic during an interview with The New York Times. She gave the counterpoint of "Succession," a primetime show on HBO, which is considered cool and popular (and gets written about often), but that is a show that major demographics of people are not watching (she gave the example of her family in Philadelphia, who would say no if you asked them if they watched "Succession").
Brunson continued, "But the hippest, coolest thing isn't always for everyone, and that's OK. Network TV is inherently made for the people. 'Abbott' is in this middle space between the two." The creator also noted, however, that network television hasn't actually gone anywhere, giving the example of "Young Sheldon," which is immensely popular (NYT noted that it averages seven million viewers per episode).
Brunson said, "People online are constantly confused about how 'Young Sheldon' is the most-watched show. Shut up! Who is watching that? Most of America."