12 Shows Like The Patient Fans Should Watch Next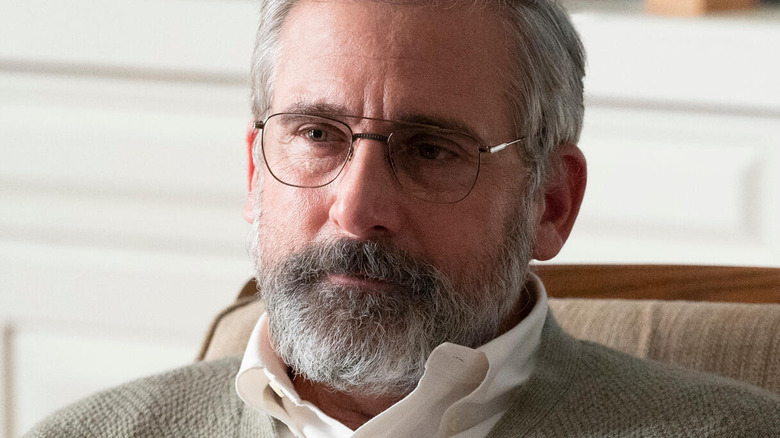 Hulu
The intimate relationship between a patient and their therapist is one of the most sacred relationships we can build. The confidentiality established between them is precious and crucial to the healing process. However, on television, whenever the audience is granted access to these protected spaces, the result is often incredibly enthralling like in Hulu's "The Patient" with Steve Carell and Domhnall Gleeson.
Though Carell is best known for his comedic roles like Michael Scott in "The Office" and the voice of Gru in the "Despicable Me" franchise, when he takes on dramatic roles, the results are frequently stunning. His loathsome character Mitch on "The Morning Show" reveals the hidden capabilities of the actor by diving into the darker corners of his mind. Additionally, his fatherly role in "Beautiful Boy," starring alongside Timothée Chalamet, is one of his most heartfelt and touching, depicting the unconditional love of a parent. These roles can prepare viewers for another dramatic turn from Carell in "The Patient" as therapist Dr. Alan Strauss.
Strauss meets his match in a particularly disturbed patient named Sam Fortner (Gleeson) who admits to being a quick-to-anger serial killer. Sam takes average slights very personally and doesn't react well to disrespect. This is Strauss' ultimate goal of rehabilitation, especially when Sam kidnaps him, taking their therapy sessions to deadly new levels. If you've already watched this exceptional miniseries, we've got a thrilling list of follow-ups that explore the darker side of the human psyche and those who try to understand it better.  
Aquarius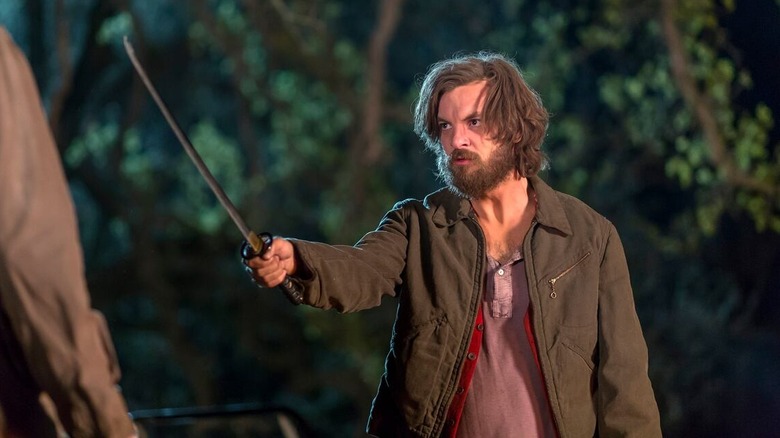 NBC
Only a few years after he helped divide the Seven Kingdoms on "Game of Thrones" as Renly Baratheon, Gethin Anthony played notorious cult leader Charles Manson on NBC's "Aquarius." The series also starred TV legend David Duchovny (from the revolutionary "The X-Files") in his highly anticipated return to network television. In the show, Duchovny, like Gleeson's chilling role in "The Patient," is also named Sam, but on the total opposite side of the law. 
"Aquarius" kicks off with LAPD detective Sam Hodiak and his partner Brian Shafe (Grey Damon) investigating a strange case with several disturbing and vile components. In a similar fashion to the wish fulfillment seen in Quentin Tarantino's "Once Upon a Time in Hollywood," Sam and Brian take on the unsettling case especially when it becomes personal. A now-missing teenage girl named Emma (Emma Dumont) is lured into Manson's sinister gatherings in 1960s Los Angeles. As the city is divided and rioting, the police force allows Manson to slip through the cracks, leading to the slaying of Hollywood starlet Sharon Tate.
True to the historical thriller genre, "Aquarius" takes what we know from history and subverts it in new and exciting ways. This consequently turns "Aquarius" into an unmissable gritty series exploring the frightening and sometimes alluring nature of serial killers. 
Scream: The TV Series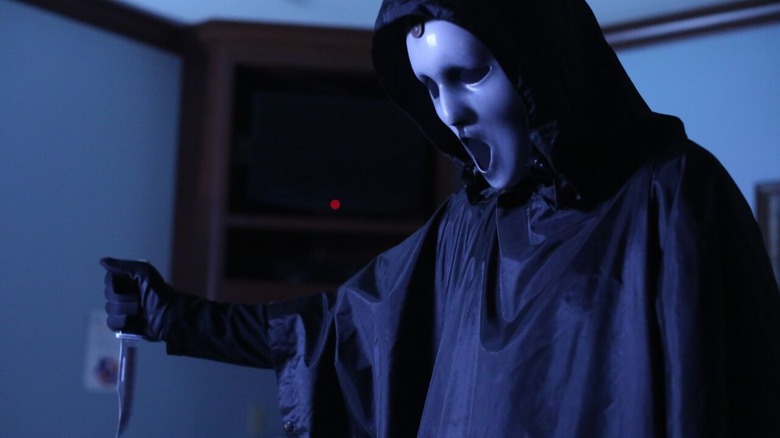 MTV
Following in the footsteps of Wes Craven's groundbreaking horror film franchise, MTV's "Scream: The TV Series" takes the slasher story from the big screen to an episodic format. With a new batch of victims and scream queens, including Bella Thorne, Willa Fitzgerald, Bex-Taylor Klaus, Carlson Young, and Kiana Ledé, "Scream" builds off familiar tropes and tears them down with horrifying kills. Spanning over three seasons, MTV's iteration of "Scream" builds up the audience's investment in the characters before brutally ripping them apart in gruesome ways.
This attachment is new to the series and typically only reserved for beloved survivors from the feature films like Sidney Prescott (Neve Campbell), Gale Weathers (Courteney Cox), and Deputy Dewey (David Arquette), who withstand Ghostface's numerous execution attempts. It takes character deaths to tragic levels as fan favorites succumb to unmentionable ends and devastate the surviving residents of Lakewood. When the mask comes off, it's a jaw-dropping reveal ending and shows a thorough psychoanalysis of the killer's actions that fans of "The Patient" will surely enjoy.
Only Murders in the Building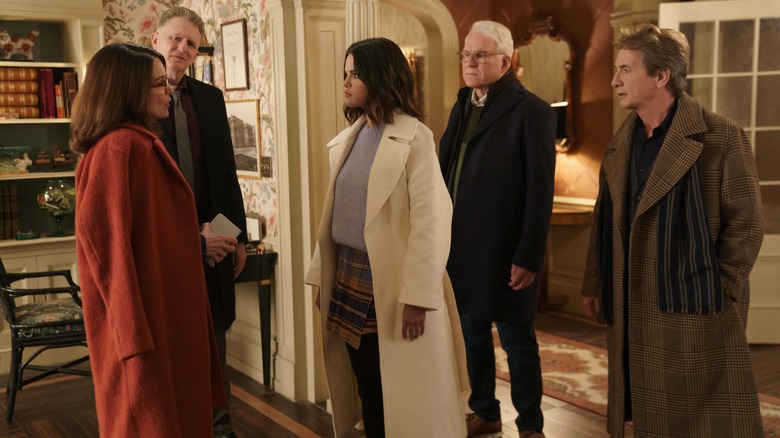 Hulu
"Only Murders in the Building" encapsulates our undying obsession with true crime magnificently through the lens of meta-awareness and subversion. The series enlists an all-star cast, including Selena Gomez, Steve Martin, and Martin Short, with guest stars like Tina Fey and even musical icon Sting appearing. The comedy blends drama seamlessly into the mystery and even adds a tasteful amount of gore to depict the harrowing realities of crime. This element drives home the podcast format which captures the sonic threads of storytelling without the graphic reality. There's a safe distance when we solely listen that "Only Murders" cuts through with striking visuals (like a blood-soaked Gomez as Mabel). 
This unique reflection takes the Hulu series to refreshing avenues that helped secure 17 Emmy nominations and three wins, and a near-perfect score on Rotten Tomatoes. The well-known comedic chops of the three lead stars alleviate tension through the crime scenes in increasingly memorable ways as we try to pin down the prime suspect. "Only Murders" quenches our blood-lust for true crime narratives that explore truth and motive in provocative ways, much like "The Patient" does across the 10 episodes.
The Undoing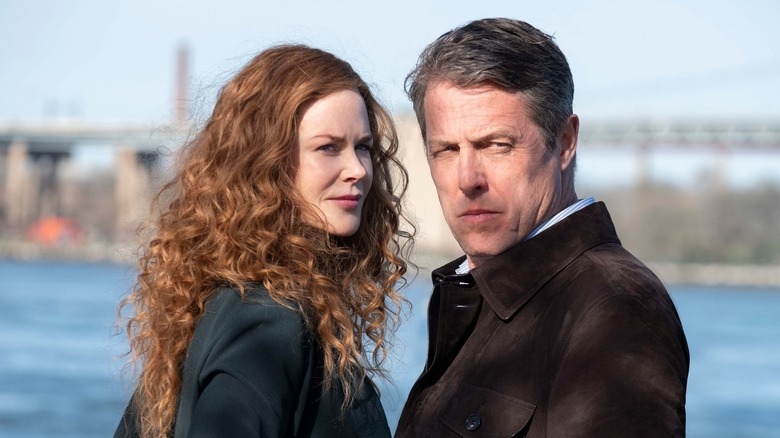 HBO
In HBO's sensational whodunnit "The Undoing," Nicole Kidman stars as therapist Grace Fraser alongside her suspicious husband, Jonathan, played by Hugh Grant. "The Undoing" follows the sudden death of young mother Elena (Matilda De Angelis) who is viciously beaten to death by a sickening weapon. Through a study of class, wealth, and privilege set in Manhattan, the six-episode show elevates the sometimes pulpy genre and even builds off the original 2014 novel — "You Should Have Known" by Jean Hanff Korelitz –  with Susanne Bier's remarkable direction. 
"The Undoing" reunites "Big Little Lies" creator David E. Kelly with Kidman in a tremendous miniseries dripping with suspense and a dazzling wardrobe of wealthy New Yorkers, including Lily Rabe as Sylvia Steineitz. Kelly also recruits another astounding ensemble of cast members including Noah Jupe as Grace's shifty son Henry, Noma Dumezweni as formidable lawyer Haley Fitzgerald, Donald Sutherland as the wealthy patriarch Franklin, and Édgar Ramírez as the undeterred Detective Joe Mendoza.
"The Undoing" consistently shifts between suspects and motives in Elena's horrific death ranging from Jonathan, Grace, Elena's husband Fernando (Ismael Cruz Córdova), Franklin, and even Henry in an unnerving notion. When the culprit is finally revealed, Bier depicts the slaying in an unflinching image of violence, displaying the darkest parts of the human psyche. "The Patient" fans will see Sam's duplicity in many shady characters in "The Undoing," tying the series together tonally and through their exploration of hidden identity. 
You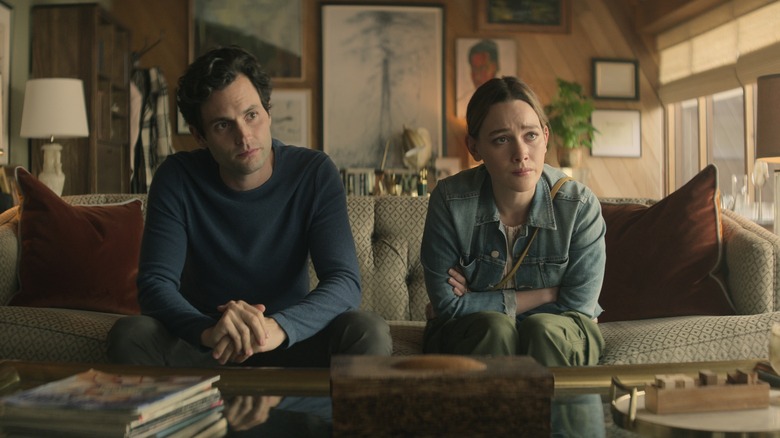 Netflix
Speaking of duplicitous characters, there may be none more deceitful than self-proclaimed everyman Joe Goldberg (Penn Badgley) in "You." His commitment to being ordinary is disquieting and reminiscent of "The Patient's" Sam, who struggles to fit in with modern society. Like Sam, Joe also takes pleasure in eradicating those he feels unfit for life by exterminating toxic displays of masculinity, vain influencers, and smothering best friends with ease. 
His conscious discretion is haunting and proceeds his malicious actions with copious amounts of stalking, both in person and through deep dives on the internet. This blood-curdling detail is authentic in our real-world interactions where some are blissfully unaware of their lackluster privacy settings. It tiers Joe's unfortunate pursuits up as easy pickings for his charming antics and jealous fits of violent rage. The possessive trait is seen in numerous serial killers like Manson and his collection of young girls, Sam harboring Dr. Strauss, and Joe's terrifying glass cage. 
The dark portrayal of the digital age is one of the many frightening and relatable themes in "You" that shake viewers to their very core. Joe turns dating apps into a feeding ground where he easily selects his next victim with the tap of a finger. 
Bates Motel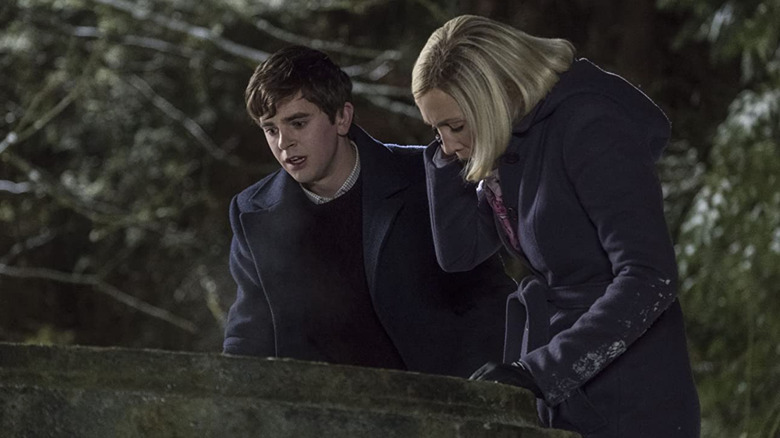 A&E
Therapists would have an absolute field day with the annihilating conundrum that is Norman Bates. In A&E's prequel to Alfred Hitchcock's suspense masterpiece "Psycho," this television series plunges deep into Norman's (Freddie Highmore) twisted psyche and his origins with his delusional mother Norma (Vera Farmiga). Norman and Norma become nearly indistinguishable as they indifferently murder various residents of Fairvale and sharpen their skills in body disposal.
Highmore's emotional performance as Norman makes it nearly impossible not to root for him, especially alongside his compassionate best friend Emma (Olivia Cooke). Farmiga harnesses the ultimate Hitchcock blonde, explaining Norman's traumatic roots with a layered, complex, and nuanced act. Norma is multifaceted with her own complicated past that builds on her iconic shadow in "Psycho" as Farmiga gloriously brings her to life with rage and sorrow. 
This household of dysfunctional serial killers sets up "Psycho" exceptionally, especially by paying homage to the original with pop superstar Rihanna as horror icon Marion Crane. The subversion in this beautiful tribute is so sublime, we can't spoil it here, but it's safe to say Hitchcock himself would be proud of this spine-tingling prequel. 
Hannibal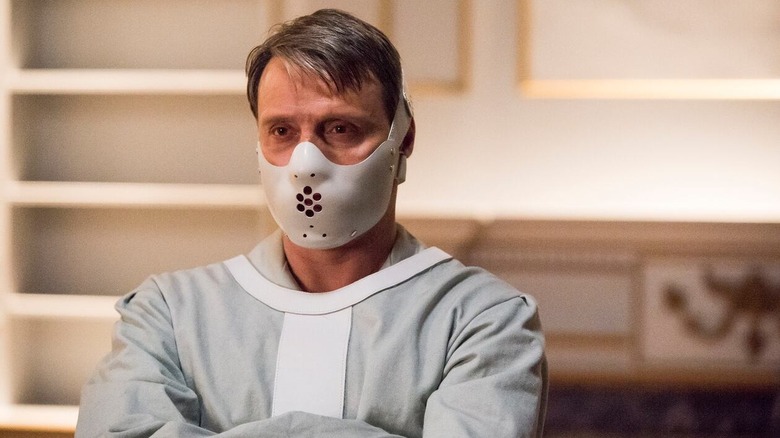 NBC
The bloodiest series on this list is also the most delicious with creator Bryan Fuller serving up the delectable production. Starring Mads Mikkelsen as the cunning and ghastly cannibal Dr. Hannibal Lecter, this adaptation of Thomas Harris' gripping novels beautifully captures the ravenous madness within. Hugh Dancy co-stars as Will Graham, whose unique ability as a criminal profiler allows him to track and pick out serial killers through subtle identifiable traits. He hits an impenetrable wall when he meets Hannibal Lector, whose vast intellect continuously outwits Graham's talents leading to a compelling cat-and-mouse chase.
The impeccable directing in "Hannibal" elegantly showcases Lecter's mortifying dishes, as he attempts to justify that one should "eat the rude" in the ultimate power play. His Darwinistic attitude compels Graham who becomes infected and intertwined with Hannibal's addictive nature. Their unconventional relationship echoes Dr. Strauss and Sam with unhealthy enabling in several anxiety-inducing life or death scenarios. Unfortunately, "Hannibal" was canceled before it could adapt the highly anticipated "The Silence of the Lambs" storyline. However, fans haven't given up hope for a Season 4 and neither has its carnivorous titular star.  
Sharp Objects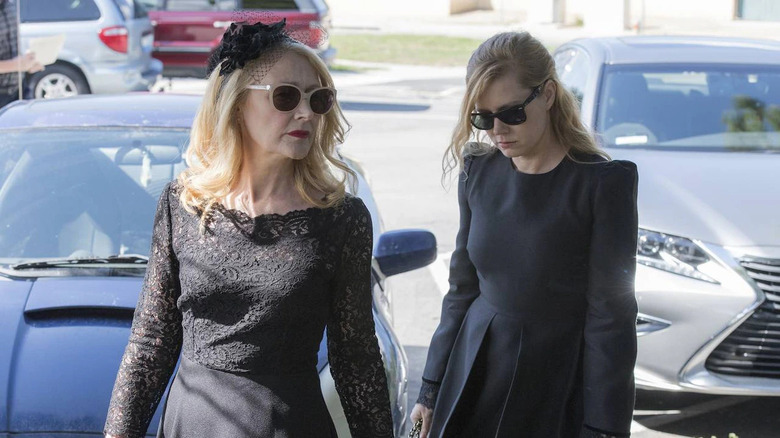 HBO
The disturbing nature of "Sharp Objects" stems from the series' constant juxtaposition between nurture and destruction. Based on Gillian Flynn's startling novel, the 2018 HBO miniseries enlisted Jean-Marc Vallée to convey dreamy flashback sequences and alarming mystery. The small glimpses backward haunt Camille Preaker (Amy Adams) as she returns home to her humid Southern discomforts. 
Among the squealing pig farms and corpses of dead girls, Camille finds her passive-aggressive mother Adora Crellin (Patricia Clarkson) and wildly antagonizing sister Amma (Eliza Scanlen). Camille is an investigative journalist with a troubled past (due to her controlling mother) resulting in self-harm and alcohol addiction. She returns home for work in search of a child killer while healing from her abusive childhood and uncovering the mind-boggling truth. 
The intrigue surrounding identity becomes less of the focus with Camille's reporting as she's more concerned with the why. This shapes the narrative in a fresh way that completely sidelines viewers with the astonishing final revelations. The realistic illustration in "Sharp Objects" creates an irresistible world that's compelling to watch from afar but unbearable to exist within from the judgmental citizens to the unbelievable murderer. 
If you or anyone you know needs help with addiction issues, help is available. Visit the Substance Abuse and Mental Health Services Administration website or contact SAMHSA's National Helpline at 1-800-662-HELP (4357).
The Assassination of Gianni Versace: American Crime Story
Ryan Murphy's follow-up to the remarkably successful "The People v. O. J. Simpson" adapts Maureen Orth's exhaustive coverage of Andrew Cunanan's unforgiving crime spree. The entitled butcherer topped off his list of victims with the acclaimed fashion designer Gianni Versace which finally sparked an urgent pursuit. Murphy follows the source material to the foundational bones for an authentic retelling of this American tragedy. 
"The Assassination of Gianni Versace: American Crime Story" stars Darren Criss as Cunanan who captures his charisma perfectly before unleashing the brutal rage lingering just under the surface. Criss' performance in the FX show scored him the Emmy for outstanding lead actor in a limited series or movie and the Golden Globe for best actor – television motion picture. Édgar Ramírez lights up the screen as the fashionable Versace with an essential layer of humanity as he adjusts to increasing fame and success. Murphy's detailed series underlines the failures that allowed Cunanan to evade capture for so long and claim five lives, including Versace. 
The gorgeous Miami color palette "Versace" employs in this '90s time capsule adds a nostalgic hue of regret, illustrating that lives could've been easily saved had Cunanan's other murders been properly investigated. The dedication to authentic storytelling unravels Cunanan's hair-raising actions while underlining the tragic details that created him.
American Horror Story: Murder House
Speaking of Ryan Murphy, the esteemed creator revolutionized the television landscape with his anthological hit "American Horror Story." Hot off the musical comedy "Glee," Murphy's sharp pivot to horror is reminiscent of the stomach-turning procedural "Nip/Tuck" which paves the way for this nail-biting entry. Season 1 shakes up the typical haunted house formula with boundary-crossing ghostly entities, invasive neighbors, and marital strife that all feed into the malevolent spirit of the Murder House. 
Therapist Dr. Ben Harmon (Dylan McDermott) moves his family to sunny California looking for a rejuvenating new beginning. Instead, they find a cursed home with bones to kill and die for. His wife Vivien (Connie Britton) attempts to adjust with no help from the snarky next-door neighbor Constance in a show-stopping role delivered by Jessica Lange. 
Ben's daughter Violet (Taissa Farmiga) possesses a particularly grim attitude that contrasts the glowing hills of Los Angeles until she meets the disturbed yet affectionate Tate (Evan Peters). Their romance quickly descends into uncharted territories as Tate's unspeakable actions come to the surface. He reveals his dark nature to Dr. Harmon who is repulsed by Tate's proclivity for violence and works tirelessly to keep him away from Violet with disastrous results. 
The Sopranos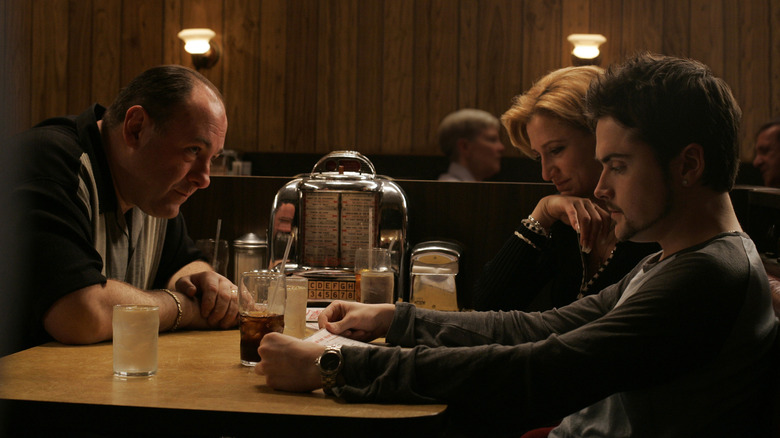 HBO
One of the original depictions of toxic relationships between a therapist and their patient was in "The Sopranos" with Dr. Jennifer Melfi (Lorraine Bracco) and the mafioso Tony Soprano (James Gandolfini). The concept is mind-blowing, especially with the mafia component that Mefli and Tony continually toe the line between outright naming the unspeakable crimes he commits, and alluding to them. Rather than focus on the present, Mefli works with Tony through his past trauma to explain his current indefensible tendencies.
This relationship is surprisingly similar to Dr. Strauss and Sam which highlights the humanity within these dark characters through a reflective and understanding third party. It simultaneously informs the audience and this exploration is one of the many aspects that made "The Sopranos" so groundbreaking. Rather than a one-dimensional violent mobster, creator David Chase examines Tony's psyche and fully realizes him as an individual rather than a plain character. He's then brought to life by the extraordinary Gandolfini in a truly unforgettable role. 
Monster: The Jeffrey Dahmer Story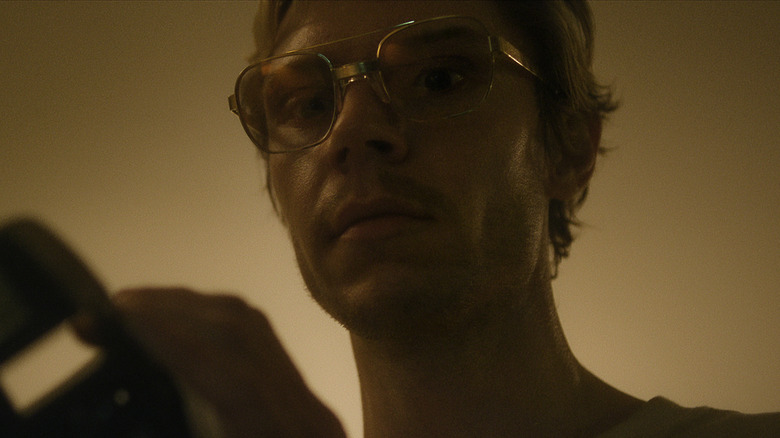 Netflix
Ryan Murphy strikes again with Evan Peters to hauntingly portray Jeffrey Dahmer's inconceivable crimes with "Monster: The Jeffrey Dahmer Story." Like his approach with Andrew Cunanan, Murphy follows the perspectives of Dahmer's victims to respectfully emphasize his devastating impact on the community. It also acknowledges that many warnings issued to police about Dahmer largely went ignored.
This heartbreaking detail is shown through Dahmer's neighbor Glenda Cleveland (Niecy Nash). She can literally smell what's cooking next door (a cannibalized steak) and even when she hears a man being attacked by Dahmer, cannot convince the police to come and intervene. Murphy also takes time to analyze Dahmer's troubling habits from his childhood, like harming and containing small animals, which are grave warning signs for psychoactive behavior later in life (as indicated in Psychology Today). The appalling scenes in "Monster: The Jeffrey Dahmer Story" are explicit examples of humanity's cruel capabilities that are also evident and analyzed in "The Patient."