The Crown's Lesley Manville Binged The Series Well Before Being Cast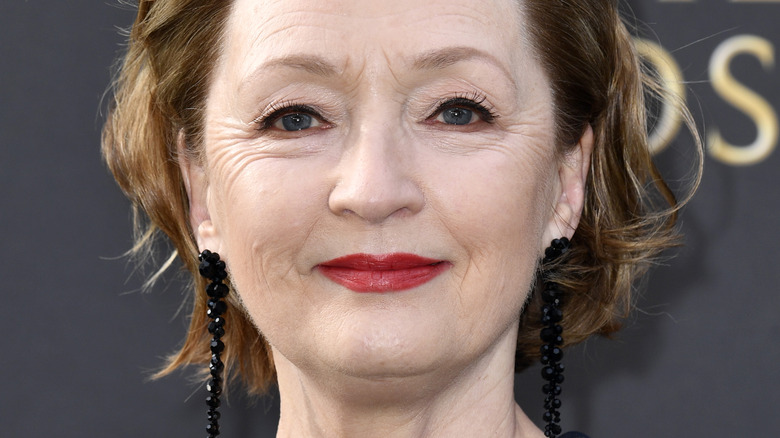 Gareth Cattermole/Getty Images
"The Crown" — Netflix's historical drama created by Peter Morgan — follows the life and reign of Queen Elizabeth II, beginning with her wedding to Prince Philip, which is shortly followed by her coronation, and working its way through events closer to the present day (such as Princess Diana's involvement with the royal family). The series is notable for swapping out its cast every two seasons to mark the evolving ages of the characters. For example, Elizabeth is portrayed by Claire Foy for the first two seasons, followed by Olivia Colman for the next two, and most recently, Imelda Staunton, beginning in Season 5 of "The Crown." Further, Princess Diana was first portrayed by Emma Corrin, with Elizabeth Debicki taking over in Season 5.
Lesley Manville has also taken on a significant role for the drama's fifth season: Elizabeth's sister, Princess Margaret. Margaret was first played by Vanessa Kirby, with the part then being taken over by Helena Bonham Carter in Season 3.
Actors entering the scene in later seasons have the unique situation of portraying a character that another has already portrayed. Further, the show is extremely popular with many fans — including, in many cases, the actors coming into later seasons.
Manville is one of them — and has admitted to binging the series long before she had any involvement.
Manville has nothing but praise for The Crown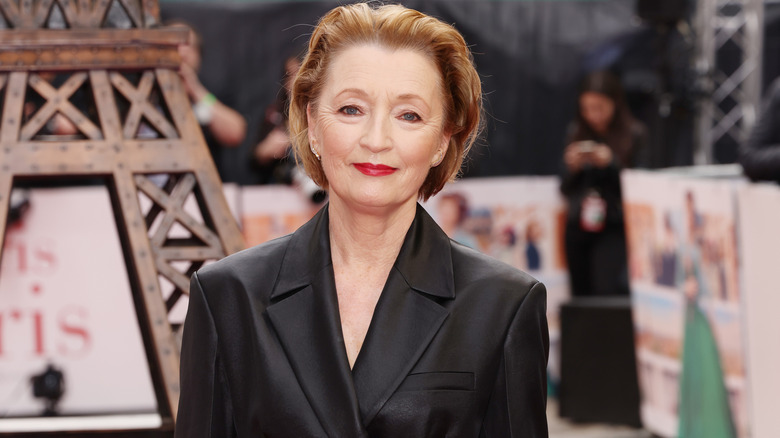 Tim P. Whitby/Getty Images
In July 2020, shortly after her casting was announced, Lesley Manville spoke with Deadline about her decision to sign on to play Princess Margaret. To begin with, Manville had nothing but high praise for the drama series. Manville declared, "It's mind-blowing television." The actress then noted that she had binged the show a couple of years prior on her off days while filming a project, describing it as her "treat." Manville, however, never thought about joining the cast until showrunner Peter Morgan approached her. Naturally, it was an easy decision — especially when she found out which role Morgan offered her.
Manville said, "There was never any doubt that I would say yes. When they said 'Margaret,' I hadn't really thought about it. Then I thought, yes, Margaret! That's fabulous because she was so avant-garde. So naughty, delightful, and funny. What a wonderful woman to play."
Not only does Manville have nothing but praise for the series as a whole, but she also has only kind things to say about those who took on the role before her, Vanessa Kirby and Helena Bonham Carter. She also admitted that she doesn't find it intimidating to follow in their footsteps — even though both actresses received Emmy nominations for their performances. Manville lightheartedly remarked, "I don't find that daunting; I find it thrilling. I think, come on, Manville, you've got to take that baton and not let those two actresses think, 'Oh, we were great; shame about Manville.' Let's hope it doesn't come to that."
Manville also rewatched the series to prepare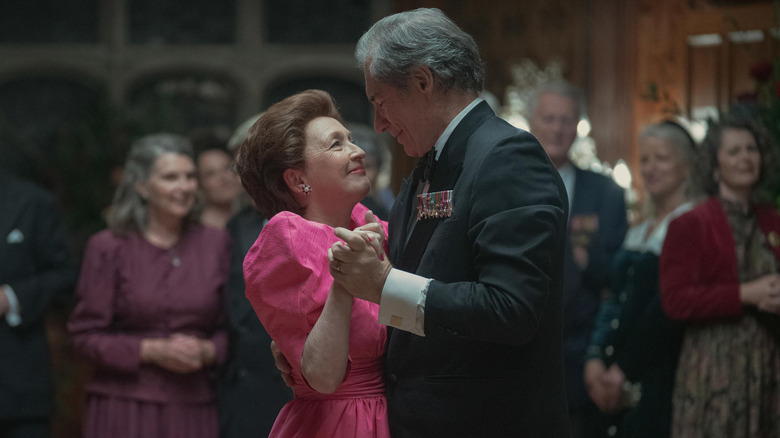 Netflix
In November 2020, Lesley Manville sat down with Vanity Fair to discuss her process of preparing to play Princess Margaret. Emphasizing the importance of research, Manville confirmed that she has a long book list about the royal family and Margaret specifically to tackle. At the time, she was reading Craig Brown's "Ma'am Darling," a biography of Margaret that Manville said uses a different angle to look at the royal's life. But, on top of all the reading, there was another task that Manville found vital to the preparation process: rewatching "The Crown."
Manville said, "I'm now rewatching 'The Crown' because, ultimately, yes, I'll read the books, yes, I'll listen to Margaret talking, yes, I'll look at endless footage of her. But at the end of the day, I have to look at what Vanessa did, look at what Helena has done, and pick up the baton of those two great actresses and carry on being that Margaret."
At the time of the interview, Manville hadn't yet spoken with either Vanessa Kirby or Helena Bonham Carter but was hoping to make it happen. Manville said, "That's definitely on the agenda — a three Margarets dinner happening somewhere. I will do it, and it will happen."