Why Pip's New Voice Actor From Disney's Disenchanted Sounds So Familiar
It is often said that the 2000s are coming back, and there may be no more demonstrative example of that in 2022 cinema than the fact that, within less than a month of certified nineties nostalgia item "Hocus Pocus" getting a much-hyped Disney+ sequel, the very same is happening to 2007's "Enchanted." With Adam Shankman taking over from Kevin Lima as the director, "Disenchanted" is revisiting the universe of the beloved meta-comedy about a classic Disney-esque animated princess magically winding up in the real world, with the plot this time following the efforts of Giselle (Amy Adams) and her unlikely New Yorker prince charming Robert (Patrick Dempsey) to make it work as a family in the aftermath of their happy ending.
Fittingly for a film that will spark its own trip down memory lane for a whole generation, "Disenchanted" is bringing back all four members of its original core cast: Adams and Dempsey, of course, but also James Marsden as Giselle's former suitor Edward, now king of the animated realm of Andalasia, and Idina Menzel as Robert's former girlfriend and Edward's current wife and queen, Nancy Tremaine. Additionally, two characters are returning with cast replacements: The first is Robert's daughter Morgan, who is now a teenager and played by Gabriella Baldacchino. The other is Giselle's chipmunk friend Pip, who gets turned into a cat in the trailer, and can speak in the real world this time — with the voice of a popular American actor and comedian you may recognize from various other projects.
Griffin Newman is a rising star of American comedy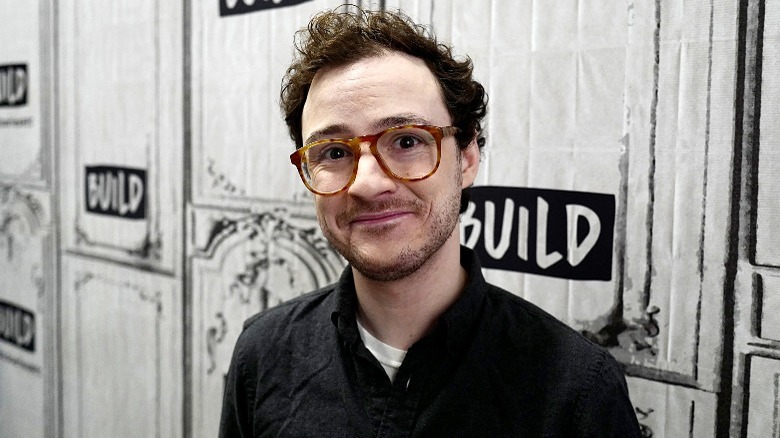 Dominik Bindl/Getty
The new voice of Pip in "Disenchanted" is provided by a performer whose voice, in particular, will be familiar to thousands of film buffs around the U.S. We're referring, of course, to Griffin Newman, the beloved American comedian, actor, and cinephile who's arguably most famous for his work as co-host of one of the most popular film-related podcasts in America. On "Blank Check with Griffin & David," Newman and film critic David Sims take deep dives into the filmographies of popular directors, discussing their films one by one with the help of various guests.
In parallel to the rising success of "Blank Check," which has been going strong since 2015, Newman has also established himself as a rising star of American film and TV. Among his most recognizable live-action roles are Russ, the personal assistant to news reporter Susan Berg (Carla Gugino), on the USA Network miniseries "Political Animals," and Casper, an Artists and Repertoire rep at Richie Finestra's (Bobby Cannavale) American Century record label, on HBO's short-lived "Vinyl." Newman is also well-known for having starred for two seasons on Amazon Prime Video's "The Tick," appearing on all of the show's 22 episodes as Arthur Everest, the Tick's (Peter Serafinowicz) mild-mannered sidekick with his own aspirations to superhero status. Additionally, he can be seen as Watto on the popular Connor Ratliff-hosted improvised talk show "The George Lucas Talk Show." And then, of course, there are his voice roles.
He's had voice roles on several animated series
"Disenchanted" will mark Griffin Newman's first voice acting role in a feature film, but it will not be his first rodeo as a voice actor — and that's not even counting his various brilliant impressions on "Blank Check."
Newman began his voice acting career in 2018, with the role of Jared Kushner on the adult political satire series "Our Cartoon President," which poked fun at the Donald Trump White House for three seasons on Showtime. Created by Stephen Colbert, Chris Licht, Matt Lappin, Tim Luecke, and R. J. Fried, "Our Cartoon President" cast Trump (voiced by Jeff Bergman) and the various figures circling around him in the 45th U.S. presidential administration as comically exaggerated caricatures, with Kushner being depicted as the Trump family's perpetual doormat. Newman brought much of the trademark awkwardness and timidity of his comic persona to the role — which he only played for three years, as "Our Cartoon President" aired its final season in 2020.
Next, Newman had a guest role on a 2020 episode of the Adult Swim stop-motion anthology series "The Shivering Truth," and a recurring role as Lance on FXX's "Dicktown." He then played the part of Orko, the Trollan sorcerer, on Netflix's "Masters of the Universe: Revelation," which acted as a spiritual sequel to the classic 1980s "He-Man and the Masters of the Universe" animated series. Fans of HBO Max's "Harley Quinn" may also remember him as the Mad Hatter's voice on a Season 3 episode.