Chicago Med Fans Are Sick Of All The Character Exits In Season 8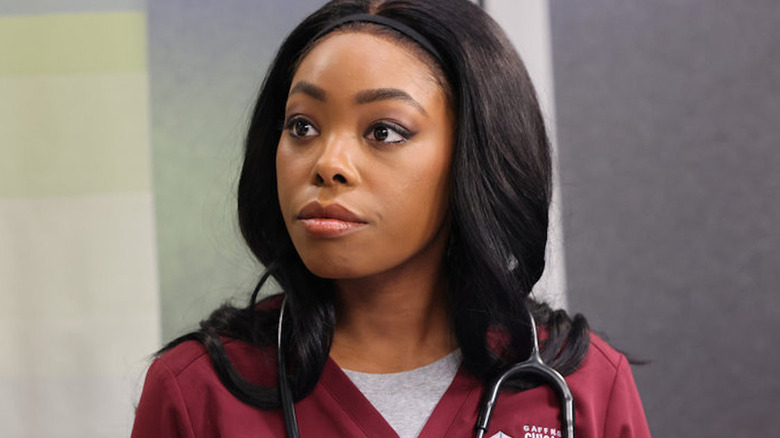 George Burns Jr./NBC
It's been the year of the Dick Wolf production exodus, as 2022 has seen some of the biggest stars on the producer's series walk away. Some left on their own accord (Jesse Spencer, Brian Tee); others were let go (Kelli Giddish), and some cast members' departures have no real explanation behind them (Guy Lockard, Jesse Lee Soffer).
But no show in the Dick Wolf catalog has seen more character exits in 2022 than "Chicago Med." Budget cuts have become a theme throughout Season 8, and we're wondering if the same thing is happening in the real world. In Season 8 alone, we've said goodbye to Dr. Blake (Sarah Rafferty), Dr. Scott (Guy Lockard), and Dr. Taylor (Asjha Cooper), with Dr. Choi's (Brian Tee) confirmed departure imminent. In the last two years, we've also lost OG characters like Dr. Manning (Torrey DeVitto) and April Sexton (Yaya DaCosta). The latter has since returned, but it's just for a guest spot, and she will not be back full-time.
Dr. Hammer (Kristen Hager) also departed in Season 7, proving neither newcomers nor day-one stars are safe. With Cooper's departure in Season 8, Episode 7 ("Mama Said There Would Be Days Like This"), fans of "Chicago Med" have taken to social media to unleash their cast frustrations.
Chicago Med fans are sick of all the surprising character departures in Season 8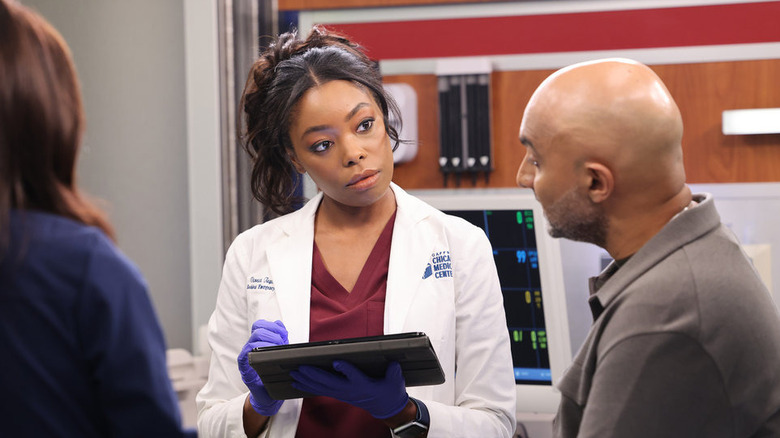 George Burns Jr./NBC
Dr. Taylor's exit from "Chicago Med" has caused a slight frenzy among the fandom online. "VANESSA IS LEAVING TOO?!?!? MY HEART CAN'T TAKE THIS," a popular "One Chicago" fan account tweeted regarding Episode 7. "Med has a revolving door of characters that are barely here. stevie, dylan and now vanessa?? then ethan going in a couple of episodes. 🤨 keep your hand off will," @ljhgfchiud added to the conversation. Dr. Halstead (Nick Gehlfuss) is one of the last OG doctors on the series, with only Dr. Charles (Oliver Platt) and himself remaining after Dr. Choi leaves this season.
"Stop letting your cast go!! Why are you doing this???!!!! Geeesh! Disappointed," @OVOROZAY88 tweeted regarding Dr. Taylor's departure. Questioning the series and the writers-showrunner's decisions was a common theme on Twitter. "Why does #ChicagoMed keep shedding cast members," @TVjunkieupnorth asked. "VANESSA TOO?! WTF IS GOING ON WITH THE CAST LEAVING?" another upset fan wrote Wednesday evening.
The only way "Chicago Med" fans might get over all of this drama is if they finally bring back Dr. Rhodes (Colin Donnell). Just saying.