Why Gon Freecs From Hunter X Hunter Sound So Familiar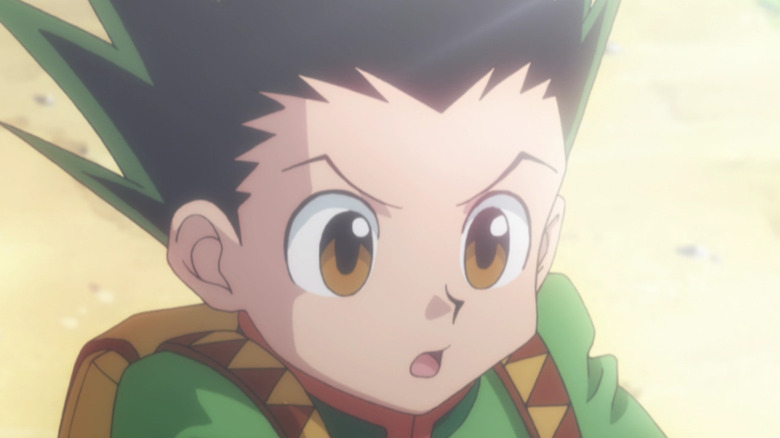 Viz Media
"Hunter x Hunter" is easily one of the most prolific and popular anime of the modern era (via Parrot Analytics). The series mixes high-flying action, a dark fantasy setting, and a ton of comic relief to craft a world that has kept fans coming back again and again across its nearly 150-episode run.
Created by Yoshinori Togashi and based on his manga series of the same name, "Hunter x Hunter" follows young Gon Freecss (Megumi Han/Erica Mendez) as he sets out to become a hunter, following in the legendary footsteps of his estranged father. As he and three others tackle the challenge of becoming hunters, they begin learning what the job entails, including its dangers and many benefits.
Erica Mendez provides the English voice for Gon Freecss in "Hunter x Hunter." While this is certainly among her most famous roles, if fans have even a passing interest in anime or video games, they've likely heard her before as other characters.
Erica Mendez has provided voices for a ton of video games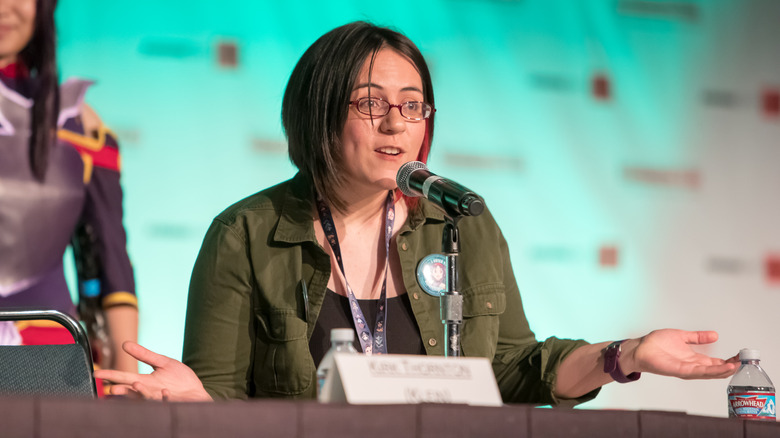 Michael Boardman/Getty Images
Erica Mendez has a staggering 222 credits to her name as of press time, and while that might seem like a lengthy resume to sift through, anime fans and gamers will be amazed at how many times they've heard her voice before, whether they were aware of it or not (via IMDb).
Mendez played Ayaka Kamisato in the mega-popular free-to-play MMORPG "Genshin Impact," Shirma in the "Final Fantasy" racing game, "Chocobo GP," Hughette in the throwback RPG "Triangle Strategy," and Kasane Randall in "Scarlet Nexus," and that's just naming a few of her relatively recent gaming voices. In addition, the performer has also provided the voice of the Great Fairy Tera in "The Legend of Zelda" spin-off "Hyrule Warriors: Age of Calamity." Still even as impressive as her video game credits are, Mendez's many anime roles are even more ubiquitous, including parts in some of the most popular anime series of the last two decades.
Mendez has also been in hit anime Demon Slayer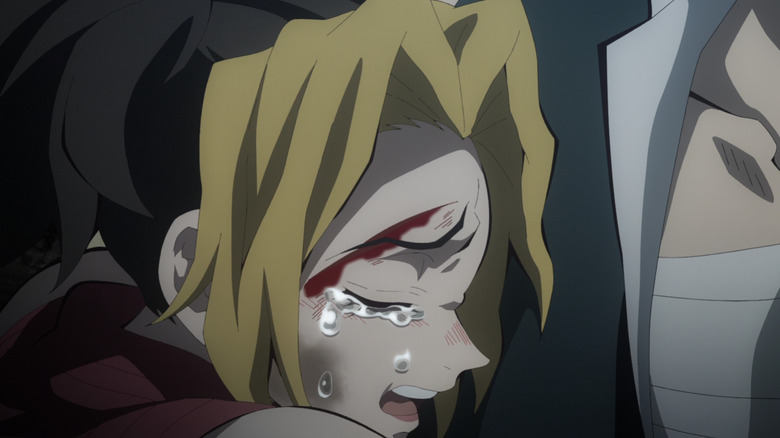 Aniplex
For starters, anime or manga fans may have heard of a series by the name of "Demon Slayer." The worldwide hit series exploded in popularity since first premiering in 2019, smashing long-held records and even being voted by some as the best anime series ever after only a single season. The series follows young Tanjiro (Natsuki Hanae/Zach Aguilar) as he sets out to join a group of demon hunters following the massacre of his family by the evil creatures.
Erica Mendez joined the series in Season 2 of "Demon Slayer," where she played one of the three wives of Tengen Uzui (Katsuyuki Konishi/Ray Chase), the headstrong Makio. While polygamy can often be treated as lurid or exploitative, particularly in an industry as sexually charged as anime often is, the relationship between Tengen and his three wives is surprisingly sweet, with the Hashura prioritizing their safety above all matters.
Mendez also played Ryuko Matoi in Kill la Kill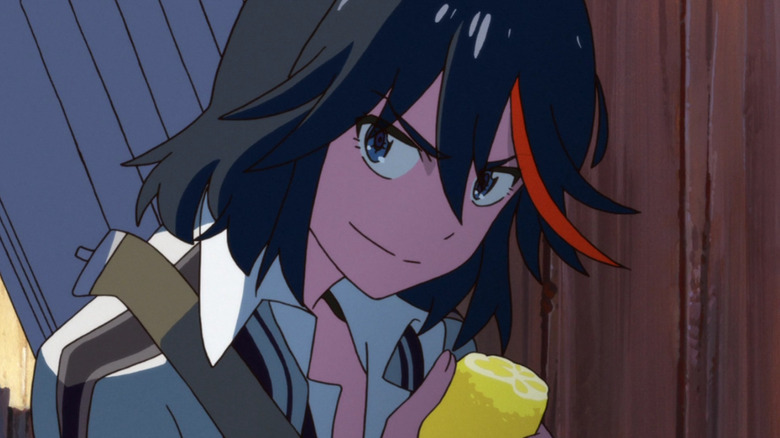 Aniplex
Erica Mendez also headlined the controversial anime series "Kill la Kill." Created by Kazuki Nakashima, the series is one of the rare anime that isn't based on a manga, meaning fans couldn't read ahead to figure out what was coming next in the series. "Kill la Kill" follows daring schoolgirl Ryuko Matoi as she inherits a unique set of living clothing that allows her to display incredible abilities in battle while seeking vengeance for her murdered father. Some have criticized the series as exploitative, though it shows off the male physique almost as regularly as the female. Still, with most of its characters in high school, viewers have certainly found issues with "Kill la Kill" (via Anime Feminist).
Mendez plays Ryuko Matoi across all 25 episodes, and her portrayal of the character is full of emotion — showing her journey from becoming a hard-as-nails loner and assassin to finding a group of devoted and dependable friends. Funnily enough, though, another of Mendez's most well-known roles follows a laid-back character who must find the rage within herself to finally make some changes in her life.
Mendez plays the title role in Netflix's Aggretsuko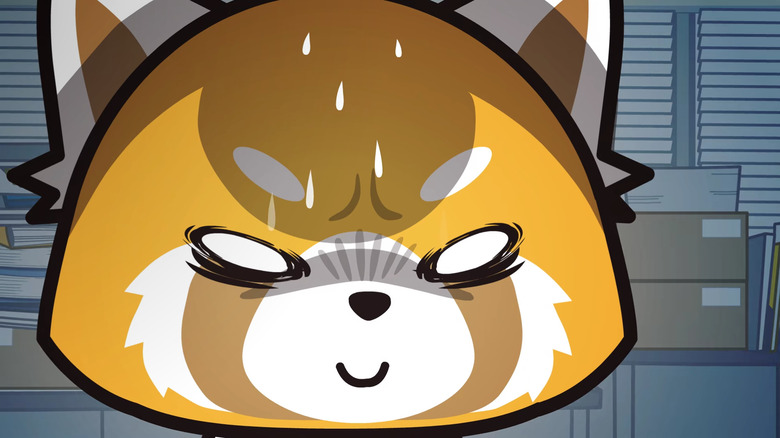 Netflix
Netflix has been building up its own stable of anime over the years, and one of the most popular among them is "Aggretsuko." Following a red panda named Retsuko (Kaolip/Erica Mendez), the anime depicts her frustrating daily experiences at her office job and her attempts to build a social life outside the office. Additionally, the series is known for Retsuko's aggressive, rage-fuelled death metal songs that crop up when her emotions finally boil over.
Mendez has played the central character of "Aggretsuko" across all four seasons of the series as well as its Christmas special, "Aggretsuko: A Very Metal Christmas." The character of Retsuko has grown and changed in a myriad of memorable ways throughout the series, going from a meek doormat who doesn't know what she wants from life to an assertive, bold, and generous individual. From joining a pop group to nearly being murdered, Retsuko has been through the wringer, and Mendez has been her English voice every step of the way.
Erica Mendez has appeared in so many other anime series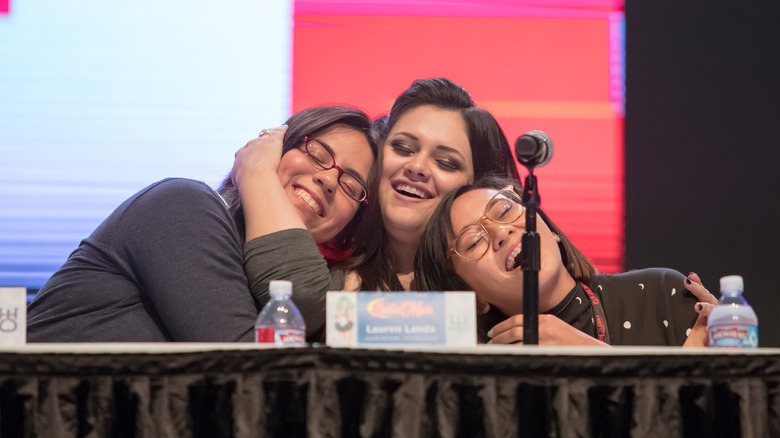 Michael Boardman/Getty Images
On top of these already impressive credits, Erica Mendez has also shown up in a bevy of other popular anime series. For instance, few anime aside from "Dragon Ball Z" have the name recognition of "Sailor Moon," and Mendez provided the English voice for Sailor Uranus across a 12-episode stint on "Sailor Moon: Crystal."
Speaking of prolific anime, Mendez has also appeared as Akko Kagari in "Little Witch Academia," struggling orphan Emma in "The Promised Neverland," and Hayao Ashida in "Beyblade Burst." She also took a darker turn than usual when she played Rickert in "Berserk," one of the only survivors from The Band of the Hawk in the hyper-violent anime series.
In truth, fans could spend all day learning about the many roles and performances attributed to Mendez, and there's little doubt that she'll continue to provide gamers and anime fans with plenty of other iconic voices in the future.