Where You've Seen The Cast Of Hulu's The Patient Before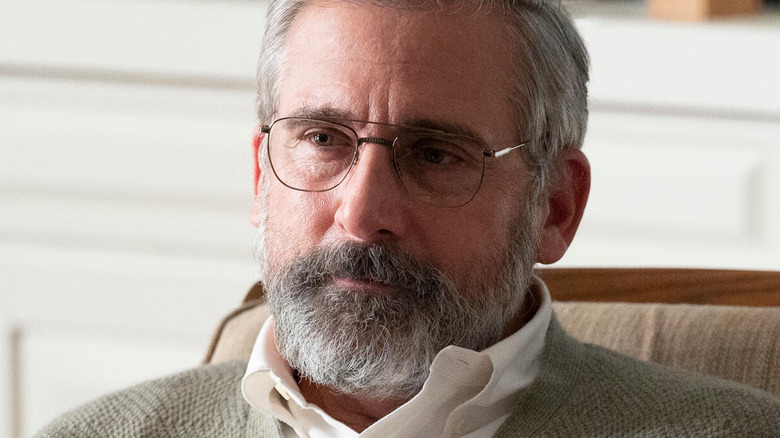 Hulu
Hulu's "The Patient" explores the strange relationship between a psychotherapist and a patient, but things take a turn for the worse right off the bat. Dr. Alan Strauss (played by Steve Carell) finds himself in a nightmarish situation when his new patient, prolific serial killer Sam Fortner (played by Domhnall Gleeson), kidnaps and forces him to cure his homicidal tendencies. Sam isn't the only one with personal anguish, however. From Episode 1, we learn that Alan is still in the clutches of grief from his wife's passing and has trouble connecting with his two children, who are grown and have lives of their own.
Reviews have called "The Patient" "career-best work by Domhnall Gleeson and Steve Carell" (via Rotten Tomatoes). A superb main and supporting cast makes for a well-rounded story and creates an authentic viewing experience for thriller aficionados. Here's where you've seen the cast of "The Patient" before.
If you haven't already watched "The Patient" on Hulu, know there are spoilers ahead.
Steve Carell (Alan Strauss)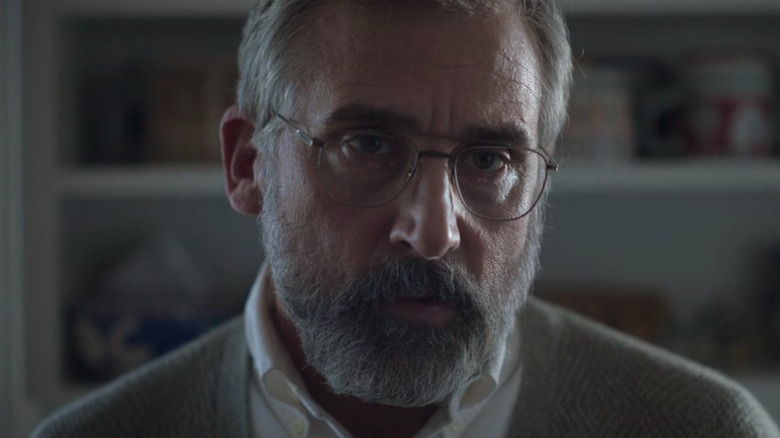 Hulu
Steve Carell plays one-half of the main duo in "The Patient." Out of his mind scared when he wakes up in a house in the middle of the woods and chained to a wall, Alan is forced to face a serial killer, and his own grief, all while trying to fight for survival.
As a mastermind of comedy, Steve Carell is best known for taking on roles that would make anyone fall to the floor laughing. Having amassed over 80 acting credits, 12 producer credits, and six writing credits, Carell is more than established as an A-list actor. His most popular roles include shows like NBC's "The Office" as the cringey and awkward Michael Scott, Netflix's "Space Force" as a career military man put in charge of the United States Space Force department, and Apple TV's "The Morning Show" as a disgraced morning show host. 
While Carell's award-worthy performances for TV series are astounding, he's also known for his extensive roles in film. His voice acting skills landed him in the role of Gru in the "Despicable Me" trilogy and the accompanying 2022 movie, "Minions: The Rise of Gru." Other popular credits from Carell's career include films like "The 40-Year-Old Virgin," "Date Night," "Get Smart," "Battle of the Sexes," and "Crazy, Stupid, Love."
Domhnall Gleeson (Sam Fortner)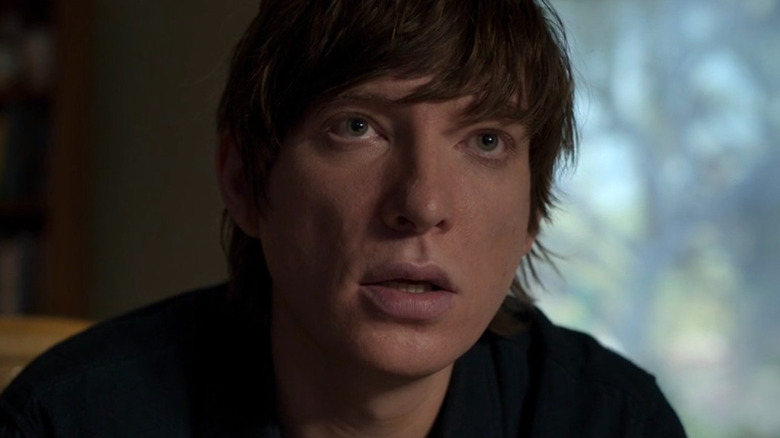 Hulu
The other half of the unusual duo is Domhnall Gleeson who stars as Sam Fortner. Gleeson's skills are evident in his role as a killer and his past work also shows his acting capabilities. 
One of Gleeson's biggest roles to date is General Hux in Disney's "Star Wars: The Force Awakens," "Star Wars: The Last Jedi," and "Star Wars: The Rise of Skywalker." Gleeson's knack for playing a cryptic villain is unfounded even in the Star Wars films. But don't let that fool you. He has a softer side too. To Harry Potter fans, he's known for playing Bill Weasley in both parts of the "Harry Potter and the Deathly Hallows" films. He's made smaller appearances in shows like Netflix's "Black Mirror" and BBC's "Catastrophe," but Gleeson's talent really shines during full-length features. You may also remember Gleeson in acclaimed films like "Mother," "Goodbye Christopher Robin," "Peter Rabbit," and "The Revenant."
Gleeson is one of several actors in his immediate family. His father, Brendan Gleeson, and his brothers Rory, Fergus, and Brian are all involved with acting or the arts in some way. Brendan Gleeson is most recognizable to some as Professor Alastor Moody from the Harry Potter films.
Linda Emond (Candace Fortner)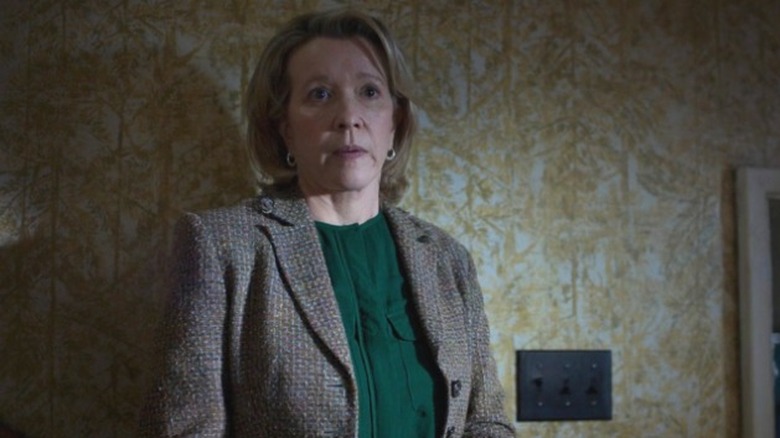 Hulu
Candace Fortner, played by Linda Emond, is Sam's mother and the relationship they share is complicated by any standard. Not only does Candace know about her son's compulsion to kill, but she refuses to turn him in to the authorities and goes so far as to aid Sam in his kidnapping of Alan as a way to help Sam stop killing.
Emond has a long history of film and series appearances dating back to 1968. Between 1992 and 2000 she featured in shows like NBC's "L.A. Law," "Mann & Machine," and Network 10's "Wonderland." She shifted to working on more movies in the later years of her career and viewers can catch her in features like "Julie & Julia," a film about the life of esteemed chef Julia Child, "Jenny's Wedding," a rom-com about finding love and wanting acceptance from family, and "Causeway," about a soldier who suffers in the aftermath of a traumatic brain injury during her time serving in Afghanistan. 
Being classically trained, Emond also has a history of acting on and off Broadway and is a three-time Tony Award nominee. A few of her credits include revivals of "Cabaret," "Death of a Salesman," "1776," and she was also part of the original "Life x 3" cast. 
Emily Davis (Mary)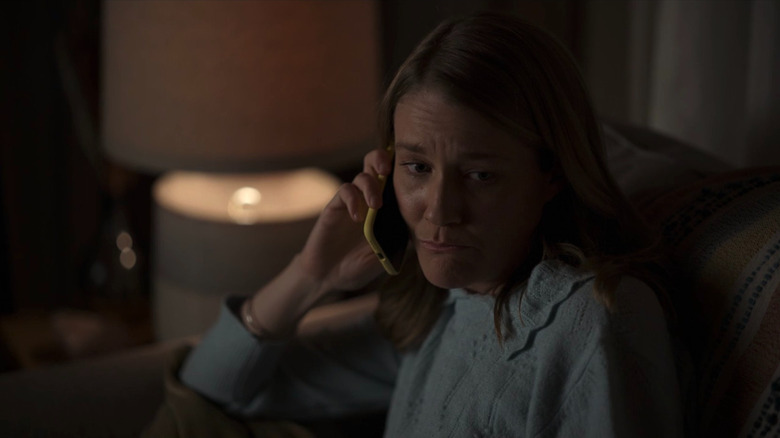 Hulu
Emily Davis plays Sam's ex-wife Mary, who he is still in love with. Despite attempts to bring Mary back into his life with Alan's help, Sam realizes he'll never get past his serial killer tendencies to get her back.
Davis' past work is filled with thrillers, dramas, and shorts. Before playing Mary, Davis starred as Mavis in "The Harbinger," a twisty horror film where the stuff of nightmares doesn't just happen when you're asleep. Davis also voiced Pliny in the animated fantasy film "Cryptozoo," where supernatural zoologists try to capture a legendary Baku.
Several short films Davis also appears in include "White Wedding," "Evil Grows in the Dark," "The Easiest Thing," and "Valeria." Davis is credited as the director and writer for another short in which she also stars, "Gwen in Corpus," about a real estate agent working in Corpus Christi, Texas, who's down on her luck during a lull in her business.
Andrew Leeds (Ezra Strauss)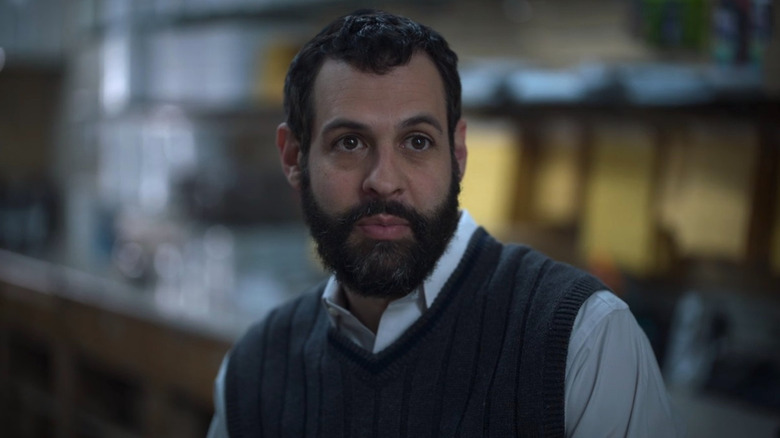 Hulu
Andrew Leeds plays Alan's son Ezra in "The Patient." In Alan's flashbacks, Ezra's relationship with his parents becomes more clear, but contentious, as the episodes progress. Leeds' longtime career up to the Hulu series has included a mix of dozens of TV show and film appearances. 
Leeds can be spotted in a few well-known and liked shows in both single-episode appearances and long-term story arcs. His work in series such as "The Goldbergs," "Love, Victor," "Barry," and "One Day at a Time" show off his talents as a memorable supporting actor. His earlier roles included long stretches in "Cristela" as Josh and in "Bones" as Christopher Pelant, an elusive and genius-level serial killer. Leeds' performance in the Fox show was a shining moment in his career. His deadpan and creepy delivery over his 9-episode arc proves that Leeds has the ability to play complex characters with ease.
He's also credited as a writer for TV movies early in his career — including 2005's "Stephen's Life" and 2013's "Brenda Forever." Leeds also served as an executive producer for both projects.
Laura Niemi (Beth Strauss)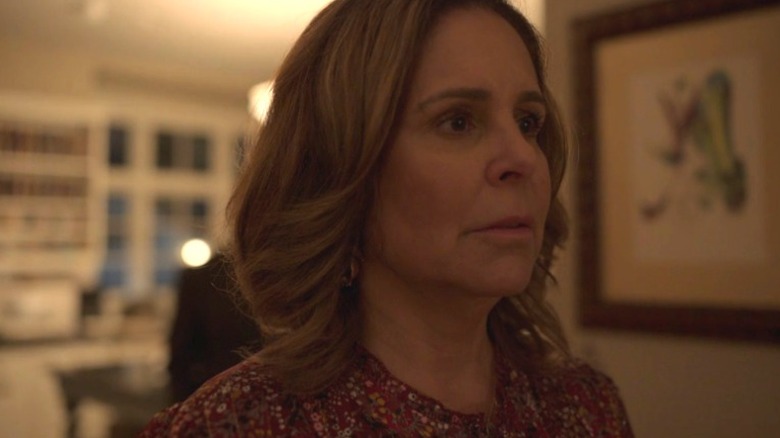 Hulu
Part of Alan's journey through "The Patient" is coping with the death of his wife, Beth, who is played by Laura Niemi. Beth is only portrayed throughout the show in Alan's flashbacks prior to her death but becomes an important part of his time in captivity.
Throughout her career, Niemi has made several appearances in popular shows on daytime TV and those produced by well-known streaming services, as well as full-length films. Niemi can be seen in Netflix's fantasy series "Stranger Things" as Mrs. Gracey, Fox's "9-1-1: Lone Star" as Mary-Lynne, NBC's "This Is Us" as Marilyn Pearson," and "The Young and the Restless" as Dr. Beth Greene on CBS.
If the drama in "The Patient" is your style, shows like "The Sopranos," "Days of Our Lives," "Criminal Minds," and "Law & Order: LA" that Niemi has been involved in are probably well within your viewing preferences.
David Alan Grier (Charlie Addison)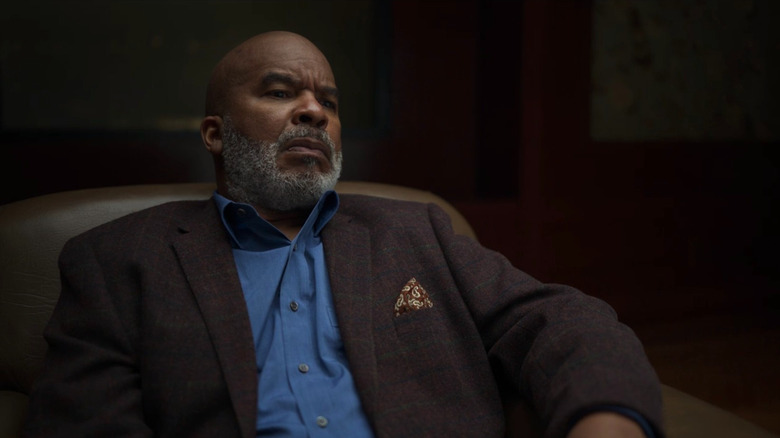 Hulu
Over the course of "The Patient," Alan starts to recede into his own mind as a coping mechanism. While trying to make sense of his situation, Alan imagines his former, and deceased, therapist Dr. Charlie Addison helping him sort through his fear, grief, and regrets.
Charlie is played by David Alan Grier who has been acting since the '80s. One of his first roles in 1981 was a voice role in "Star Wars: The Original Radio Drama." Since then, Grier has accrued more than 120 acting credits, nine as a writer, and six as a producer. 
In the '90s, Grier had one of the longest-running gigs in his career playing various characters in the iconic sketch comedy, "In Living Color." From there, Grier played roles in "Jumanji" as Bentley, "Adventures of Rocky and Bullwinkle" as Measures, "Bewitched" as Jim, and many more. Viewers might also remember some single-episode appearances from Grier in popular shows like "Bones" where he played kids' show host Professor Bunsen Jude, or NBC's "Law & Order: Special Victim's Unit" where he played Jeremy Swift.
Lance Guest (Paul)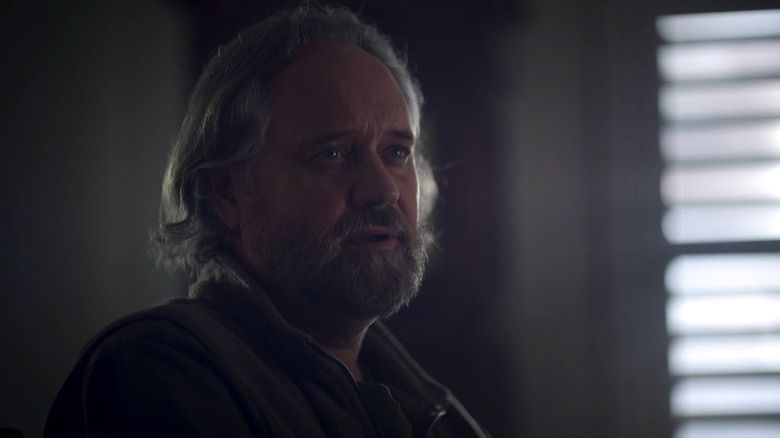 Hulu
Lance Guest only appears in one out of the 10 episodes of "The Patient," however, his character has important significance. Guest plays Sam's father, Paul, who severely beat Sam and his mother throughout Sam's childhood. As Alan continues Sam's therapy session, Alan suggests to Sam that it's his father's beating that may have led him to become a serial killer. 
Prior to "The Patient," Guest also appeared in 1981's "Halloween II" as Jimmy (an ambulance driver and EMT who crushes on Laurie Strode), and as Michael Brody in another '80s sequel, "Jaws: The Revenge."
Other work includes short films such as "No One Ever Said," "An Ill Wild," and "The Hideaway." In 2008, Guest played supporting roles in the thriller, "21 and a Wake-Up," "The Least of These," and "Flu Bird Horror." Guest also featured in his roles on Fox's "House," NBC's "JAG," ABC's "NYPD Blue," and CBS' "Jericho."
Alex Rich (Elias)
Alex Rich, who plays Elias, has the unfortunate role in "The Patient" as one of Sam's victims. This is a show about a serial killer, after all. Sam brings Elias to Alan in an attempt to keep himself from killing Elias. But after a failed therapy session, Sam murders Elias in front of Alan, further sending him into fear. 
Rich has a history of roles in the drama and comedy genres. From his earlier years as an actor, he earned credits in TV series like "Treelore Theatre," HBO's "True Detective," and History Channel's "The Crossroads of History," a parody show about the moments that changed history.
Rich's other roles include portraying a young Pablo Picasso in the National Geographic mini-series, "Genius." The series explores the lives of history's greatest minds. He also played Florian in Netflix's "GLOW," and appeared in the anthology film, "After Masks," which explores the emotional journey people faced in times of isolation during the COVID-19 pandemic.
Amy Handelman (Chava Strauss)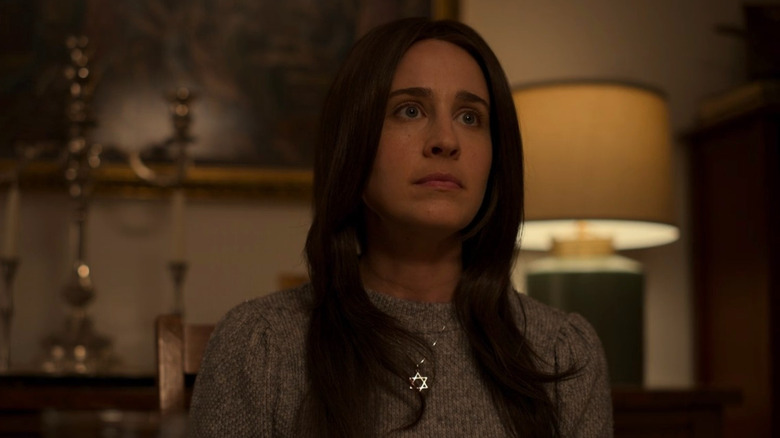 Hulu
Amy Handelman's portrayal of Ezra's wife, Chava Strauss, is fleeting but dynamic. She mostly appears, like other members of Alan's family, in flashback memories while he is trapped in Sam's basement. While Alan and the rest of the Strauss family is Jewish, Chava and Ezra are Orthodox Jewish and hold stricter and more traditional views. The tensions between Chava and Ezra's faith and his father are shown in Alan's memories. 
Handelman's credits are not as extensive as her costars, but her talent is still evident. Prior to playing Chava, Handelman featured in a story arc on "Friend Zone: The Series," as well as single-episode appearances on "You'll Be Fine" and FX's "American Crime Story." Dating back to 2004, Handelman has also been in film shorts like "Fools on Fire," "Safe Driver," and "Living the Dream." 
Aside from on-screen performances, Handelman took to the stage in a production of "Steel Magnolias" at The Rubicon Theatre in California. 
Renata Friedman (Shoshana Cohen)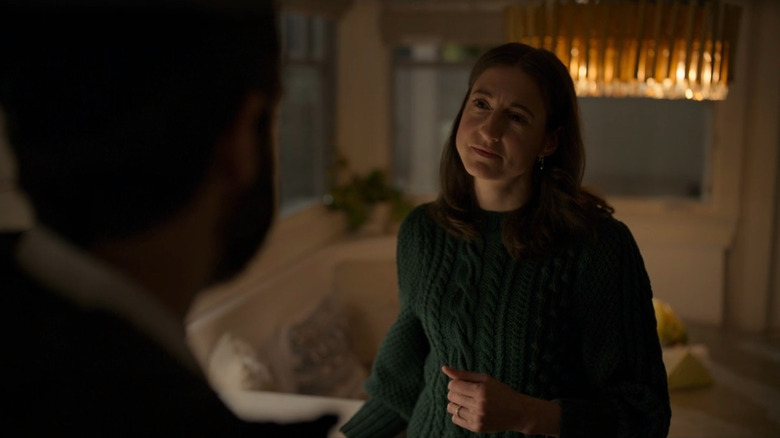 Hulu
Despite appearing mostly in Alan's memories, Shoshana Cohen plays a big part of Alan's struggle while he is held captive. Played by Renata Friedman, Shoshana represents the future Alan had in mind for his kids, while Ezra represents the struggle that Alan and many parents face in feeling like they failed their kids in some way.
Previously, Friedman has mostly featured in dramatic roles with an occasional comedic part. Before "The Patient," Friedman played Anne Howard in Amazon's 2022 series, "The Terminal List," with Chris Pratt. The action thriller follows a Navy SEAL vet as he investigates an attack on his platoon that occurred during a covert mission. In 2019, Friedman made several one-episode appearances in the crime drama "FBI" and the NBC medical drama "New Amsterdam." 
If podcasts are more your style, you can catch Friedman in the "Dreamboy" series about a musician who takes a part-time job at a zoo where he gets caught up in a conspiracy that involves a homicidal zebra. Friedman voices the characters of Shelia and Carole over the six episodes.
Jake Broder (Rebbe)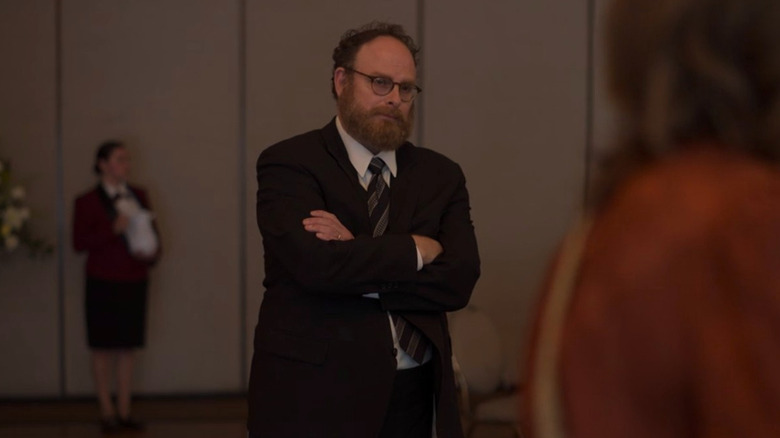 Hulu
Jake Broder plays the Rebbe that occasionally appears throughout "The Patient." Although he remains ultimately unnamed, Broder's portrayal is one of many acting credits in dramas. 
Before his work on "The Patient," Broder appeared as Nate on Season 1 of Apple TV+ drama "The Morning Show" and featured in a four-episode arc on HBO's famed "Silicon Valley," a comedy series that follows the lives of computer programmers living in the tech hub of California. Broder can also be seen in the thriller feature film, "Sleepwalker," in which a college student is plagued by sleepwalking spells and ends up seeing the world through a "Twilight Zone"-like lens when she tries to seek help. 
Notable films from Broder's career include "Bad Milo," where a man's upset stomach can be linked to a demon creature living in his intestines, and "The Chicago 8," a biopic about the eight anti-war protestors who went to trial for allegedly causing the riots that disrupted the Democratic National Convention in Chicago in 1968.