James Cameron's Deep Sea Passions Are To Blame For Avatar 2's Delays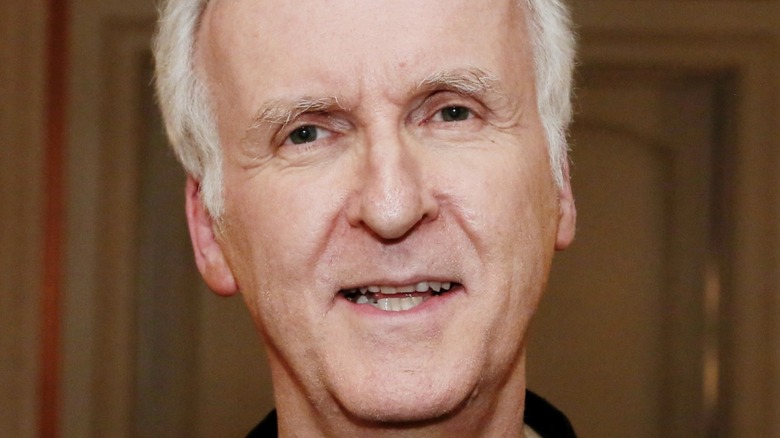 Gabriel Olsen/Getty Images
The world got another extensive look at "Avatar: The Way of Water" on Wednesday, November 2, with the release of its second official trailer, which featured small details and intricate callbacks to the original "Avatar" that fans might have forgotten over the years. Released in 2009, James Cameron's first cinematic trip to Pandora came over a decade ago. Fans have long wondered why the legendary director ultimately chose to wait so long to return. Well, the answer is a lot simpler than people might think.
First off, we want to go ahead and confirm that Cameron was not taking the time to try and come up with the best "Avatar 2" story possible during the 13 years he was away from the franchise. Many fans have assumed that trying to follow up the biggest and most financially successful movie of all time with a sequel was simply a time-consuming task for Cameron. But in actuality, the iconic filmmaker could have probably made "The Way of Water" much sooner. He simply had better things to do — like exploring the deepest parts of our oceans.
In a new profile piece published by The New York Times, Cameron and others involved in the making of "Avatar: The Way of Water" explain how it was "The Terminator" director's admitted addiction and love for deep-sea exploration that wound up pushing the release back so far.
'We kept thinking, I hope he survives to make a new movie'
According to those closest to James Cameron, making a second "Avatar" was something that ultimately took a back seat role in his life during the early 2010s — while his ocean adventures and projects, like the "Deepsea Challenge" mission, were at the forefront. 
"We kept thinking, 'I hope he survives to make a new movie,'" recalled "Avatar" star Sigourney Weaver in The Times' profile piece. 
Cameron, 68, wound up reaching the very bottom of the Mariana Trench in March 2012 as part of the "Deepsea Challenge" mission, which was highlighted in a 2014 documentary of the same name. When it came time to finally return to the world of Pandora with "Avatar: The Way of Water," he had found that there was simply too much story to cover in such a short period of time. So he decided to turn his planned trilogy into a five-part movie series. 
"I just wound up with more story than I bargained for," Cameron told The Times. It reportedly took him four years to write the added movies, however, he's already finished filming the third entry and has started shooting parts of the fourth. "If we make some money with two and three it's all mapped out," Cameron concluded. "Scripts are already written, everything's designed. So just add water."