Barbarian Writer-Director Zach Cregger Shares The Classic Literary Inspiration Behind The Mother's Design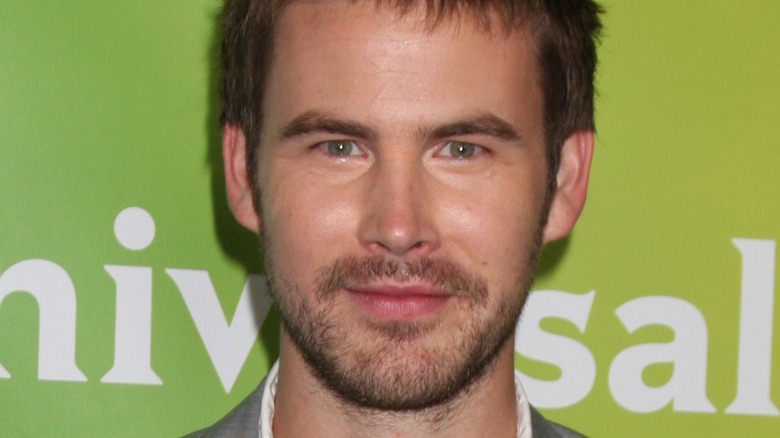 Joe Seer/Shutterstock
The most anticipated horror release of 2022, "Halloween Ends," ended up disappointing a good portion of critics and audiences, but it's still been a great year for the genre. In addition to hits like "The Black Phone" and "Nope," there were two sleeper hits that debuted in theaters shortly before the release of "Halloween Ends," arguably stealing some of its thunder. Both "Smile" and "Barbarian" outperformed expectations, each quadrupling their productions budgets (and then some) according to their IMDb pages. 
"Barbarian" hails from writer/director Zach Cregger, who some may recognize as a cast member from "The Whitest Kids U'Know." The story follows a young woman named Tess (Georgina Campbell) who shows up at a Detroit Airbnb-type house she's reserved only to find it's been double booked by her and Keith (Bill Skarsgard). From there, the film becomes a trippy tumble down the rabbit hole as Tess and others find themselves discovering there's a rather dangerous and ugly mystery within the house, one that will threaten everyone. 
In an interview promoting the home release of the film, which is also available on HBO Max, Creggar revealed the inspiration behind the film's scariest character, The Mother (Matthew Patrick Davis).
The Mother's look was inspired by a classic literary character
The look of The Mother was based on a drawing Zach Cregger found in an illustrated version of the "Beowulf" poem, the director revealed. 
"There was a drawing in a Beowulf illustrated book I had as a kid, and there's this illustration of Grendel's mother that really made an impact on me. So, that was what was in my head when I was writing it, and I showed that to the team," Cregger told Screen Rant. Grendel is a beast fought by Beowulf in the classic poem. Some may recall seeing a much easier on-the-eyes version of Grendel's mother, played by Angelina Jolie, in the Robert Zemeckis-directed "Beowulf" in 2007.
The Mother from "Barbarian" is not quite so easy to look at, with Matthew Patrick Davis forced to don heavy — and convincing — prosthetics for the role. Even with the "Beowulf" inspiration though, Creggar admitted to Screen Rant he and his design team ultimately decided more needed to be done to mask Davis from the audience as much as possible. The director said that late into pre-production he also drew inspiration from real-life facial deformities, eventually concocting the look of The Mother. "I did a ton of research into facial deformities, and I picked this cheek, and that mouth, and this chin, the asymmetry came in," Cregger said.