Terrifier 2 Director Damien Leone Promises To Spill The Beans On Sienna's Sword In His Blu-Ray Commentary
Contains spoilers for "Terrifier 2."
The Halloween season delivered some frighteningly great content in the horror genre. But the slasher film "Terrifier 2" might have been one of the bloodiest and goriest standouts. Upon its release, "Terrifier 2" immediately earned a spooky aura, with reports of moviegoers fainting or vomiting at some of the film's most brutal scenes. The movie centers on the creepy murderer, Art the Clown (David Howard Thornton), who stacks up the body count in ways so gruesome they would make the fatalities in "Mortal Kombat" look like an enjoyable game of dodgeball. "Terrifier 2" is not for the faint of heart.
However, that did little to deter the film's success. "Terrifier 2" earned high ratings from critics and audiences on Rotten Tomatoes. And in addition, it also earned over $7 million at the box office against a modest budget of $250,000 (via Box Office Mojo). "Terrifier 2" definitely raised the heart rates of moviegoers, but it also introduced a few unanswered questions centered explicitly on a mystical sword. The weapon owned by the character Sienna (Lauren LaVera) in the movie plays a significant part without us really knowing how. Fortunately, fans won't have to wait for the sequel for some answers, as "Terrifier 2" director Damien Leone recently promised to reveal more details on Sienna's sword in his Blu-ray commentary.
Damien Leone says no one has guessed right about Sienna's sword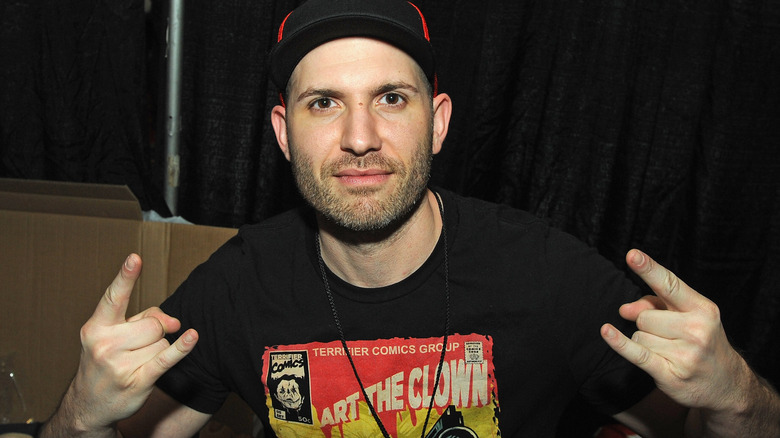 Bobby Bank/Getty Images
One of the biggest questions surrounding "Terrifier 2" is a sword gifted to Sienna by her father. The weapon clearly has mystical properties, as at one point, Sienna returns to life after being stabbed by it. And she uses the weapon successfully against Art the Clown, decapitating his head during the ending of "Terrifier 2." It's the only weapon that seems capable of harming the supernatural being. In addition, it further suggests a massive link between Sienna, her father, and Art the Clown. So exactly how did Sienna's father get the sword, and why is it able to harm Art the Clown?
Unfortunately, those questions are never answered in "Terrifier 2," but writer-director Damien Leone promised on Twitter to give some insight on the magical sword in the Blu-Ray release of the film. "I'm fascinated (but not surprised) by how polarizing Sienna's sword is at the end of Terrifier 2," Leone tweeted. "All I can say is – not one theory I've read online is correct. If you want 'supernatural' spoilers, check out my director's commentary on the Blu-ray. If not, wait for Part 3."
Leone mentioning a possible Part 3 confirms earlier reports that he has plans for at least one more sequel, as some of the plot questions raised in Part 2 were going to be explored in another film. If that's the case, we probably shouldn't expect Leone to give too much detail in his director's commentary. As for the Blu-ray, we won't have to wait too long for some answers. Via Bloody Disgusting, it's expected to come out in December.