Why Cameron From The White Lotus Season 2 Looks So Familiar
"The White Lotus" was one of the biggest TV success stories of 2021 — a small-scale, unassuming miniseries about the relatively tranquil lives of guests at a luxury resort that managed, with just six one-hour episodes, to galvanize pop culture, garnering widespread critical acclaim, and ultimately earn ten Primetime Emmy awards (via IMDb). In fact, the Mike White-penned series became enough of a hit for HBO to merit the rare, "Big Little Lies"-style unplanned Season 2 renewal, with subsequent seasons set to take up an anthology format.
More than a year has passed since that Hawaii-set first season of "The White Lotus" made its splash in the summer of 2021. Now, at last, Season 2 is upon us, with Sicily, Italy, as this year's destination. Critics are already loving the new episodes' sharpened bite and continuing offerings of frothy one-percenter intrigue (via Metacritic). Thanks to White's rich character writing, it would seem that this new vacation has cleared the hurdle of maintaining the original season's strengths while working with an almost entirely renewed cast — only Jennifer Coolidge as Tanya and Jon Gries as Greg return.
One of the members of the said cast is the actor playing the season's closest thing to an antagonist, ultra-privileged 'finance bro' Cameron Babcock, who's touring Sicily in the company of his trophy wife Daphne (Meghann Fahy), his college best friend Ethan (Will Sharpe), and Ethan's attorney wife Harper (Aubrey Plaza). Here are a few of the places where you might have seen the actor in question before.
Theo James appeared as David in two films of the Underworld franchise
English actor Theo James began his acting career in 2010 on British television. He had a role as Alex "Craze" Crazenovski on the two-part BBC One miniseries "A Passionate Woman" and guest starred as Kemal Pamuk on an episode of the first season of ITV's "Downton Abbey" — a show that, incidentally, much like "The White Lotus," started as a miniseries. The same year, James had a supporting role in the film "You Will Meet a Tall Dark Stranger."
Not long after, James got his first major exposure in Hollywood by joining the long-running "Underworld" franchise. Created by Len Wiseman, Kevin Grevioux, and Danny McBride, the "Underworld" series follows a dark fantasy world divided between werewolves and vampires and revolves mainly around Selene (Kate Beckinsale), a vampire assassin who defects from her clan. James boarded the fourth film in the franchise, 2012's "Underworld: Awakening," playing the new character of David. A survivor of the government purge against vampires that drives the film's plot, David befriends Selene and encourages her to lead vampires in a counteroffensive against human oppression.
The character and performance were successful enough that James also returned four years later for "Underworld: Blood Wars." Billed as the final film in the franchise, "Blood Wars" finds David establishing himself firmly in the post of Selene's right-hand man, protégé, and most trusted ally as the vampire covens prepare for a final stand against the Lycans.
He broke out as the star of CBS' Golden Boy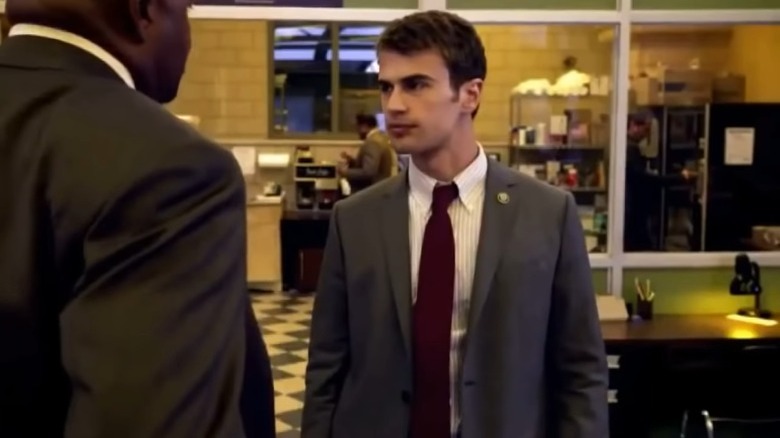 CBS
Just three years into his career, Theo James had already offered enough proof of his talent to land something many actors take decades to achieve: the central role on a major American TV series. The series in question, CBS's "Golden Boy," ultimately didn't prove too successful ratings-wise and got canceled after a single 13-episode season — but, at that time, it still gave James the opportunity to showcase his mettle as a leading man.
Created by Nicholas Wootton, "Golden Boy" follows the trajectory from homicide detective to Police Commissioner of one Walter Clark, who becomes a star cop after shooting a robber and saving his hostage, starting him on a precocious career path that eventually leads to him becoming the youngest Commissioner in NYPD history. Originally intending to cover the seven years of Clark's rise through the ranks, the series alternates between two timelines, with each episode charting Clark's life as a police officer in the present day while flash-forwards cover events of his future life as Commissioner.
Although the series had an ensemble cast and multiple storylines per episode like most cop shows, with Clark's colleagues in the homicide squad Don Owen (Chi McBride), Christian Arroyo (Kevin Alejandro), and Deb McKenzie (Bonnie Somerville), often taking prominent roles, "Golden Boy" was largely a character study of Walter Clark. And James, for his part, proved highly compelling as both the younger, impulsive Clark and his more seasoned future counterpart.
He gained international notoriety as Divergent's Four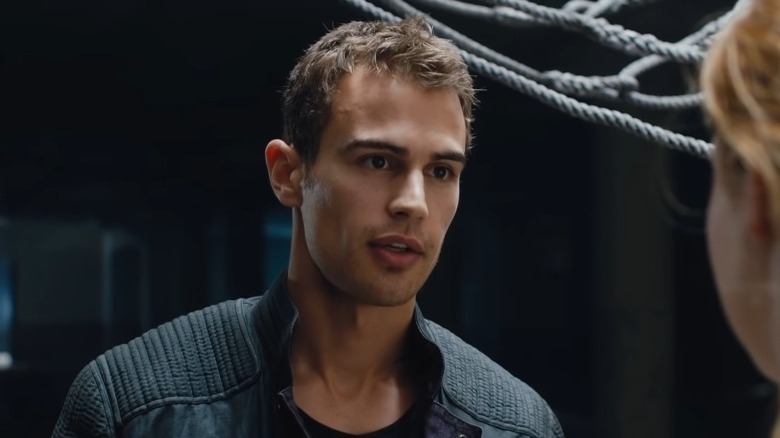 Lionsgate
Theo James' most famous role so far has been that of Tobias "Four" Eaton in the "Divergent" film franchise. Adapted from the eponymous trilogy of young adult dystopian adventure novels by Veronica Roth, the "Divergent" films tell the story of a future society in which citizens are divided into five factions based on their personalities, dispositions, and skills. Those who do not fall neatly into a single faction are marked as Divergent and deemed threats to social order. Like the books, the films are told from the point of view of Tris Prior (Shailene Woodley), a teenage girl who must hide her Divergent status from the government in order to survive and who eventually becomes embroiled in the throes of societal revolution.
One element of the "Divergent" franchise that sets it apart from other dystopian YA films of its ilk is the strong prevalence of an established central couple, as Tris meets, falls in love, and begins a relationship with Dauntless faction instructor and fellow Divergent Tobias "Four" Eaton. The importance of Four to the narrative means that Theo James is effectively the co-lead of all three "Divergent" films alongside Shailene Woodley in a role that calls for a tricky combination of dramatic chops, romantic flair, and action-star charisma. It was the part that made James known worldwide — even if the film series eventually petered out less conclusively than fans might have hoped.
He played one of the protagonists of HBO's The Time Traveler's Wife
2022 has been a banner year for Theo James when it comes to working at HBO. Before Season 2 of "The White Lotus," James had already starred in another one of the network's yearly offerings: Steven Moffat's adaptation of the Audrey Niffenegger novel "The Time Traveler's Wife."
With six episodes on its first season, "The Time Traveler's Wife" is a sci-fi drama series that follows the relationship between Henry DeTamble, a man with a genetic condition that causes him to travel through time randomly for short periods, and Clare Abshire, the titular wife, who meets Henry's future self as a child and finds herself constantly waiting for him throughout her life. Much like Niffenegger's book, the series primarily focuses on the romantic dynamic between Henry and Clare, chronicling their challenges as they try to make it work as a couple amidst the chaos imposed by Henry's disorder. As such, much of "The Time Traveler's Wife" hinges on its two central performances, namely Theo James as Henry and Rose Leslie ("Game of Thrones") as Clare, and on the chemistry between them.
Although the series as a whole received mixed reviews and didn't ultimately manage to get renewed for a second season, critics largely praised James and Leslie's work (via Metacritic), with many feeling that they did their best with material that would be exceedingly difficult to translate to screen one way or another.