The Real Fires In Chicago Fire Take About An Hour To Set Up Just For One Scene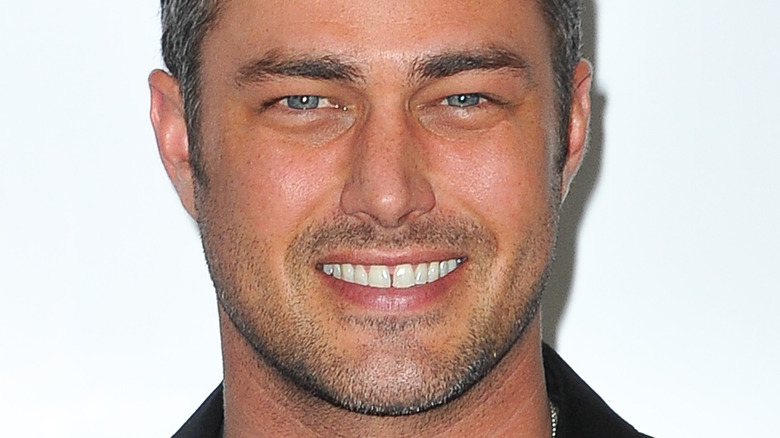 Allen Berezovsky/Getty Images
Filming the actual firefighting scenes on a show like NBC's long-running first responder drama "Chicago Fire" could be likened to waging a small war. While other NBC shows like "Law & Order: SVU" have to deal with scouting locations, "Chicago Fire" has to marshal and properly equip its blaze-battling troops for such a scene while ensuring that Firehouse 51's arsenal of ladder and rescue trucks and various emergency response tools are all correctly deployed.
During the show's eleven seasons, Chi-Hards have been thrilled to see squad members like firefighter Stella Kidd (Miranda Rae Mayo), Rescue Truck leader Kelly Severide (Taylor Kinney), paramedic Sylvie Brett (Kara Killmer), and others responding to fires large and small. From minor kitchen grease fires to burning warehouses to high-rise infernos, the firehouse crew has raced into action like the heroes they are, risking their lives to save Chicagoans' lives and property. And when it comes to convincing the show's army of loyal viewers of the reality of the dangers these characters face, the series is well-known for making its high-temperature perils appear as credible as possible. That being said, the time it takes to prep these combustible set pieces on this One Chicago hit series is time well spent to make things look scorching hot while keeping the actors safe and sound.
Staging a convincing blaze on Chicago Fire is a time-consuming task
Interviewed for an article by American Cinematographer, "Chicago Fire" director of photography Jayson Crothers said that a major conflagration isn't called for in every storyline but that "every couple of episodes, we have a big burn." The article explains that exterior blazes on the show are shot outside at various locations across the city, depending on the script's requirements. For fires that erupt inside a home or other structure, however, the scenes are shot on what is known as a Burn Stage. The facility used on "Chicago Fire" is housed at Chicago's Cinespace Film Studios. A converted warehouse has been adapted with three separate, burnable areas: a basement, a spacious, open room, and a multi-level set.
"Shooting on the Burn Stage comes with its unique challenges and is exceptionally slow," Crothers said in the same interview. "Every setup on the Burn Stage takes between 45 minutes and an hour to set up." He added that the actual time spent shooting the fire is brief, saying, "Most of our takes on the Burn Stage are between 20 and 30 seconds — a character runs down a hallway, kicks open a door, and that's it. Then it takes another 45 minutes to an hour to reset for the next setup."