Millie Bobby Brown Would Channel It's Always Sunny For A Stranger Things Musical Finale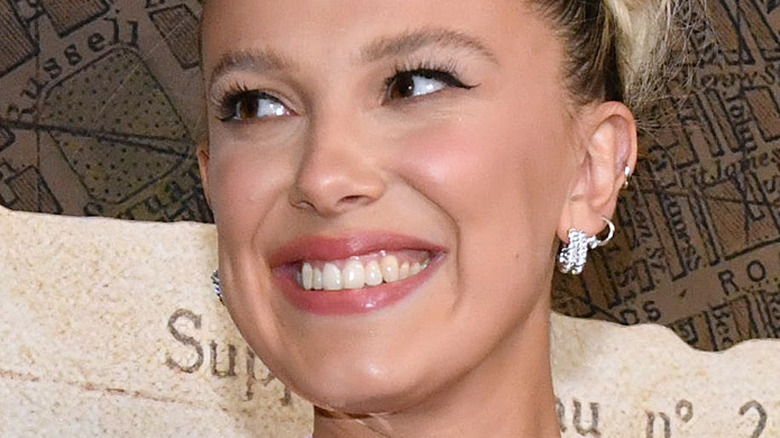 Craig Barritt/Getty Images
Millie Bobby Brown was only nine years old when her two episodes of "Once Upon a Time in Wonderland" aired in 2013. She starred as Young Alice in "Down the Rabbit Hole" and "Heart of Stone." Then the actor made guest appearances on several high-profile television series, including "NCIS," "Modern Family," and "Grey's Anatomy" (via IMDb). And while Bobby Brown played a crucial part as Madison Russell in both "Godzilla: King of the Monsters" and "Godzilla vs. Kong," she is best known as Eleven on "Stranger Things."
Thanks to her psychokinetic gifts, El is the most formidable protagonist in Netflix's nostalgic sci-fi drama, but having enhanced abilities doesn't mean Eleven necessarily has all the answers. In fact, Brown's favorite scene from Season 4 was El's heart-wrenching conversation with Mike (Finn Wolfhard) about love. "I think it's very real and authentic," Brown said during an interview with Still Watching Netflix. "Is she worth it without her powers? Does he love her without her powers? Is she still the superwoman in his mind?"
Brown obviously has a grasp on the importance of storytelling and composing compelling dialogue. Although she's also served as a producer on both "Enola Holmes" and "Enola Homes 2," the thespian wants to further challenge herself outside the realm of acting. Interestingly, she's even admitted that she wants to write the finale to "Stranger Things" and base it on a popular episode of "It's Always Sunny in Philadelphia?"
The Nightman Cometh: Brown's Stranger Things finale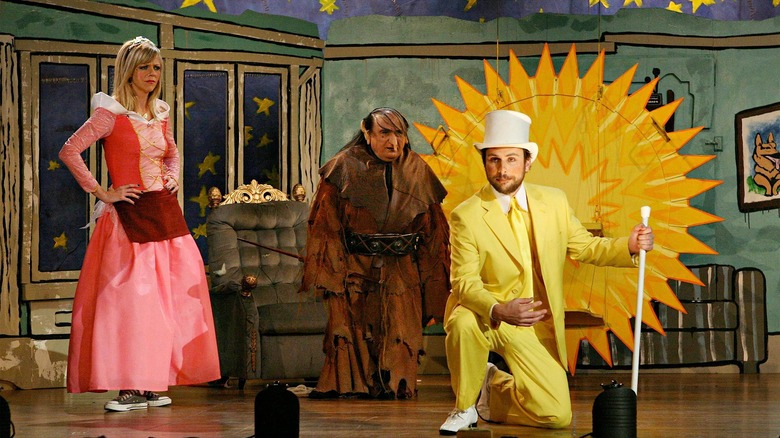 20th Television
Millie Bobby Brown has some ideas when it comes to writing the series finale for "Stranger Things." In an interview with Total Film magazine, the British actor said, "Trust me: I can do the finale to 'Stranger Things,' and it would be great" (via GamesRadar+). She further explained, "I think it should be like 'It's Always Sunny In Philadelphia.' Did you ever see the musical episode?" 
Brown possibly refers to the Season 13 finale in which Mac (Rob McElhenney) performs a heartfelt performance on stage in front of his father after fully coming to terms with his sexual identity. However, this wasn't the only musical performed on "It's Always Sunny." Another episode that Brown could've meant is "The Nightman Cometh," which aired during Season 4.
In the episode, Charlie (Charlie Day) puts on a musical for the sole purpose of asking the waitress (Mary Elizabeth Ellis) to marry him. And he keeps his intentions secret from the rest of the gang, so they'll all participate in the play. "The Nightman Cometh" remains one of if not the best episodes of the series, according to its nearly perfect score on IMDb. The popularity of the musical episode certainly isn't lost on Brown either, and the "It's Always Sunny" cast has even performed "The Nightman Cometh Live!" 
In 2009, fans in Hollywood lined up four hours early at the Troubadour to catch the shows, both of which sold out in 10 minutes (via YouTube). "You always owe it to the fans," Danny DeVito said of the show's success during an interview before the sold-out performances. If Brown gets her way, the "Stranger Things" cast might sing a similar tune when the series finale arrives.