Nick Offerman Joins Dumb Money, The GameStop Movie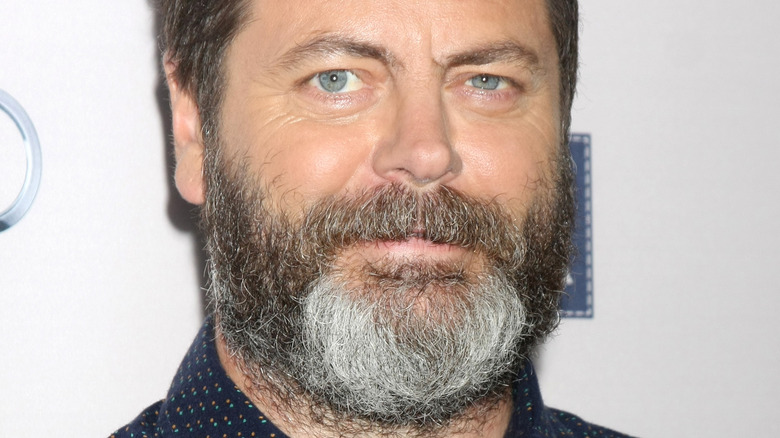 Kathy Hutchins/Shutterstock
Following up on his critically acclaimed film "I, Tonya" and the controversial Hulu miniseries "Pam & Tommy," director Craig Gillespie has set his sights on a brief but dramatic saga from very recent internet history: the 2021 GameStop short squeeze. While the real-life event may sound like a niche piece of Reddit drama, the financial phenomenon actually had surprisingly striking implications for the stock market and its relationship with the everyday public as well as key industry figures. Gillespie's upcoming project has already attracted an impressive ensemble of A-List actors.
According to IMDb, currently confirmed to appear are Paul Dano ("The Batman"), Marvel Studios star and Gillespie favorite, Sebastian Stan, Seth Rogen, former "Saturday Night Live" cast member Pete Davidson, Shailene Woodley ("Divergent"), Anthony Ramos ("In The Heights"), Vincent D'Onofrio ("Daredevil"), Dane DeHaan ("The Amazing Spider-Man 2"), Myha'la Herrold ("Bodies Bodies Bodies"), and America Ferrera ("Superstore"). The cast is continuing to balloon with talent, as the project has just added "Parks and Rec" alum Nick Offerman to its ranks.
Nick Offerman is reuniting with Gillespie for an undisclosed role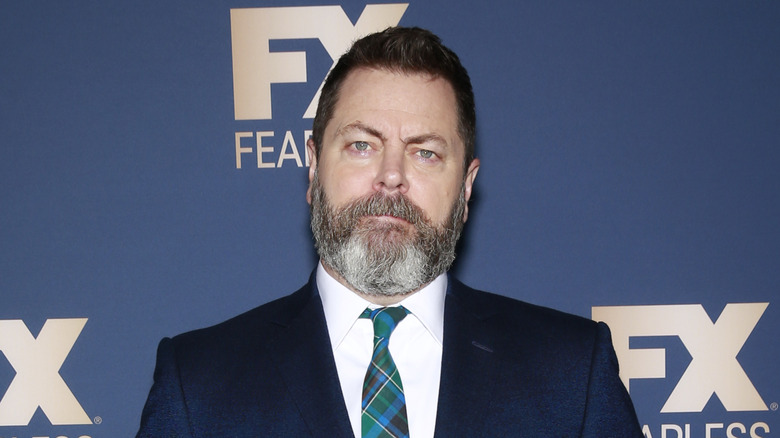 Ovidiu Hrubaru/Shutterstock
Based on Ben Mezrich's book "The Antisocial Network," Craig Gillespie's "Dumb Money" will follow the mass short squeeze of brick-and-mortar video game retailer GameStop's stock (GME) that occurred in January of 2021. Per Deadline, Offerman — known best for playing the gruff Libertarian Parks and Recreation Director, Ron Swanson — was announced to have joined the cast, along with rising star Talia Ryder ("Do Revenge," "West Side Story").
For those that missed or already forgot about the frenzy, back in 2021, participants of the subreddit r/WallStreetBet — made up of at-home traders known as retail investors — united to massively inflate the stock's price, at one point by 1,500% (per CNBC). This viral short squeeze would be amplified by major media figures like Elon Musk, ultimately resulting in a massive financial phenomenon that shook Wall Street, hedge funds, and various online communities, and raised many discussions around the democratization of the stock market. A similar move was tried with the movie theatre franchise AMC, as well as a few other companies that became known as "meme stocks," but nothing quite took off like the GameStop phenomenon.
It is unknown as of yet what the exact scope of the film will be, or what Offerman's specific role is. Offerman recently worked with Gillepsie in "Pam & Tommy," appearing as pornographic pioneer Uncle Miltie.