Parks And Recreation's Nick Offerman Called Dibs On This Hilarious Ron Swanson Prop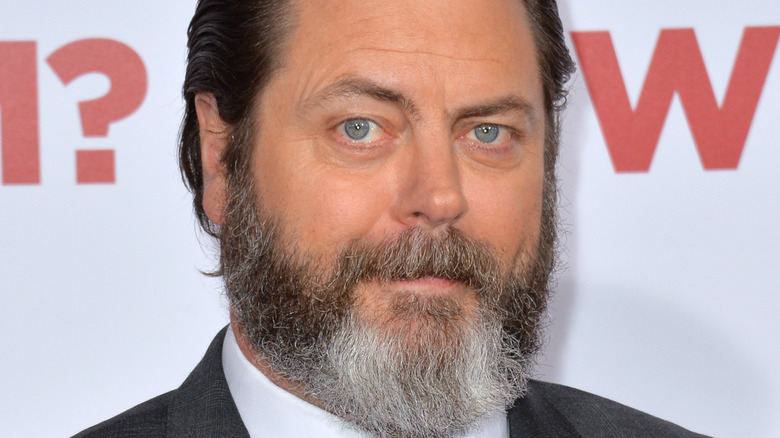 Featureflash Photo Agency/Shutterstock
"Parks and Recreation," while not the most popular mockumentary-style sitcom out there, did pretty well during its run on NBC. Shortly after its 2009 debut, a fanbase began forming around it that would grow with each passing year and become increasingly passionate. Thus, the series stuck around for over 120 episodes spread across seven seasons (with this one being the worst according to 20% of fans) before bidding fans goodbye in 2015. Despite its conclusion occurring years ago, the program still has yet to fade from pop culture and likely won't for some time — especially thanks to a host of standout characters.
"Parks and Rec" introduced television viewers to several interesting folks from Pawnee, Indiana, though easily the most well-remembered by those even remotely familiar with the show is Ron Swanson. A rough around the edges, stern workhorse of a man who trusts government less than he does vegetables (and that's saying something), Swanson sounds like a dull guy. In reality, he's one of the funniest characters on the show who sometimes even presents a more vulnerable, emotional side. Of course, he likely wouldn't have become the phenom he is without the talented Nick Offerman behind him.
The role of Ron Swanson launched Nick Offerman into the entertainment mainstream, so to commemorate his time on "Parks and Recreation," the actor made sure to call dibs on this Swanson prop.
Offerman kept a poster from Ron's office of a woman holding breakfast food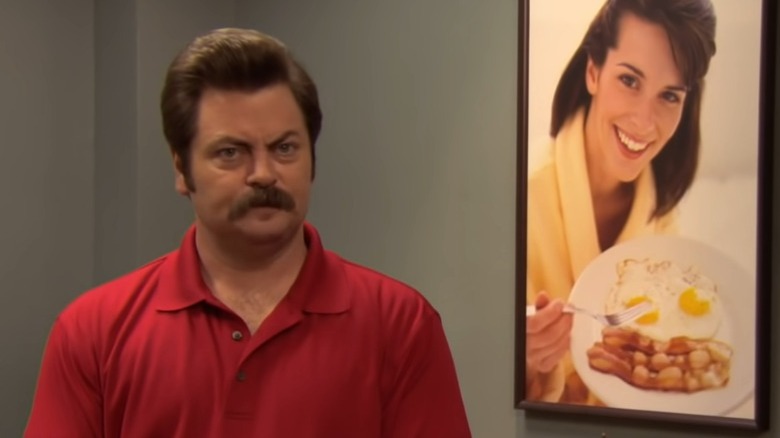 NBC
Ron Swanson's work office is one of the most frequented locations on "Parks and Recreation," and it's quite the sight to behold. There's a gun on his desk, various pieces of sports memorabilia, and even an odd poster of a woman holding a plate of breakfast food. As Nick Offerman explained in a 2015 interview, the poster represents Swanson's love of dark-haired women and good breakfast. Although, this changed when the dark-haired Tammy II (Megan Mullally) flipped his life upside-down once again, prompting him to replace it with a poster of just breakfast food. With that, the poster went home with Offerman.
For as important yet hilarious as his office décor is to his characterization, there's something that more so makes Ron Swanson unmistakably, well, Ron Swanson: his mustache. His well-groomed stache became a key element of his look, so much so that when he didn't have it on the odd occasion, he seemed like an entirely different person. As it turns out, this bit of upper-lip hair was also the key to Nick Offerman finding success as an actor. In an interview with Hypebeast, he refers to it as his X-factor and thus an essential piece of his rise to stardom on "Parks and Recreation."
Just as the Ron Swanson character has stuck with "Parks and Recreation" fans, it's nice to know that Nick Offerman has found ways to keep it in his life, too. All he has to do is grow out his mustache or take a look at his poster of a woman presenting him with a plate full of breakfast food.