Yvette Nicole Brown Was Definitely The Voice On The Radio In The Walking Dead Season 11 Episode 21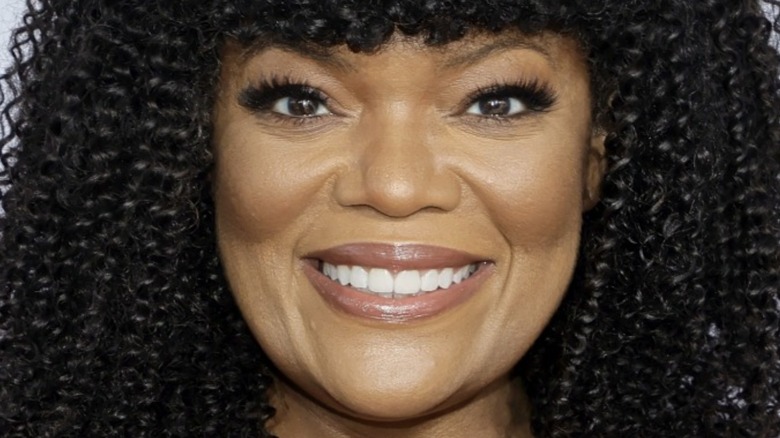 Kevin Winter/Getty Images
If you're a fan of "Community" and "Big Shot" star Yvette Nicole Brown, then you know how much she loves AMC's "The Walking Dead." On October 30, Brown got the gift of a lifetime, with showrunners Angela Kang and Scott Gimple reportedly giving her a secret voice cameo and "special appearance" cast credit in the episode "Outpost 22."
For those who don't know, Brown has not only been a "TWD" superfan behind closed doors over the years but she's also served as a seasoned regular on the popular aftershow "Talking Dead" with Chris Hardwick. In July 2022, Brown debuted as one of the live-action hosts of the interactive talk show "The Walking Dead: Last Mile." She's professed her love on numerous occasions for "The Walking Dead," and knowing that the show is finally coming to an end after Season 11 is obviously weighing heavy on Brown's heart. So Kang and Gimple decided to do something extra special for her.
Brown got to be the voice on the radio from Outpost 22
It's a cameo that many people might have missed had there not been a "Special appearance by Yvette Nicole Brown" credit at the end of the "Outpost 22" episode. According to Brown, it couldn't have come at a better time for her. 
"I was super sad that the show was ending, and told Angela Kang and Scott Gimple that I wished I could be a part of the show in some way before they wrapped," Brown explained to Entertainment Weekly. "Traveling to Atlanta to perhaps be a walker wasn't possible," she said. "So they came up with the idea of me being a part of the show via voiceover, and I couldn't have been more excited to do that." When it came to getting her shout-out at the end of the episode, Brown told EW she wasn't even expecting her name to show up in the credits, let alone with a "special appearance" tag. 
"I didn't know if I'd be credited, and didn't know if my fellow fans would be able to tell it was me if I wasn't," Brown said. "I'm surprised that quite a few knew it was me immediately and am humbled that I was credited."
While Brown has been upset about "The Walking Dead" finally wrapping, "The Mayor" and "The Odd Couple" star is holding out for the best when it comes to the planned spinoffs. "I believe in Angela Kang and what she is doing as showrunner," Brown told TV Insider. "Whatever she does will be fine by me."